In the news this week, we see an increase in mainstream adoption as the town of Innisfil, Ontario Canada, now allows residents to pay property tax in Bitcoin. The Council of Innisfil voted in favor of the program and got it approved on 27 March. Among such interesting events that encourage speculative adoption is the use of crypto gift cards for making reservations on Airbnb.

The technical price charts seem to be responding to these events, as the Bitcoin price trades above $4000.00. Read on for a more detailed view of the significant technical price patterns that show support for bullish price campaign in the long term.
BTCUSD: Monthly Chart

Going back in time from the monthly chart perspective, the crypto rush of 2017 was fueled by a double bullish congestion pattern on May and June 2017, which led to about 592% increase in the price of the BTC.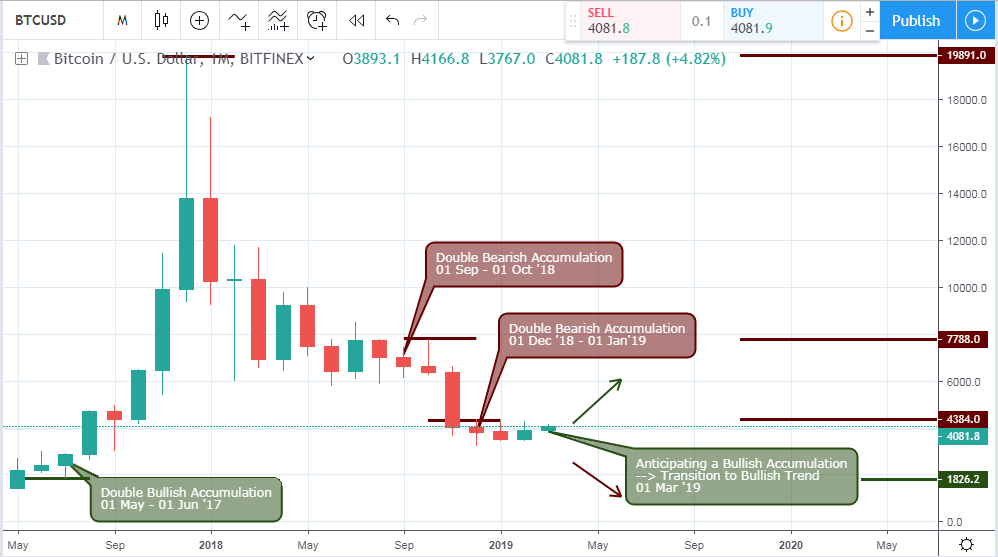 The prior year of 2018 however, showed how the gains of the 2017 crypto boom were gradually eroded. After establishing the highest high of 19891.0 on the Bitfinex exchange, price triggered a bearish inside bar on March '18, which is an early warning sign of further price decline. This was later followed by a breakdown of hidden bullish congestion in June 2018 and finally, a double bearish congestion pattern was triggered in September and October 2018 to confirm a 48.5% price drop.

A more recent double bearish congestion pattern was triggered in December and again in January 2019, indicating a huge presence of sellers in the market. On the contrary, a bullish congestion pattern is threatened and will only be established if the current month closes bullish within the high/low range of February 2019.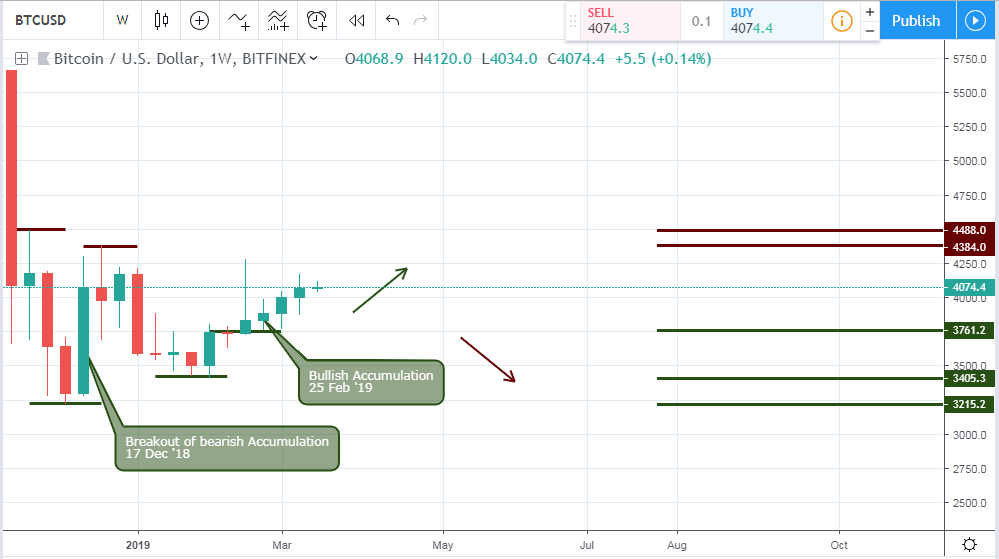 The weekly chart, after going through a long crypto winter, triggered a breakout of bearish congestion on 17 December 2018. A retracement of the breakout was settled, after which the exchange rate entered into a consecutive weeks of bullish closing bars as shown above.




BTCUSD: Daily Chart
From a daily chart perspective, the price chart of the BTCUSD triggers a fake bullish pattern on 05 March 2019, after which a bullish accumulation signaled on 15 March '19 supported the bullish rally at 3948.4. As the pair trades close to last month's high of 4282.4 and the bearish congestion resistance of 4384.0, the daily chart trigger a bearish fakey pattern on 21 March '19.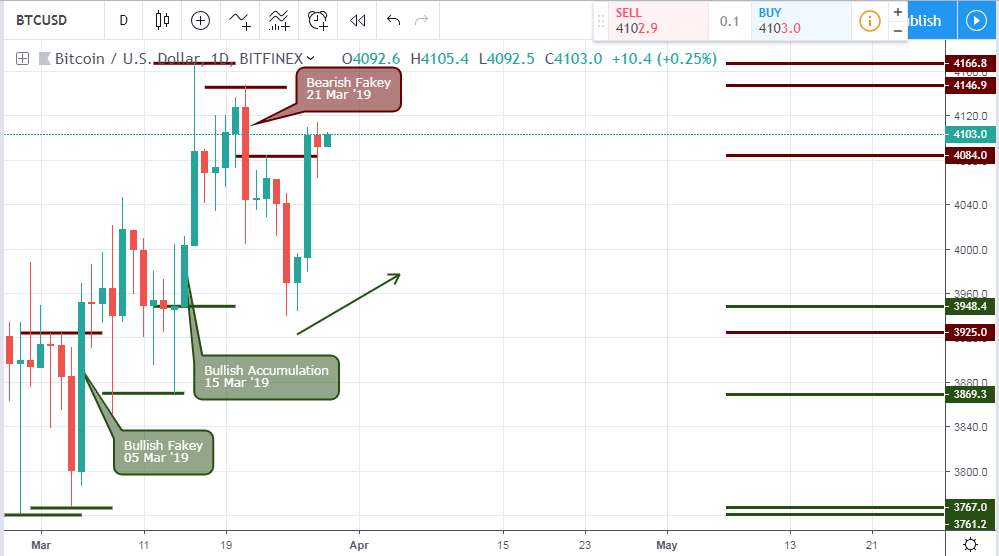 BTCUSD: 4-HOUR Chart
Now, over a 4 hour time frame, price triggered bullish divergent patterns on 15 March 2019 00:00, for a 5.18% increase. Activities of the bulls were halted as price broke below bullish congestion zones on 16 and 21 March 2019 12:00. The pair from this time frame has been alternating between bullish and bearish swings, with critical support and resistance levels shown below.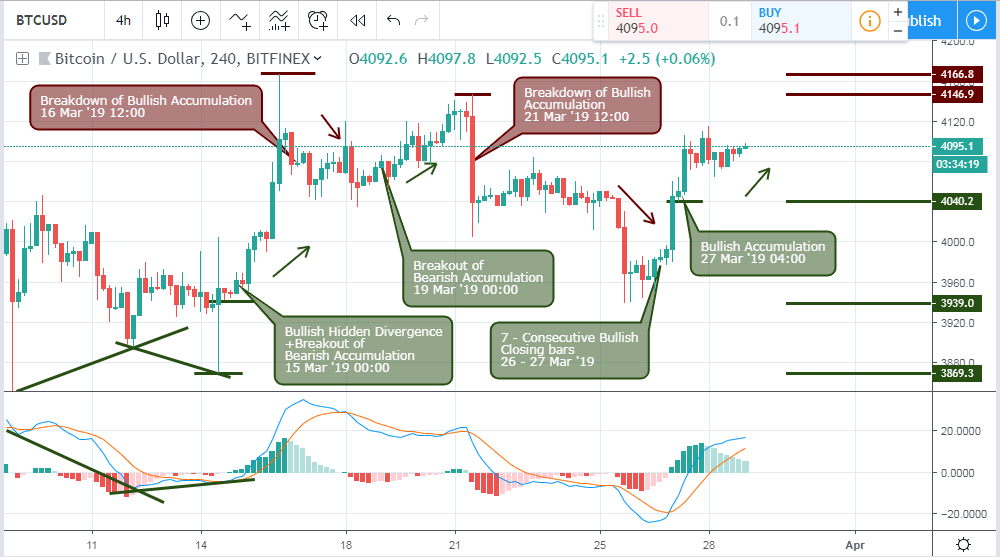 BTCUSD: 2-HOUR Chart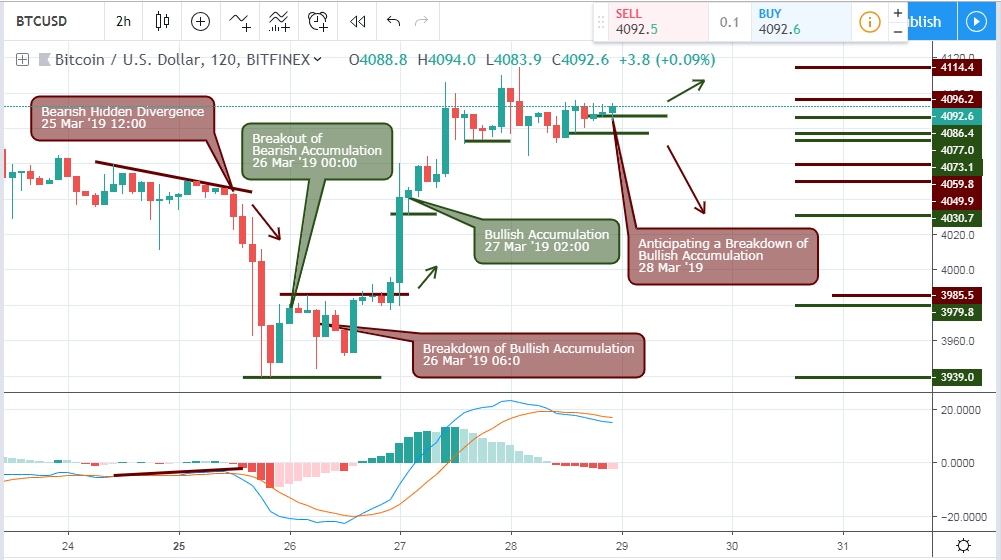 Following a price decline from a hidden bearish divergence triggered on 25 March 2019 at 12:00, the price plummets by 2.5%. Later on, the pair got enclosed within a horizontal channel established by a rejection of both bearish and bullish congestion zones.
Eventually, the Bitcoin price broke out of the channel and entered the current bullish rally shown above.

(BTC) Bitcoin Crucial Resistance Zones
2-Hour
4114.4
4-Hour
4166.8, 4146.9
Daily
4166.8, 4146.9
Weekly
4384.0

Monthly
4384.0, 4218.0
(BTC) Bitcoin Crucial Support Zones
2-Hour
3939.0, 4030.7, 4073.1
4-Hour
3869.3, 3939.0, 4040.2
Daily
3761.2, 3767.0, 3869.3, 3948.4
Weekly
3773.3, 3223.4
Monthly
3215.2, 3003.0, 1826.2

Conclusion and Projection
A price close above the critical resistance level of $4384.0, from a monthly chart perspective, confirms the trend reversal to bullish. However, should the analyzed bullish congestion pattern gets triggered at the current months close, then we should be getting ready for early long entry, and scale into the trend for a price target of $7788.0