It has been right at a month since I've taken a perusal around Litecoin's newsworthy events, but just looking at the price change from $75.93 to today's $109.73 should be enough to grab your attention.


Foundation Volunteers
On May 30, the Litecoin's lead ambassador for China Rebecca Yang, revealed via Twitter that to help promote adoption and awareness in the country, the Litecoin Foundation is bringing on 11 new volunteers to their Chinese team.

Volunteers include a developer and community manager as well as several other positions.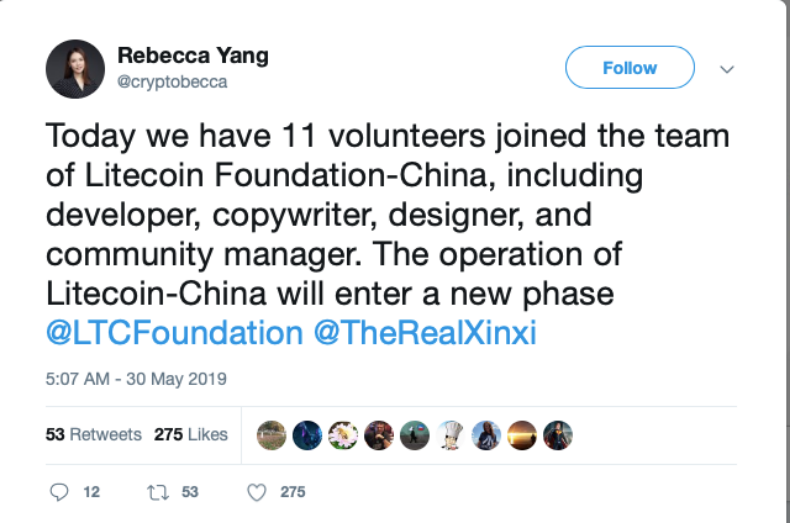 Lee & Filter Stir Litecoin Excitement
Litecoin creator Charlie Lee jumped on Twitter earlier this month in an attempt to gain support for his favorite cryptocurrency to be added to the app Spedn, and he caught the attention of someone who could quite possibly make it happen.

Lee tagged Flexa Co-Founder Trevor Filter, which recently partnered with Gemini to develop Spedn, and Filter retweeted the message with a cryptic response:


Spedn is set to allow consumers to make purchases at thousands of major retailers across the country via cryptocurrencies Bitcoin, Bitcoin Cash, Ether, and Gemini Dollar. Investors simply load any of the accepted cryptos onto the Spedn app itself, a feature that many aren't a fan of, and utilize the app to display a code that gets scanned at the point-of-sale at any of the wide-range of merchants available.

However, Litecoin, the fifth largest cryptocurrency, has been noticeably absent from the list and of course that caught Lee's and other LTC fan's attention.

Does Filter's mysterious retweet mean that Litecoin will be the next crypto added to Spedn? Hopefully we'll find out soon.

LTC Lands in Germany
In a move that is expected to increase the liquidity of Litecoin, especially among accredited investors, the second largest stock exchange in Germany, Börse Stuttgart, approved the listing of Litecoin exchange-traded notes (ETNs) earlier this month.

A statement released by the exchange said, "For the first time in Germany, investors can now buy and sell exchange-traded notes (ETNs) based on the cryptocurrency Litecoin."

ETNs operate as transparent, strictly regulated, and protected instruments that can be used to invest in various assets.

Oops…
On May 23rd, a Litecoin user made a rather expensive mistake when they paid a LTC transaction fee valued at more than $17,000 for a transaction of 8.88199425LTC… a value of $778.77.

The miner who received this windfall appears to be a Chinese based pool known as LTC.TOP, and the blunder resulted in the average transaction fees on the network experiencing an anomalous spike in for the day, raising it from around 5¢ up to 70¢.

The address the transaction originated from appears to be owned by a business on the network as opposed to an individual investor as it frequently adds and removes thousands of coins, meaning this was likely an honest mistake due to human error or automation.

One to Watch
Litecoin has a strong and growing fan base, their subreddit recently surpassed 200,000 members, and with the bear market being considerably favorable to LTC, the fifth-largest cryptocurrency may be set to regain a good chunk of it's former value and glory.