If you've been watching the cryptocurrency markets then you'll know there's a buzz of excitement (and a little trepidation) in the air. Sentiment to buy or sell is at a dead even depending on whether they think Bitcoin will stay supported over the $8,700 threshold or not. Ethereum, being the number two cryptocurrency by total market capitalization, has also seen an increase in support and price. This begs the question: Is this a good time to buy Ethereum?

[wlm_private "Crypto Trader Pro – Monthly|Crypto Trader Pro – Yearly|Crypto Trader Pro (Lite)"]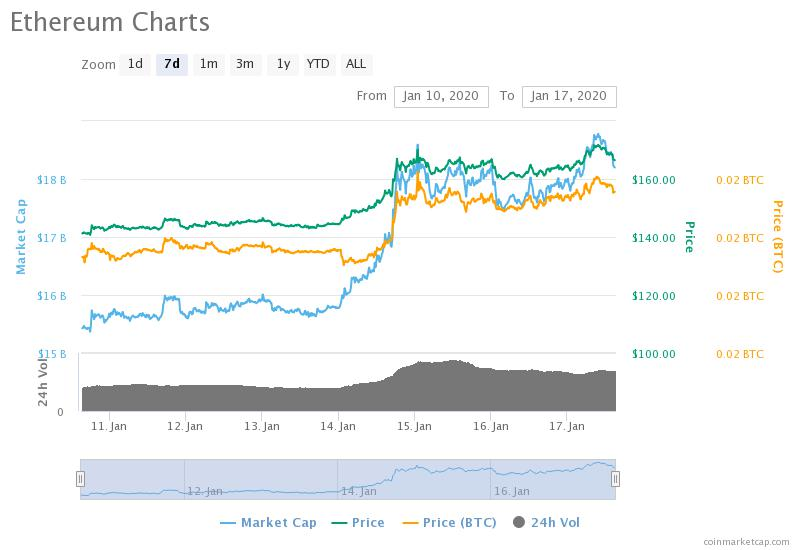 The price action clearly suggests that there was a jump on January 15, 2020, and ever since, the price has been climbing steadily upwards. Ethereum, like all other cryptos, had a long, cold winter in 2018, well into the second half of 2019. Now, Ethereum has attempted to consolidate and recover from this crypto winter.

ETH faced a set-back in the last four weeks of 2019 but it has now bounced back in a spike that took ETH from around $123 to over $140. Then the price went up to $150 within a few weeks. Sure, that's exciting if you've bought low but Ethereum has a long way to go. Note that the last market high was 50% higher and the coin may recover completely within a few weeks.

Ethereum's uptrend has inspired many traders and investors to put their capital and assets in it. With Ethereum 2.0's development underway, there is a very good chance that the uptrend will continue over the next few weeks. ETH may keep pumping up and push past the 100 and 200-day SMA within a few short weeks.

What is Ethereum's volume?
The current trading volume is $14 Trillion USD and it is much higher than the average trading volume in the past year. Buyers are currently taking control of the price as volatility keeps it increasing as supply becomes limited. Then, as ETH 2.0 is released, supply will be further constricted, and we predict a classic case of supply and demand will steer the market upward.

There is excitement about ETH 2.0 launch and if all goes well and the cryptocurrency remains relatively stable, buyers may continue taking control and we may see the price may climb up by 30% or more. Currently the altcoin is breaking support and climbing higher than some of the more conservative predictions.

ETH's new highs are driving an overall altcoin movement. So as Ethereum continues holding above $150, and once the price crosses $180, it may hit higher than the previous ATH. We have to remember that after the Istanbul upgrade, some community members lost faith in Ethereum, which influenced support and price of the altcoin.

The first hardfork was quite an important step towards ETH 2.0. Its implementation will improve the functionality and reduce gas fees on the network. In fact, the testnet is to be released some time in Q1-2020. Investors would be smart to do their due diligence prior to investing, of course, but the volatility is high right now and traders can use this to their advantage to buy Ethereum.






Disclaimer
Content provided by Crypto,Trader,News. is for informational purposes only, and should not be construed as legal, tax, investment, financial, or other advice. All information is of a general nature. As always, there is risk with any investment. In exchange for using our products and services, you agree not to hold Crypto,Trader,News. Pro, its affiliates, or any third party service provider liable for any possible claim for damages arising from decisions you make based on information made available to you through our services.

[/wlm_private]
Want to read the rest of the article? Join our pro-membership and receive all of the following:
✅Access to ALL content.
✅Access to the CTN editorial staff.
✅Access to our CTN trading dashboard.
✅Access to our exclusive telegram channel where all our pro-members and editorial staff are in.
✅Ability to request content/research material!