Well, a week hasn't made much of a difference in the price of XRP, as of this writing it is sitting at $0.4216 and when I peeked for the last edition on 5/7 it was hovering at $0.426, but this is after a week that saw a high of $0.438 and a low of $0.388. So as you can see, it's been an interesting week on that front.

But let's take a look at what ripples Ripple has been making as far as news goes.

Tweet About XRP Causes Stir
Apparently a bit of possible "fake news" may have caused fluctuation in XRP price this week when it was erroneously reported on multiple venues that Ripple was acquiring MoneyGram.

But, was it really fake news? A bit of hopeful speculation? Or some actual "leaked" tidbits to entice the masses?

As far as I can tell, this speculation may have originated from a Tweet by @TheCryptHawk where it was posted that "Seems like it's out! #Ripple acquired MoneyGram leading to a huge access / deal with Walmart! More to come believe me…" However, there was absolutely nothing to back up this claim and neither company has made a statement either confirming or denying the news and there didn't appear to be a reply from either one on Hawk's tweet or subsequent discussions regarding the acquisition.

So, perhaps CryptHawk is onto something and perhaps he is tweeting some wishful thinking, but hopefully we'll get an answer one way or another early next week.

Siam Giveth, & Taketh Away
Well that was fast. On June 5th, Thailand's largest commercial bank, Siam Commercial Bank (SCB), caused a bit of a stir when their official Twitter handle responded to a question regarding XRP by saying that there would be a forthcoming announcement revealing the details of an "XRP system."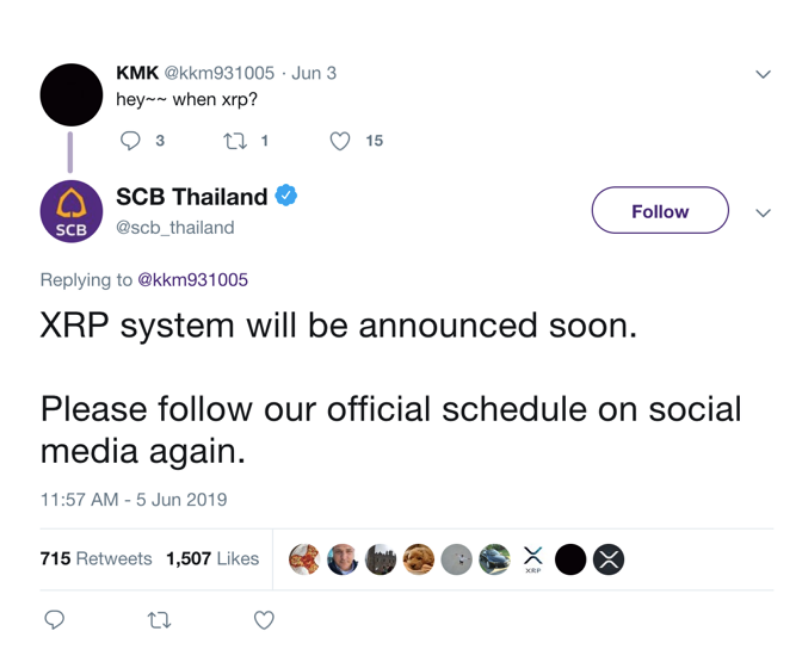 However, this may have been a rather lame attempt at regaining lost social media followers, news the Bank didn't want announced (at least not yet), a violation of an NDA, or released for some other unknown reason as the tweet was deleted and a retraction was posted two days later. In it, the bank apologized for the previous tweet and said, "As of now we have no plan on using XRP."

So, if SCB does eventually make an official announcement of an XRP project, we may have heard first this week.

An XRP Heist
In news from the dark side, GateHub released a preliminary statement Thursday June 6, regarding the investigation into compromised XRP Ledger wallets. While the statement refrained from giving any figures or official conclusions while the investigation is still underway, the word around the web is that the thief/thieves made off with an estimated 23,200,000 XRP —which is an astonishing$9.5 million as of press time.

GateHub stated that while there weren't any suspicious logins detected and there were no signs of brute force attempts, they did find "an increased amount of API calls (with valid access tokens) coming from a small number of IP addresses which might be how the perpetrator gained access to encrypted secret keys."

However, they were also quick to point out that this "still doesn't explain how the perpetrator was able to gain other required information needed to decrypt the secret keys."

Unfortunately, while GateHub states that access tokens "were disabled on June 1st after which the suspicious API calls were stopped," as of press time it was estimated that over half of the stolen goods, about $5.37 million worth, had already been laundered through exchanges and mixer services.

Raising the Bar
On June 3, Ripple promised a higher degree of accuracy for XRP volumes and sales. In the announcement, Ripple revealed that in response to recent questions from industry insiders and several third-party sources regarding the reported volume in digital asset markets, they are "actively working with trusted partners in the space to better understand the scope and scale of the problem"

You can read the whole statement in the link above but to me it appears that Ripple is attempting to be pro-active about the issue. They advised that they'll be "taking a more conservative approach to XRP sales this quarter" and that they are evaluating their overall approach to XRP volume reporting, including "reviewing new options and requirements for sourcing market data."

In hindsight, this too could have attributed to the rocky week on price as Ripple also revealed that as a percentage of reported volume, Ripple's sales of XRP in Q2 2019 will be substantively lower than in Q1.

This seems like a good place to stop. I don't think I missed anything really newsworthy but if I did, please feel free to call it to my attention in the comments so I can include it in the next edition.