The Past, Present and Future of Cryptocurrency Landscape

The world is progressively moving towards a cashless economy and the finance ecosystem has evolved in a multitude of ways when it comes to how institutions or even individuals choose to transact.

This article covers the ways in which digital currencies have evolved over the years and where it is headed.

Disruption, Distribution, and Digitization of the Economy

The very first digital currency, Bitcoin was the consequence of a single person losing his faith in the existing centralized banking system after the financial crisis in 2008.

The distributed ledger technology adopted by Bitcoin disseminates the authority among the number of peers rather than having all controlled by a single entity. Hence reducing the points of failure and corruption that prevails in the existing banking system.

The fame

Crypto landscape has caught everyone's attention during the bull run of 2017 when the price of one Bitcoin shot up to $20,000. You might have heard about the most anyone's ever paid for a single pizza pie. Back in 2009, a guy apparently paid 10k Bitcoins for the privilege of paying in crypto.

So what happened in the 10 years since its advent? When is the next bull run and what is the future of cryptocurrencies?

These are just a few common questions that early crypto adopters are being asked, by people who are just waking up and looking to jump on the crypto bandwagon.

Let's explore these questions today!

The Past
The advent of Bitcoin

Several failed attempts to create digital cash followed until PayPal launched its USD service in the year 1998.

Years later, a whitepaper for project Bitcoin was released in 2008, by Satoshi Nakamoto, who still remains a mystery to date. This whitepaper fueled an underground economic revolution.

The Global Economy was struggling to recover from recession and people had already lost faith in the centralized banking systems. Bitcoin shook the norms of traditional stores of value with its distributed ledger, transparency, and no asset reserves.

Introduced as a Peer-to-Peer Electronic Cash system, it was meant for easy transfer of value between individuals without a centralized authority, like banks. This challenged the traditional banking system and raised questions like :  What is a store of value? What is Bitcoin worth if it isn't backed by assets? Who controls this electronic cash?

Bitcoin offered privacy and anonymity to every user. Unfortunately, its extensive use on Silk Road put it under the scrutiny of financial watchdogs and governments. Despite this, more and more cryptocurrencies were created and the market continued to gain popularity, not only among the financial institutions, but also among individual traders.

The Bull Run of 2017

During the historic bull run of 2017, one Bitcoin was traded at a price close to $20000. It was the year of bullish price predictions, cryptocurrencies got tremendous interest from finance and technology businesses, and prices kept hitting newer highs.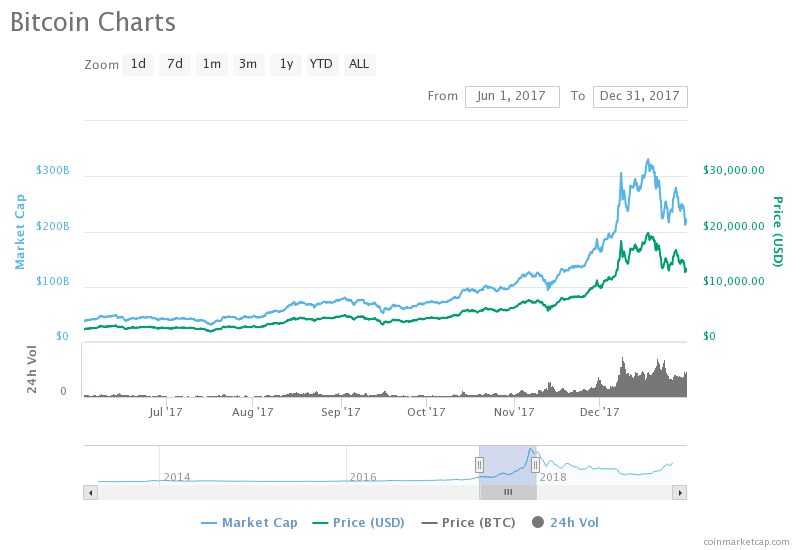 Source: CoinMarketCap.com

The summer of 2017 witnessed a new all-time high for Bitcoin. Investors' interest in cryptocurrency and ICO projects were at their peak and Bitcoin's price kept moving steadily upwards. In the first week of September, Bitcoin's price crossed the $5000 mark for the first time in history. After a short drop in October, it was back to $5000. In December 2017 it hit $19783. This was followed by a 30% drop in prices, which was a massive correction, albeit the biggest one in history.

The then bull run of 2017 was followed by a year-long crypto winter in 2018, where the market took a massive plunge in price. Despite the price of Bitcoin tanking in 2018, the adoption rate of cryptocurrency has only been increasing.

Adoption of Cryptocurrencies

Bitcoin's adoption started with pizza orders and transactions between peers. It has increased in popularity and many successors like Litecoin, Namecoin, and Ethereum followed suit.

Andreas Antonopoulos, a Bitcoin expert, popularized the phrase "Bank the unbanked", which boosted Bitcoin's fame and adoption in the African subcontinent. In less than a decade, cryptocurrencies have reached a market cap of two hundred eighty-five billion dollars.

The Present
Crypto market rejuvenated in 2019

After the massive price crash of Bitcoin from nearly $20,000 in Jan 2018 to $3,000 in Jan 2019, the market became sluggish. However, in the second quarter of 2019, Bitcoin started to bounce back and hit a yearly high of $9,000 (as of writing on 17th June 2019), which rejuvenated the spirits of traders in crypto space.

Beyond this, cryptocurrency exchanges and various projects, which include ICOs, IEOs, and STOs, raised over 50 billion dollars in funding by mid-2019 alone. Global cryptocurrency events like Blockchain Week NYC and Consensus 2019 have tilted the sentiment towards the positive side.

According to a survey by the U.S partner of the Singapore based Huobi, the percentage of people in the U.S trading or holding cryptocurrencies has doubled since 2017.

Regulatory Scenario

On surveying the regulatory scenario for cryptocurrencies across the world, we observe that over 120 countries or regional organizations have issued laws and policies on crypto. In the past two years, cryptocurrencies have prompted more national and regional authorities to take measures to regulate cryptocurrency usage and for taxation.

Here's a world map with cryptocurrency regulations in countries of the world.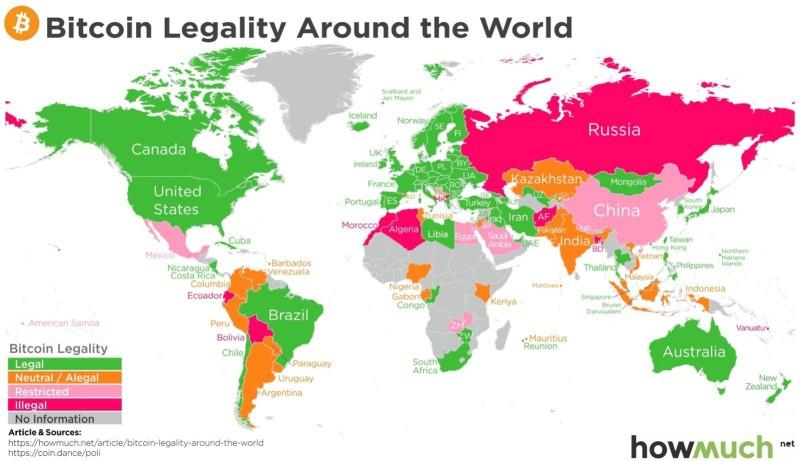 Source: howmuch.net

While there are uncertainties existing in many major parts of the world, the crypto bubble has grown beyond imagination and now stands at a point where it is already too big to ignore. The countries that are refraining from the adoption of crypto are either developing their own digital currency or are working on creating a proper regulatory framework for their traders before they fully legitimize it.

The future
Next Bull Run, 2019?

Is Bitcoin on its way to the next bull run? Bitcoin's price crossed $9400, and according to analysts and experts, after a few minor drops it could be well on its way to cross the $10000 mark.

Market sentiment has changed completely in the past two months and experts are speculating the possibility of hitting $20000 by the end of 2019. Facebook's cryptocurrency Libra and positive sentiment for Bitcoin could fuel the next bull run as well.

Disclaimer

Content provided by CryptoTraderNews is for informational purposes only, and should not be construed as legal, tax, investment, financial, or other advice. All information is of a general nature. As always, there is risk with any investment. In exchange for using our products and services, you agree not to hold CryptoTraderNews Pro, its affiliates, or any third party service provider liable for any possible claim for damages arising from decisions you make based on information made available to you through our services.