Lisk (LSK) currently ranks at the number forty-two spot by market cap with at a circulating supply of 119,777,120 LSK out of a total supply of 134,873,533 LSK.
[wlm_private "Crypto Trader Pro – Monthly|Crypto Trader Pro – Yearly|Crypto Trader Pro (Lite)"]

Paired against Bitcoin (BTC), Lisk suffers a similar fate like most altcoins as it has been in a bearish trend since February 01 '18.

This week, we analyze the price dynamics of the LSKBTC and identify technical levels and indicator setups that must be fulfilled for the LSKBTC price to come out of the long term bearish trend or persist.

Read on as we carry out a multiple time frame analysis of the LSKBTC, starting from the weekly time frame and down to the 1-hour time frame.


LSKBTC Weekly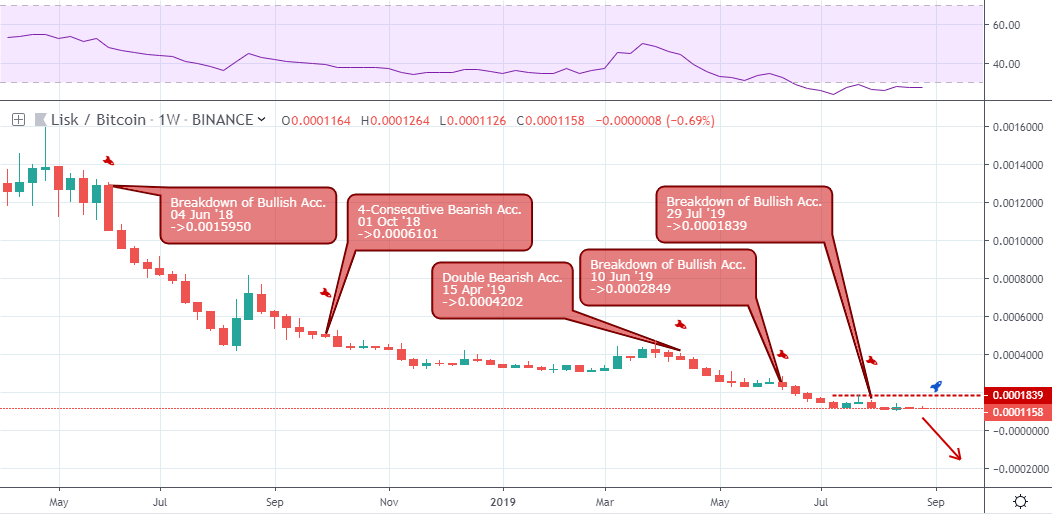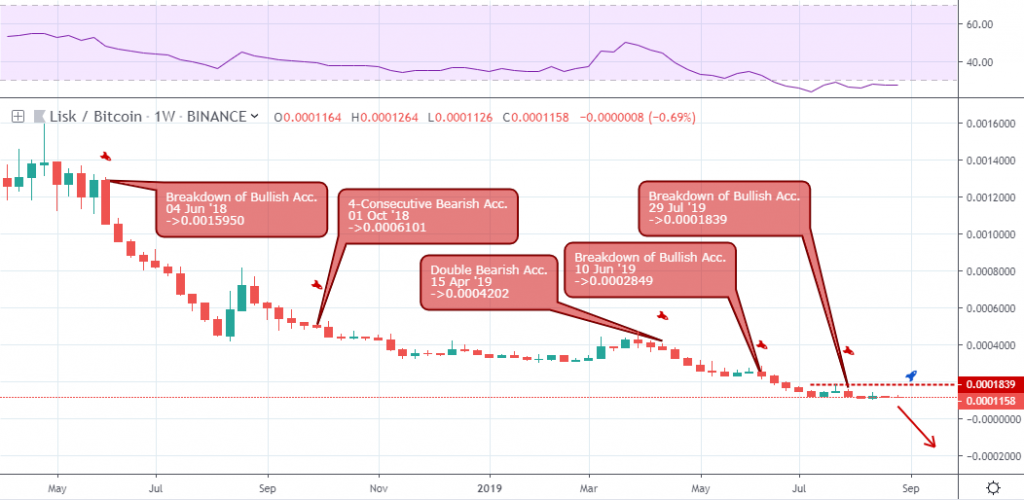 Following a 91.4% price drop from a breakdown of bullish accumulation on June 04 '18, Lisk, like other altcoins tried to come out of the crypto winter but failed to an increase in selling pressure on April 15 '19, setting up resistance at 0.0004202.

The Bitcoin BTC dominance increased as the buying power of the number one cryptocurrency drives the price of Lisk into the oversold area after a breakdown of bullish accumulation on June 10 '19 (0.0002849).

Repurchasing power of the LSKBTC failed to sell pressure on July 29 '19 (0.0001839), and the bearish direction is frightening for holders of LSK.


LSKBTC Daily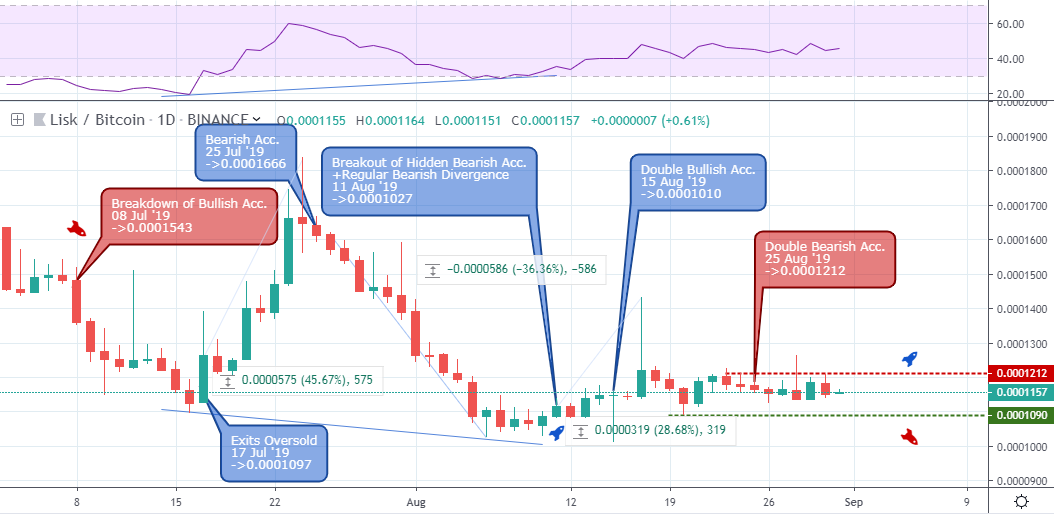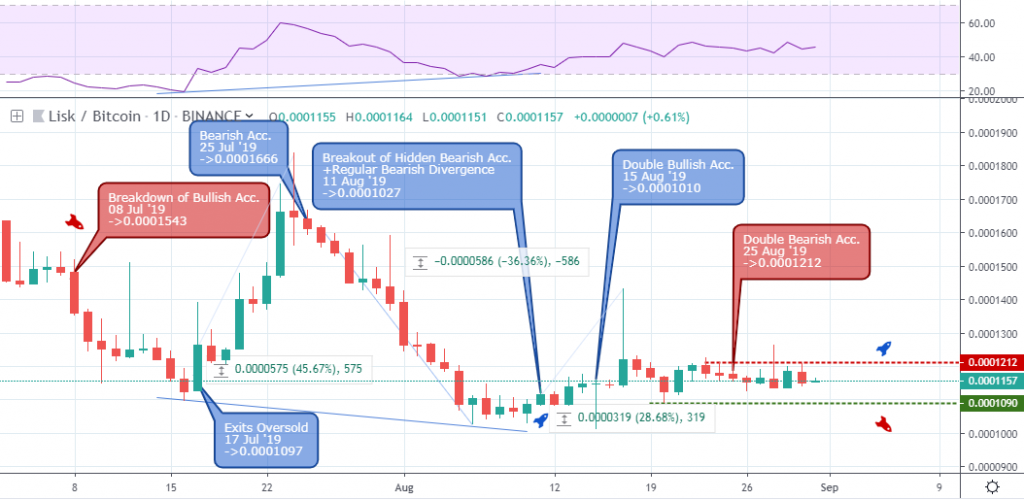 The above daily time frame illustrates the LSKBTC attempting a bullish campaign that only lasts for 45.67% on July 17 '19 after coming out of the oversold area. Selling pressure drove the price in the opposite direction by roughly 36.3% and into the oversold region.

Formation of regular bullish divergence on August 11 '19 in combination with a breakout of hidden bearish accumulation is the only bullish setup that may bring the LSKBTC out of the prolonged bearish trend.


LSKBTC 4-hour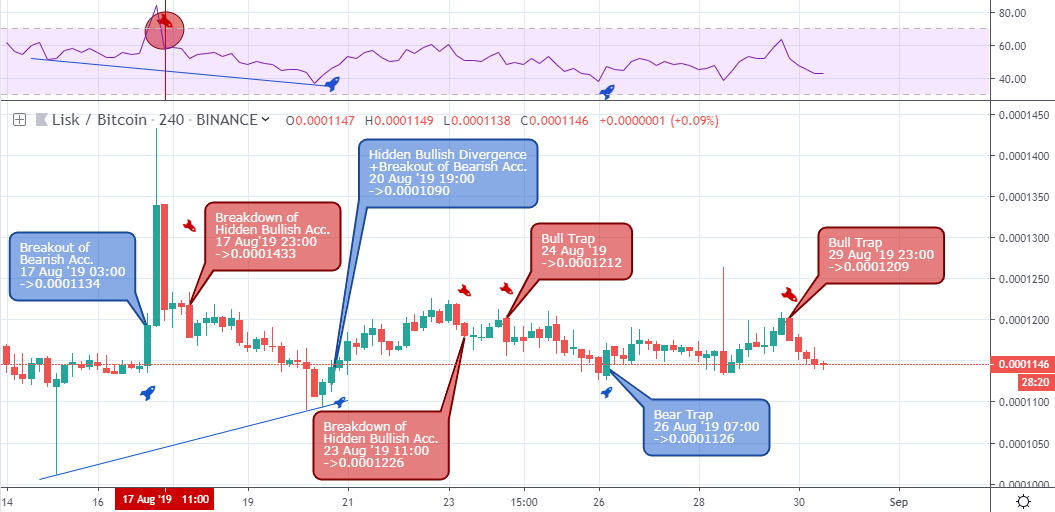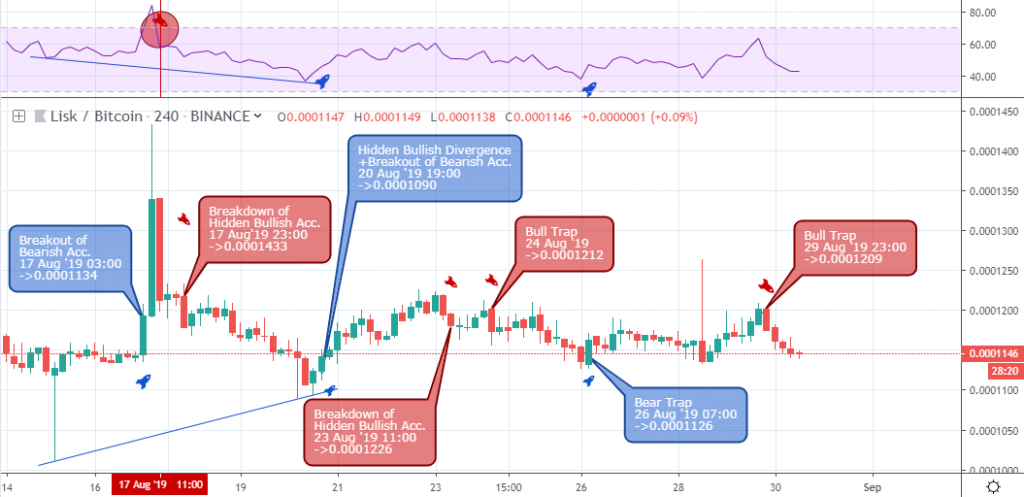 From the 4-hour time frame, we observe the LSKBTC struggling to come out of a price slump by flagging a hidden bullish divergence setup and breakout of bearish accumulation on August 20 '19 19:00. The pair enters a range-bound price formation after a breakdown of bullish accumulation on August 24 '19.


LSKBTC 1-hour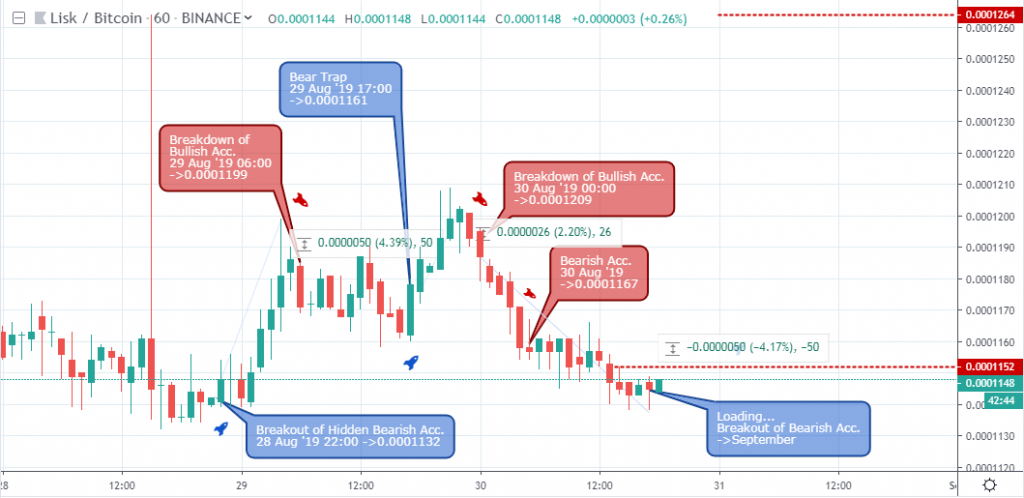 Coming way down to the intraday 1-hour time frame, the LSKBTC price on August 28 '19 15:0 spiked up by about 8.8% from its opening price to later close at 0.0001145. The price then broke out of hidden bullish accumulation on August 28 22:00 this time making a steady increase of about 4.39% before the collapse of bullish support on August 30 '19 00:00.

After a price slump of about 4.5% from a breakdown of bullish accumulation on August on 30 '19 00:00, a regular bullish divergence pattern in combination with an opposite break of bearish accumulation (0.0001140) returns the price to the bullish direction at publication time.

Conclusion
Although the general outlook of the LSKBTC is bearish, an exit of the oversold area from a weekly chart perspective should show confidence towards buying into the Lisk token. A break below the 0.0001010 support implies further price decline and a dominant Bitcoin BTC.



Disclaimer
Content provided by CryptoTraderNews is for informational purposes only, and should not be construed as legal, tax, investment, financial, or other advice. All information is of a general nature. As always, there is risk with any investment. In exchange for using our products and services, you agree not to hold CryptoTraderNews Pro, its affiliates, or any third party service provider liable for any possible claim for damages arising from decisions you make based on information made available to you through our services.

[/wlm_private]
Want to read the rest of the article? Join our pro-membership and receive all of the following:
✅Access to ALL content.
✅Access to the CTN editorial staff.
✅Access to our CTN trading dashboard.
✅Access to our exclusive telegram channel where all our pro-members and editorial staff are in.
✅Ability to request content/research material!