Bitcoin fell below $10000 for the first time in two weeks on Tuesday. This comes after US lawmakers scrutiny and criticism of Facebook's Libra. Libra's executive David Marcus spoke before the US Senate's banking committee on Facebook's plan to implement Libra, pledging it would not do so until regulatory issues were addressed.

He stated that "I expect that this will be the broadest, most extensive and most careful pre-launch oversight by regulators and central banks in FinTech's history." Amidst this chaos, China's central bank has given its not to building their own digital currency in response to Facebook's Libra.
Bitcoin's price rallied after Facebook's announcement of Libra coin and JPMorgan's customer trials for JPM coin. Consecutively price has been plummeting since the past week and is well below $10000, $9,830.46 to be exact, sourced from coinmarketcap.com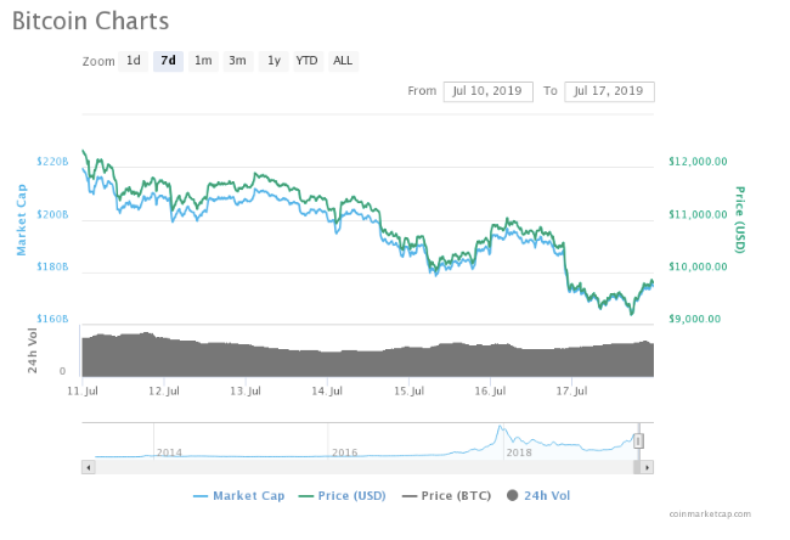 Price fell by over 8 percent on Tuesday and US lawmakers' regulatory scrutiny of Facebook intensified. Price was plummeting as David Marcus spoke to the Senate Banking Committee. Earlier, before the talk, price dropped by over 3%.

In the past one week, price dropped by 20% and the sell off hasn't gained momentum yet. Bulls are resisting selling off quite yet. During the hearing with the Senate Committee, a U.S senator went to the extent of calling Libra believers "delusional". The project is set to be launched in 2020, and it won't come before a grueling round of questioning by the House.

Bitcoin holders and investors are now concerned that lawmakers' pressure and stance on Libra will cause further bloodbath in the market. Other cryptocurrencies like Ethereum also lost over 10% of its market capitalization this past week.
Since Libra's launch announcement regulators across the world have been alarmed and are reacting to the shift in power over the Global Economy. The power tussle has its roots far deeper than Bitcoin's price action. Central banks and institutions are worried about Libra taking over fiat currencies.

It is anticipated by some analysts that this FUD might result in Bitcoin's price falling below $8000 in the coming week.