Burger King franchises in Germany are beginning to accept Bitcoin payment through their mobile app, but did you know that paying for your Whopper with BTC isn't new news?

In fact, in June 2017, Bitcoin payments were being accepted in test locations… in Russia. Back then, Burger King Russia CEO Dmitry Medovy said "The main difficulty is tax issues, not integration" and that "payment with cryptocurrency is [in] the near future."

Going back even further, a city in the Netherlands made a goal of being the crypto-friendliest place on the planet. That city is Arnhem, and Burger King was listed as one of the restaurants within the city limits that accepts Bitcoin for payment. This was announced in February of 2016.

Jacksonville, Florida 1953 – Keith J. Kramer and Matthew Burns founded the Insta-Burger King franchise, but after some financial difficulty, two of their franchisees, David Edgerton and James McLamore, purchased the floundering company and renamed it Burger King. Since then, the restaurant franchise has changed hands several times to eventually become part of Restaurant Brands International conglomerate. Burger King currently sits in fifth position within the global fast food restaurants list. Headquartered in Miami-Dade County in Florida, they have close to 17,000 locations worldwide.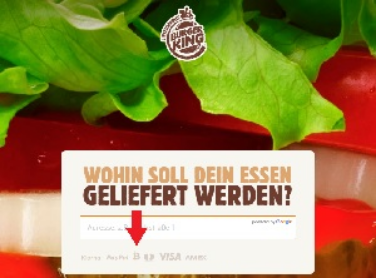 screenshot


At the time of researching this article, there is no "official" announcement from Burger King International regarding this matter. The payment option seems to have suddenly appeared on the German-based website and mobile app without a lot of fanfare. According to Statista, there are 720 Burger King locations in Germany as of 2018, and it is unclear if they accept BTC for walk-in orders at their restaurants.

Sadly, the Bitcoin payment option is not available in the United States. Do I have any friends in Germany who can let me know? And I'll take a side order of fries with that. Thanks.