This last week has been an especially harrowing one for stablecoin, Tether, and the state of crypto in general. From Trump tweets to falling crypto prices in direct opposition to a booming economy, and Facebook hearings on Capitol Hill concerning Libra, it seems that mainstreaming crypto is taking heavy fire. But in some cases, like Tether, they are creating problems all on their own.

Filed on July 8, 2019, State of New York Attorney General, Letitia James filed a formal inquiry in New York's Supreme Court against Tether and a group of corporations collectively known as BitFinex.

On or around January 17, 2017, BitFinex claimed they banned New York residents from transacting on their platform, but the OAG will put forth evidence to the contrary, further citing that an absence to actively solicit New York residents does not mean they banned them. But that's not the only thing the OAG is going after. She states that Tether and BitFinex defrauded their customers to a tune of an $850 million loss and covered it up using Tether funds, then failed to alert their customers about it. There is more in the formal inquiry, if you like legalese, and the result, if found guilty, could be a very hefty fine, much like Bank of America faced in March, 2018. But let's move on to the $50 billion boo-boo that occurred

On July 13, Whale Alert posted the following: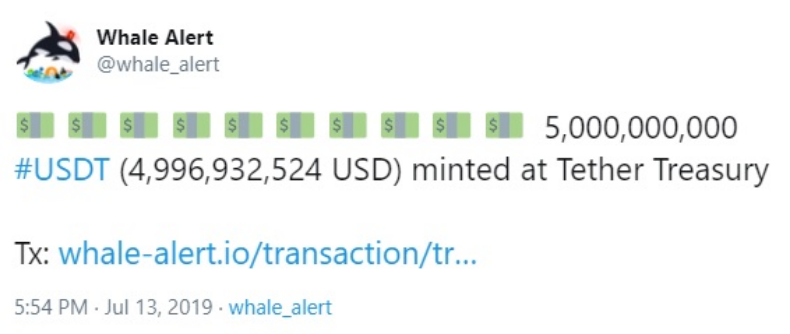 Five billion USDT flooded flooded the market. This happened when cryptocurrency exchange, Poloniex wanted to move $50 million Tether to another blockchain network and someone at Tether hit an extra zero when processing the order. Some might say it was a fat-fingered human error but when the market suddenly swelled, it spooked the crypto investors and Bitcoin and other altcoins reacted by pushing the market down around 12% by some estimates.

Paolo Ardoino, CTO of Tether responded quickly with a tweet and links to the burn transactions to correct the amount of newly minted token, but I have to wonder how this could have happened in the first place and how does that affect their total supply? It does raise a lot of questions. Poloniex also responded that the information provided by Ardoino was correct.

And that leaves us with a new blockchain getting Tethered. USDT is currently available on Omni, Ethereum, Tron and EOS blockchains, and is now available on the Algorand blockchain.

Algorand is a Boston-based open-source software company that is striving to solve the "blockchain trilemma" of security, scalability and decentralization. Ardoino states: "Extending Tether into the Algorand ecosystem is a fantastic opportunity for us to further contribute to blockchain interoperability and collaboration."

At the time of writing this piece, Tether (USDT) is trading at $0.998368, well within the buffer zone of volatility for a stablecoin.

Disclaimer

Content provided by CryptoTraderNews is for informational purposes only, and should not be construed as legal, tax, investment, financial, or other advice. All information is of a general nature. As always, there is risk with any investment. In exchange for using our products and services, you agree not to hold CryptoTraderNews Pro, its affiliates, or any third party service provider liable for any possible claim for damages arising from decisions you make based on information made available to you through our services.