It seems that while the current administration is attempting to play catchup to figure out what cryptocurrency and blockchain actually mean, more and more "mainstream" industries are continuing to make strides for integration and adoption. Of course the NFL and Trump have sparred a few times recently, and the President's recent stance against cryptocurrency and specifically calling out Bitcoin could be setting them up for yet another.

Right at a year ago, the NFL Players Association (NFLPA) invested in the cryptocurrency startup FanChain. This investment also enabled players to earn cryptocurrency by providing live commentary across many pro and collegiate sports while sharing their own commentary and insights. While it looks like their initial trajectory may have slowed down quite a bit, the fact remains that more and more players are getting interested in cryptocurrency.

A Gamble With Contracts?
It seems that at least one player attempted to get various contracts paid in Bitcoin and more appear interested as well. Quarterback Matt Barkley reportedly tried to get both the Cincinnati Bengals and San Francisco 49ers to pay him in the number 1 crypto.

The 49ers' Richard Sherman has long been a fan of cryptocurrency and this past May he chimed in on Twitter again to say he wouldn't mind being paid in crypto. Russell Okung of the Los Angeles Chargers was also recently on Twitter expressing a direct interest in being paid in altcoins.


The Dolphins and Litecoin
On July 11, the Litecoin Foundation announced that Litecoin had become the official cryptocurrency of the Miami Dolphins. However, in my opinion the partnership sounds like it will be more of a benefit for Litecoin than anyone else.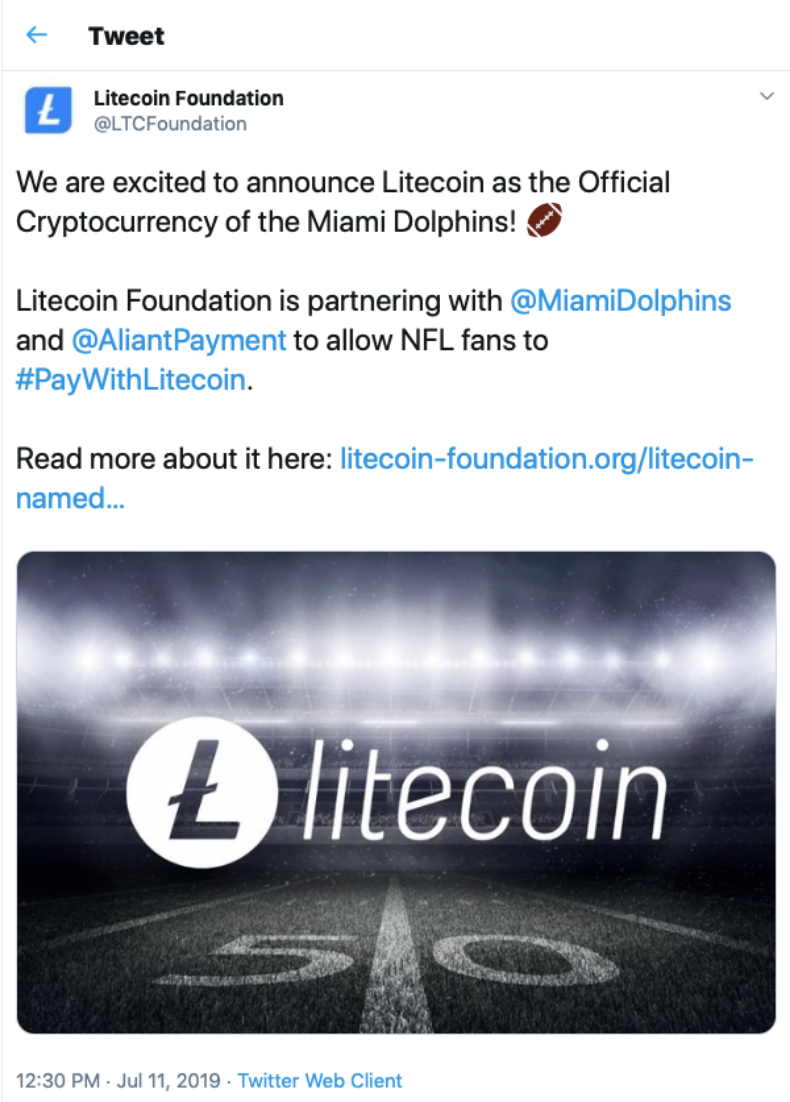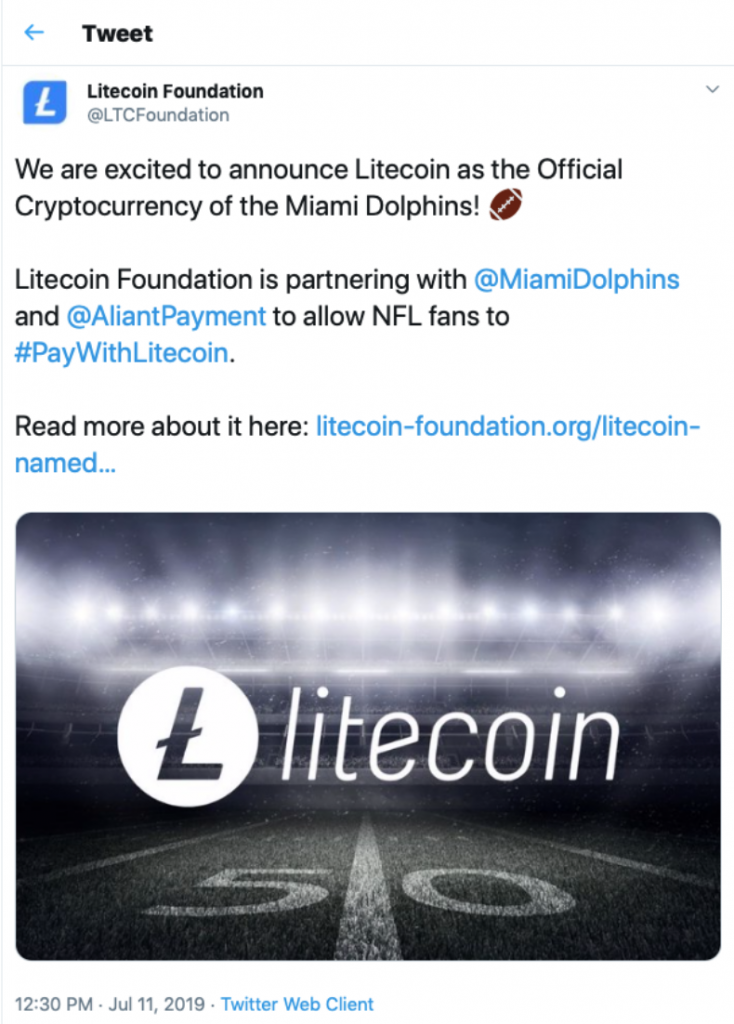 The deal enables Litecoin to be able to utilize in-game branding and gives them fantastic advertising opportunities at Hard Rock Stadium and across the Dolphin's online properties and digital content.

This partnership won't likely spur any sort of large amount of the Dolphin's fanbase to run out and invest in Bitcoin, but it will give them another option for purchasing tickets for the team's 50/50 raffle. Half of the proceeds from the raffle benefit the Miami Dolphins Foundation and its charitable causes and Litecoin, the Dolphins, and Aliant Payments plan to give home game attendees the ability to pay with both Litecoin and Bitcoin for the purchase of the raffle tickets.

For the 2019 season, fans can use either of the accepted cryptos to purchase their raffle tickets either online or at multiple kiosks throughout the team's stadium.

Charlie Lee, the creator of Litecoin, said in the official announcement that "This collaboration propels Litecoin in front of an audience of millions of people around the world at a time where adoption of cryptocurrencies continues to gain momentum and the ecosystem is able to support real world use cases in ways previously not possible."

The Vice President of the Dolphin's was quoted as saying, "this partnership with Litecoin provides the ability for guests to enjoy our 50/50 raffle while donating to a great cause."

So again, I don't foresee this as being some ginormous game changer for Litecoin, but it could help continue the legitimization of the industry. With more mainstream exposure and more NFL players becoming more vocal about the benefits and potential of Bitcoin, altcoins, and blockchain, the industry could become our biggest cheerleaders (pun intended).