Bitcoin price dropped by as much as 20% on Tuesday and that was the largest intraday drop since January 2018. The cryptocurrency fell as low as $7,944, before bouncing back to $8,500 later in the afternoon. It is currently trading at $8,597 and has stabilized above $8,500. Baktt's Bitcoin Futures Contracts were launched this week and experts predicted a boost in Bitcoin Prices, however, the demand for the cryptocurrency dropped and a massive sell-off brought the price to $8,500.

[wlm_private "Crypto Trader Pro – Monthly|Crypto Trader Pro – Yearly|Crypto Trader Pro (Lite)"]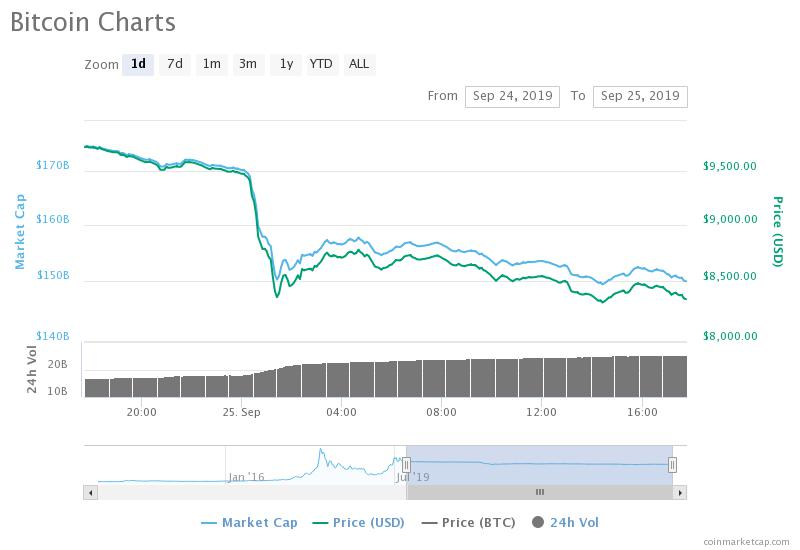 The Bakkt product is meant for institutional investors who may have been wary of trading and hedging Bitcoin exposure on less-regulated exchanges. Though some experts believe that despite the low initial volume, Bakkt has received an underwhelming response and this situation is not exactly set to change in the coming few weeks. Low trading volume and a technical change in trading patterns are other leading reasons for the decline in Bitcoin's price. The hash rate that hit an all-time high in June is lower and the number of transactions on the network has considerably reduced. The recent price drop was triggered by fundamental and technical factors, including Bakkt's futures contract launch, low hash rate, rising geopolitical tension and US President Donald Trump's tough stance on Libra.

BTC has been on a slippery slope since Tuesday's volatility band breakdown. A widely-followed indicator was also reporting the strongest a bear bias in nine months. Investors squared off long positions to cut losses and this created further downward pressure on the price. So, while the price drop was expected, the massive sell-off has left many traders surprised. Bitcoin has registered double-digit losses in a single day four times in 2019. It's worth noting the cryptocurrency is still up about 127% on a year-to-date basis.

Based on technical analysis, Bitcoin dove into a three-month contracting triangle on Tuesday confirming an end of the bull market which began with an April 2019 low near $4,000. Prices are near the 200-day Moving Average (MA) and the long term MA has come into play for the first time in five months. BTC, therefore, risks extending losses to support $7,500; lows not seen since prior to Libra's hype gripped the market in mid-June. A further breakdown could trigger a drop to $4,000. The chart is showing signs of a clear bearish reversal if the price goes back to the $9,000 level within a few days. Unfortunately, that appears to be unlikely.

The 14-day relative strength index (RSI) is currently hovering below 23, its lowest level since November 2018, and Bitcoin is currently oversold. It continues to remain oversold for a prolonged period in a strong bearish market, especially when a sell-off is preceded by a major bout of consolidation. In such situations, trades considered an oversold reads conclusively of a strong trend and this, right now, indicates there is no bull run in sight for Bitcoin in the next two months, especially if the price continues to hover near the $8,000 level.





Disclaimer
Content provided by CryptoTraderNews is for informational purposes only, and should not be construed as legal, tax, investment, financial, or other advice. All information is of a general nature. As always, there is risk with any investment. In exchange for using our products and services, you agree not to hold CryptoTraderNews Pro, its affiliates, or any third party service provider liable for any possible claim for damages arising from decisions you make based on information made available to you through our services.

[/wlm_private]
Want to read the rest of the article? Join our pro-membership and receive all of the following:
✅Access to ALL content.
✅Access to the CTN editorial staff.
✅Access to our CTN trading dashboard.
✅Access to our exclusive telegram channel where all our pro-members and editorial staff are in.
✅Ability to request content/research material!