Ripple is currently trading at $0.25 and is down by 7.5 percent this week. The entire XRP community is outraged over Ripple Lab's sale of XRP tokens. Community members are threatening a takeover if the dumping continues. Most crypto experts believe that fall in XRP prices is a direct result of Ripple Lab's direct sales to institutions.

Brad Garlinghouse, CEO of Ripple Labs responded to the community's outrage saying that, "XRP sales are about helping expand XRP's utility — building RippleNet & supporting other biz building w/XRP ie Dharma & Forte. Reality is we decreased our sales by volume Q/Q and since then the inflation rate of XRP circulating supply has been lower than that of BTC and ETH."

Currently, XRP's price is resting on an all-time support level and it needs to hold that level in order to regain bullish momentum.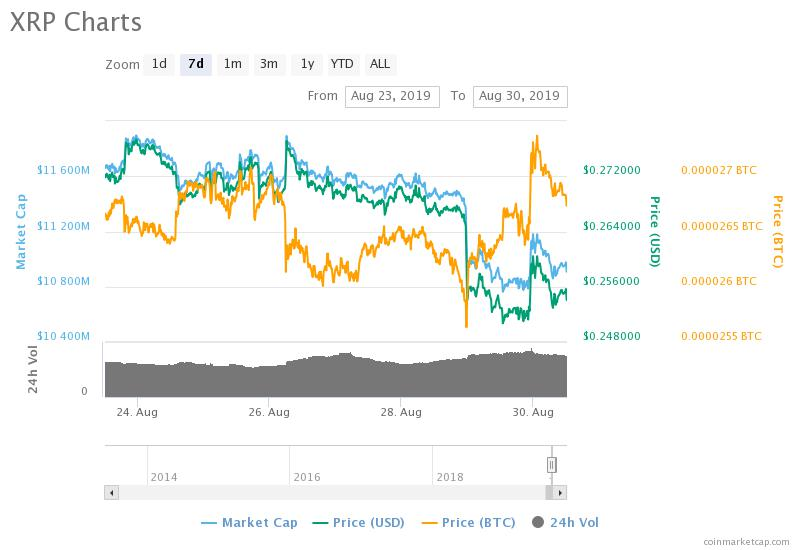 Several signs suggest that XRP is on its way to dramatic recovery back to $1, level of 2017. On the daily timeframe, there are several indicators that XRP has bottomed out and a new cycle may begin anytime in the next 2 weeks.

There is a recent spike in trade volume and we may be in for a complete recovery in Q4 of 2019. The new price cycle will begin with positive price action. The trading sentiment has been bullish for a week now. However, the recovery may take longer than a week. XRP will face key resistance at $0.35 in the following 2 weeks. This may put downward pressure on the XRP price.

While Ripple is one of the more controversial blockchain companies owing to the centralization of its network, it continues to make solid progress by partnering with large companies to implement payment and liquidity solutions that are unmatched by pretty much any other solution currently on the market. It would not be surprising to see XRP and Ripple continue to grow hand in hand as a result of their powerful partnerships. Ripple/XRP hit an all-time high of $3.84 in the Bullrun of December 2017 and has fallen off from those levels in the past 2 years. It remains to be seen whether Ripple/XRP can gain those levels again or not. However, Ripple's adoption is increasing every day and this may be able to push it to a new high.




Disclaimer
Content provided by CryptoTraderNews is for informational purposes only, and should not be construed as legal, tax, investment, financial, or other advice. All information is of a general nature. As always, there is risk with any investment. In exchange for using our products and services, you agree not to hold CryptoTraderNews Pro, its affiliates, or any third party service provider liable for any possible claim for damages arising from decisions you make based on information made available to you through our services.