The 28-year-old CEO of BitTorrent and founder of Tron caused another stir in the community this week when he announced on Tuesday that due to a battle with kidney stones, he was postponing his lunch today with Warren Buffet.

You may recall that Sun won eBay's annual charity auction to have lunch with Warren Buffett in New York City by paying a record-breaking $4.6 million just a little over a month ago. That's probably why his unexpected announcement was immediately followed by reports that it was more than a few aches and pains that were keeping him from his prize.

The Chinese publications Caixin and 21st Century Business Herald reported that Justin couldn't attend because he was being held by authorities due to accusations of illegal fundraising, operating illegal gambling services, and illegal involvement in the pornography business. However, Tron's founder was on Weibo a short while before publication and in a live video that appeared to show him with the Bay Bridge in San Francisco in the background, he denied those reports.

Sun said in the video that he wasn't "feeling quite well but I think we going to postpone" and that "it's pretty comfortable in San Francisco."

However, on Wednesday Justin was back on Weibo saying that his "mouth" got in the way of his good intentions and that his bid for the charity lunch with Buffett originated from his love of charity and admiration of Buffett, and of course his desire to promote the blockchain industry.

Then, Sun stated that he will be "closing the door" and reducing press interviews as well as posting less on social media and will be focusing more on blockchain technology.

A spokesperson for Justin said that the lunch is not canceled, only postponed, and Buffett's people said that he would not comment on the situation "in respect to Justin Sun."

Whatever his real reasons for canceling, I mean "postponing," it wasn't a matter of trying to get out of paying his winning bid. The charity behind the annual lunch, Glide Foundation, tweeted earlier this week announcing the postponement and stated that the $4.6 million "is already transforming lives."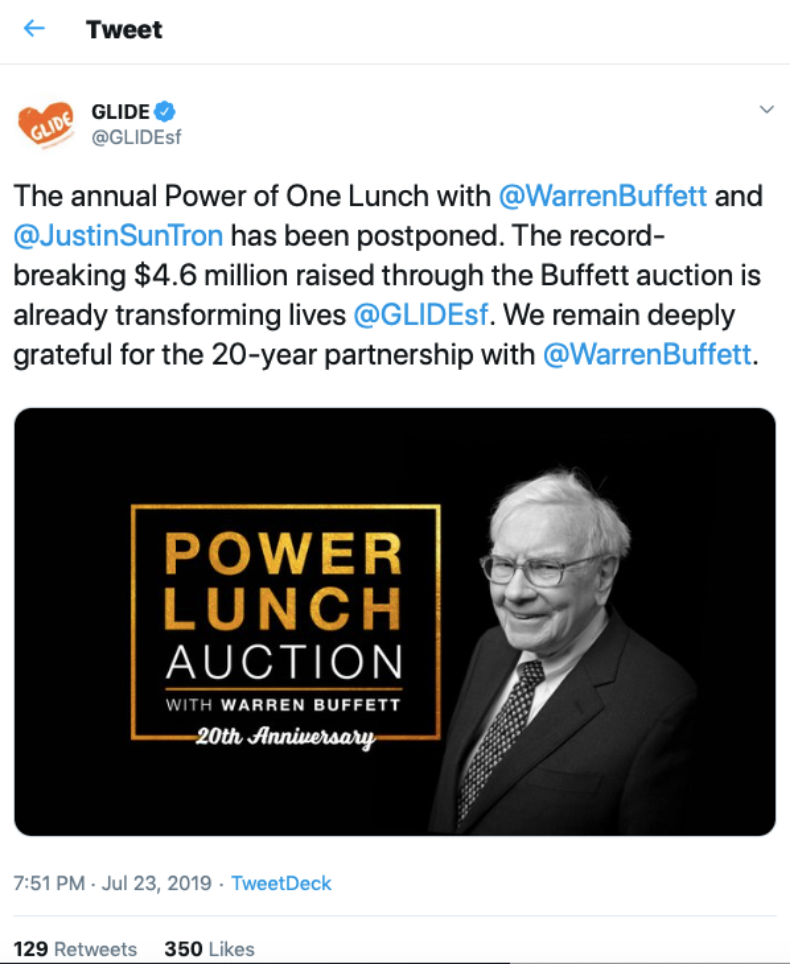 It seems that the further we get into 2019, the further down the hole Justin's credibility goes. While "closing the door" might be exactly what he needs to regain his focus on the technology itself, the growing grumbles about Tron and Sun's continued issues could be too much to recover from.