The bitcoin ecosystem has several companies that work to grow bitcoin and services related to bitcoin. These companies include BTC Pay Server, Blockstream, and a few other companies that are exclusively focused on bitcoin. It might not have as much frenzied activity as Ethereum with its growing ecosystem and a plethora of projects. Square recently joined the crypto sector and has invested in the emerging industry in more ways than one. In 2017, it laid the foundation for bitcoin trading, invested in Lightning Labs, then added Square Crypto as a division, and now invests in pivotal entities within the bitcoin sector.
Square just recently donated $100,000 to the BTCPay Server Foundation, which was confirmed in a simple tweet: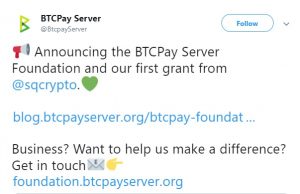 The fintech firm, Square continues to strategically add value to the growing bitcoin sector by adding critical people like Matt Corallo and working with Elizabeth Stark.
Why BTCPay Server Exists and Matters in the Bitcoin Scene
BTCPay Server states that it is "helping businesses and individuals achieve self-sovereignty regardless of their political, geographic or financial barriers." It seems that the "only way to truly achieve this goal is to make the software completely open and available for everyone." The open-source project has incorporated these principles from the very beginning and "has been free and open-source software, released under the MIT license." As such, it allows anyone and everyone with the right skill sets to contribute to the BTCPay Server project.
Support From Key Partners like Square is Valuable
Bitcoin was open source and grew organically with volunteers and contributors from mailing lists and self-interested individuals via bitcoin mining and trading. Additional projects and progress will need more support from people with the right skills, time, and commitment as well as monetary support. Square Crypto supports BTCPay by helping it keep moving forward and adding new projects that would contribute to the "security, scalability, privacy, user experience, or fungibility of Bitcoin — or all of the above."
What is even more interesting about this project is that Square took into account that this project might compete with Square, but it looks at it differently.
A square representative states:
"Existing payments companies have a choice to make: adapt or be left behind. This isn't an investment in a competitor; it's an investment in the future of money — something that Square obviously has a stake in."
Square is one company to take notes on how it approaches ideas, services, consumers, and competition. At the same time, it is essential to note that its division is called Square Crypto, not Square Bitcoin. Supporting bitcoin is a strategic move as it is the leading digital asset with the most robust monetary base, full brand recognition, and regularly high volumes. Square ethics of appreciation for open source projects might also include other open-source projects that are as compelling as bitcoin in the future.
It is, after all, a public company that is accountable to shareholders, to create long-term value and increase revenue growth initiatives.