Bitcoin's strong and stable performance in 2019 has given the digital currency a strong comeback from crypto winter. The coin continues to outperform gains seen in traditional market stalwarts like gold, silver, and the S&P 500, so traders are making comparisons to its relative strength within the market.

Comparing Bitcoin, Stocks and Precious Metals
We compare the profit probabilities of various returns generated by gold, silver, and the S&P 500 and analyze the weekly and monthly charts. These returns are then placed within comparative time frames that allow traders to see the average investment durations that might be required in order to see similar trading results across each asset class.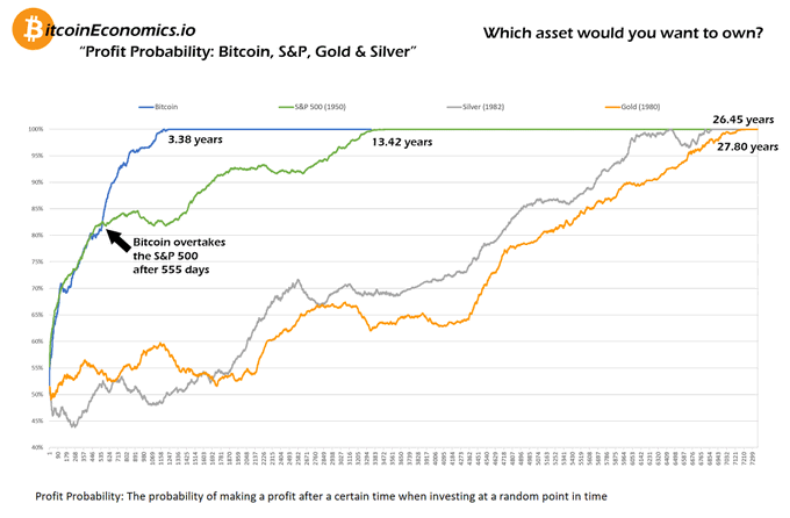 Source: BitcoinEconomics.io

Bitcoin outperforms the other two major asset classes and the recent market moves support the outlook at the bullish trend for cryptocurrency is set to continue. Long term charts indicate upside correction and despite rallies of more than 177% on a year-to-date basis, BTC/USD valuations currently remain 47% below their all-time highs. As a traditional safe haven, gold prices have made impressive rallies of 15-17% this year. However, this performance trails returns generated in BTC/USD long positions by a wide margin and indicator readings in the Commodity Channel Index suggest gold is now trading in overbought territory.

Other precious metals like silver have reached the overbought territory on the weekly charts. There is a sharp reversal from the highs of $19 and evidence is mounting and suggesting a historic bull run. The S&P 500 is often thought of as the central benchmark for stock trends in developed markets because it contains the largest cross-section of assets among all industry classes. For this reason, its year-to-date gains of 19.97% have been encouraging for many traditional investors.

The average annual return in the S&P 500 stands at 10% and the performance has nearly doubled the market's averages. The index could be trading near its peak for the year, as the index trades near prior resistance levels at $3,028. If the reversal prospects in the traditional asset classes continue, crypto investors will see their portfolios double in 2020.

The recent altcoin bullrun seems to confirm this as the traditional asset classes like stocks and precious metals seem to be lagging far behind the returns generated by BTC/USD. We wait to see if Bitcoin will continue to outperform returns generated by gold, silver and the S&P 500.





Disclaimer
Content provided by CryptoTraderNews is for informational purposes only, and should not be construed as legal, tax, investment, financial, or other advice. All information is of a general nature. As always, there is risk with any investment. In exchange for using our products and services, you agree not to hold CryptoTraderNews Pro, its affiliates, or any third party service provider liable for any possible claim for damages arising from decisions you make based on information made available to you through our services.