Ether shows a strong bearish outlook from 05 February '18 as most ICO projects trade below their opening price. Scalability issues on the network is another issue keeping the ETH in a downward spiral.

Read on as we identify the technical price patterns driving the price of the ETH paired against Silver (XAG).


Long term Price Overview
ETHXAG Weekly chart 05 Feb '18 – Present Day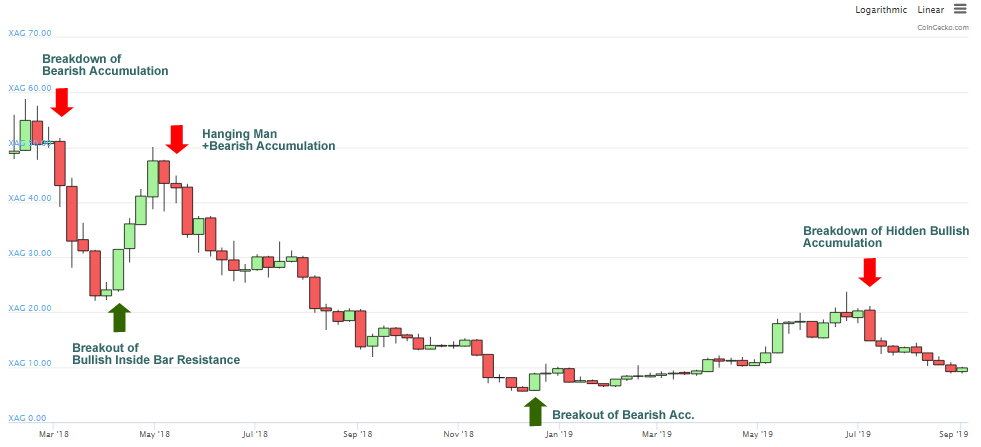 The above chart shows ETH in a long bearish trend against Silver (XAG) since 05 February '18, where an increase in selling pressure on 05 March '18 forced the ETHXAG price to plummet.

[rml_read_more]
After almost hitting 20 XAG, the pair corrected the bearish trend to a high of 50.05 XAG before signaling a bearish accumulation pattern on 14 May '18 to resume the bearish trend.

Efforts to restore the price higher was to no avail as the bears forced the price below bullish accumulation support with 29 XAG on 30 July '18. The price dropped as low as 5.64 XAG on 17 December '18 before the end of the crypto-winter of 2018.

The bullish campaign upon exiting the long price decline increased to a high of 23.77 XAG on 24 June '19 before the current price decline.


ETHXAG (10 June – 02 Sep)

A quarterly overview of the ETHXAG chart brings us a step lower to visualize the price dynamics, starting from a combination of dark cloud bar pattern and a breakdown of bullish accumulation on 26 June '19.

A bearish accumulation pattern fueled the bearish trend on 12 July '19, a breakdown of bullish accumulation on 22 July '19 and a combination of double bearish and another breakdown pattern on 23 August '19.

Recent chart update of the ETHXAG chart shows the pair breaking out of hidden bearish accumulation. Indications through CoinGecko would indicate there optimism for a recovery of the Ether price.


ETHXAU (10 August – 07 September)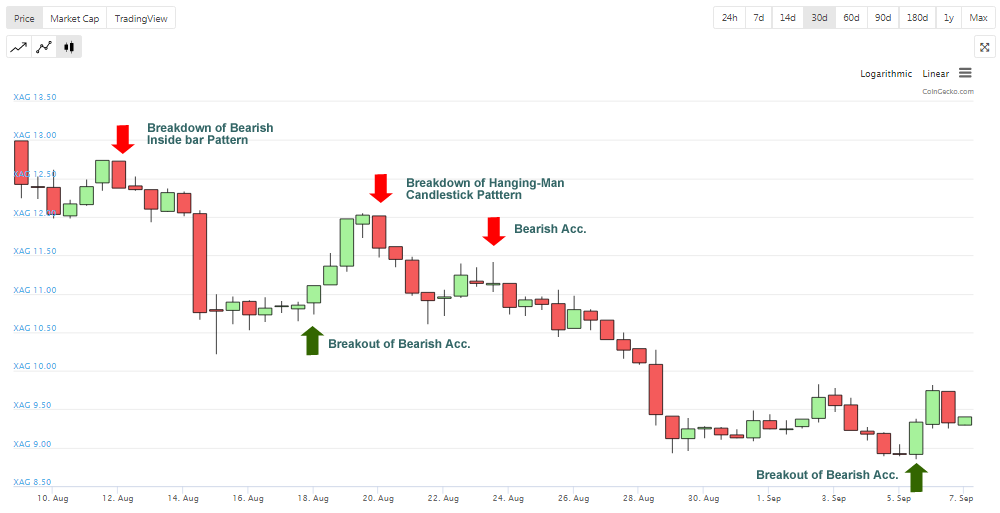 Above is a monthly overview of the ETHXAG starting with a breakdown of a bearish inside bar on 12 August '19 that was later opposed by double bullish accumulation on 17 August '19.

A collapse of the hanging man candlestick pattern on 20 August '19 resumed the bearish price decline, which later transitioned into establishing bearish accumulation resistance on 23 August '19.

The bearish trend came to an end after a breakout of bearish accumulation on 05 September '19.

Another breakout of bearish accumulation at publication time sends the price higher and showing confidence on the part of the bulls to drive the price higher.


ETHXAG (01 September – 07 September)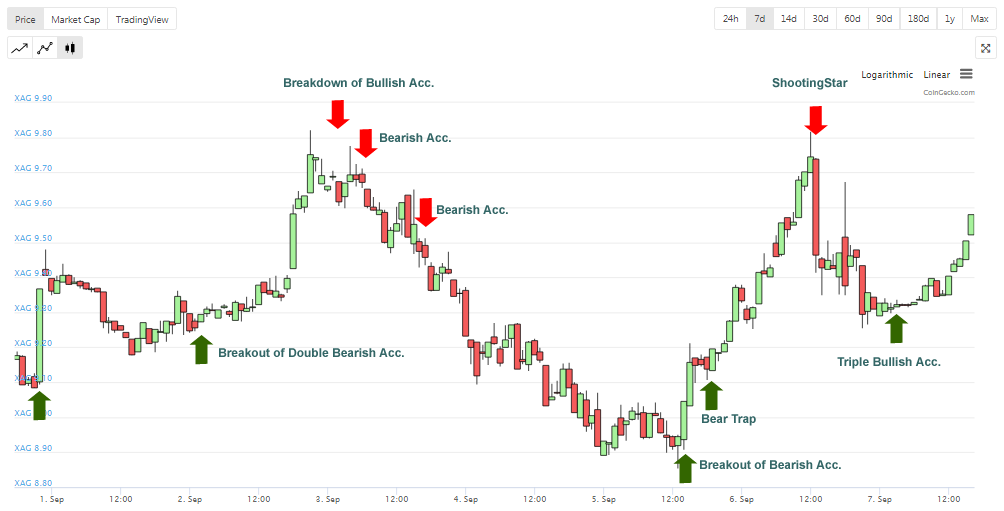 The above weekly chart overview illustrates a continuation from a price correction via a breakout of double bearish accumulation on 02 September '19.

A breakdown of bullish accumulation followed by a series of bearish accumulation price patterns drove the ETHXAG further south, until a breakout of bearish accumulation on 05 September '19 at 12:00.

Notice an increase in buying power in the form of triple bullish accumulation on 07 September '19. The Ether (ETH) price is in an upbeat swing that may persist into the coming weeks.


ETHXAG (Intraday)

Following the above 24-hour chart illustration, the ETHXAG price breaks out of a descending triangle after the price setup successive lower highs around 9.80 XAG on 06 13:00 September '19 and the 19th hour of the same day.

At press time, the ETHXAG pair trades within the 10.60 XAG price range with the optimism of continuing the bullish campaign.

Conclusion
The Ether ETH/Silver XAG price has corrected the earlier price gains for about ten weeks in a row. A breach of the bearish accumulation resistance at 12.05 XAG will confirm a resumption of the bullish trend that started from 17 December '18.





Disclaimer
Content provided by CryptoTraderNews is for informational purposes only, and should not be construed as legal, tax, investment, financial, or other advice. All information is of a general nature. As always, there is risk with any investment. In exchange for using our products and services, you agree not to hold CryptoTraderNews Pro, its affiliates, or any third party service provider liable for any possible claim for damages arising from decisions you make based on information made available to you through our services.