Operating since 2016, Bittrex is one of the Internet's biggest cryptocurrency markets with a base in Seattle, USA. It's made its way into the top three exchange markets in the world based on trading volume and presently experiences daily trading volumes around $300m.
The site has a reliable credit rating and to date there have been no records of hacks on the site. The exchange views itself as an up and coming cryptocurrency trading floor striving to deliver the fastest and most secure trading service available.
Bittrex was set up by CEO and CO-Founder Bill Shihara. When designing the exchange, he pulled from his experience at Amazon and Blackberry as a security engineer. Shihara was driven by the problems of safety and dependability breaches experienced by other markets so his goal was to develop a more reliable service. Bittrex includes a stellar team that combines over 50 years of security and growth experience from brands which include Microsoft, Amazon, Qualys, and BlackBerry.
[rml_read_more]
How Does Bittrex Stand Out?
Since its inception, Bittrex has incorporated many features and practices that help it stand above its contenders. These include:
A safe platform: The people involved with the creation of Bittrex pride themselves on rendering a secure platform that integrates the most reliable security technologies available. These include utilizing a flexible dual-stage wallet. This ensures that the safety of more than 90% of funds are stored safely offline. Security protocols also require two-factor authentication (2FA) for all withdrawals and API mode.
A custom-built trading engine: Bittrex platform was made to be scalable using elastic computing. As a result, it can process and deliver orders as soon as they are placed. This puts an end to crossed order books or any delays in the processing of trades.
Quick deposits and withdrawals: This operation is set up to allow swift processing of transactions through a programmed monitoring platform which enables faster transactions and also permits active updates on balances, trades, and wallet information. These key pieces of information are updated on Bittrex for realtime information.
Customer Support: Being one of the top cryptocurrency exchanges, a vast number of relief tickets can be expected, which can strain the resources on any platform. Bittrex stays on top of things with a reliable support page as well as staying active and engaged on social media.
Accessibility:In addition to high trading volumes, Bittrex has an open access policy available to a large number of cryptocurrencies. The platform lists hundreds of cryptocurrencies where traders can easily trade value up to one Bitcoin a day with an unknown account, however, trade and withdrawal limits can be increased with verification and two-factor authentication (2FA) enabled.
Transparent Fees: Customers on Bittrex can easily calculate accrued fees because there is a 0.25% standard trading fee on all trades.
What can you trade on Bittrex?
A major edge for the Bittrex exchange is that it offers clients a diverse selection of over 450 cryptocurrency pairs between Bitcoin and Ethereum. As of April, 2019, Bittrex now supports eligible personal and corporate accounts for US Dollar (USD) trading, USD deposits, and USD withdrawals. According to their support page, identity verified (personal or corporate) customers operating outside the United States or in one the following US states/territories are eligible to participate: however, bank wire transfers are offered to purchase Bitcoin, Ethereum, or USDT (Tether). There is a minimum deposit of $1,000 for purchases.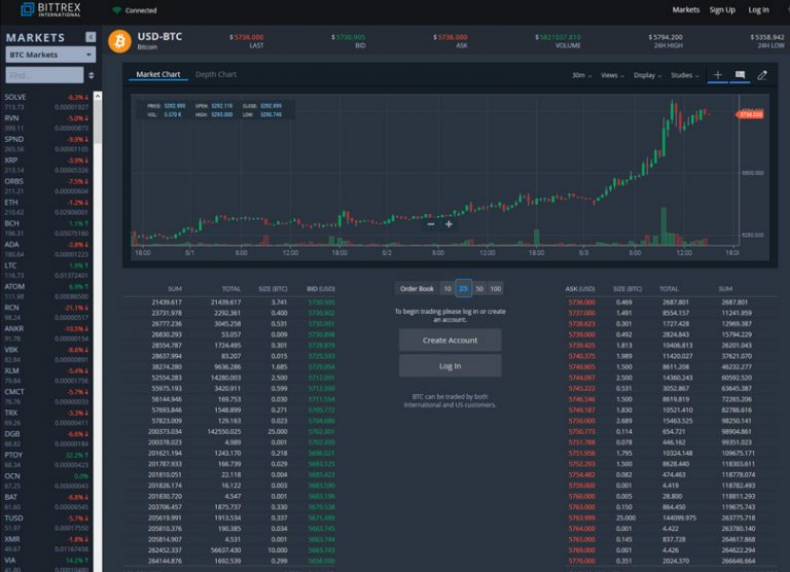 USDT trading pairs
The USDT is supported by U.S Dollar kept in the Tether Limited reserves and presented by the Bitcoin blockchain. USDT is connected or "tied" to the rate of the US Dollar and operates as a solid digital currency that gives traders additional options. USDT as a "tether" and can be conveyed, spent, and stored in the same way as other cryptocurrencies. Users can purchase and get Tether on the Tether platform which then enables them exchange USDT for fiat currencies.
Withdrawal Limits and Account Verification
All accounts opened on Bittrex must be verified according to U.S regulatory bodies. The company makes it a requirement to adhere to Know Your Customer Anti-Money Laundering and Know Your Customer (AML KYC) requirements.
Bittrex currently offers 2 account types: Basic and Enhanced.
Basic Accounts: Users are required to present their name, address and date of birth to operate this account. The user provided details are validated on public databases. After enabling 2FA, the basic account can make withdrawals of up to 3 BTC/day.
Enhanced Accounts: Users can make withdrawals of up to 100 BTC but they will have to provide identification, and selfies, which will then be verified by Jumio service provider.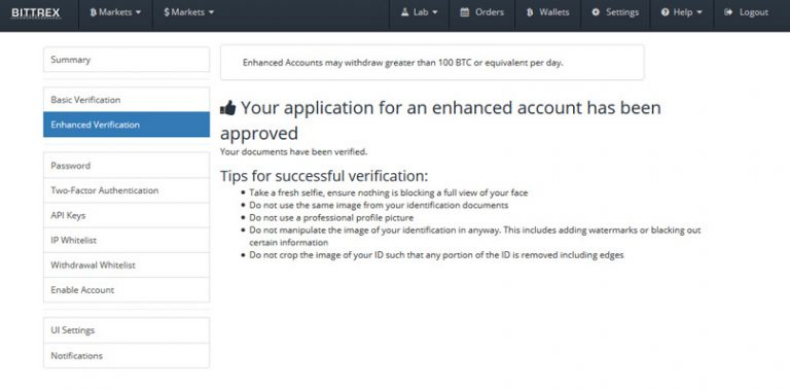 Getting Started on Bittrex
Signing up to an account on Bittrex takes a few minutes. Visit Bittrex and register using your email address and password.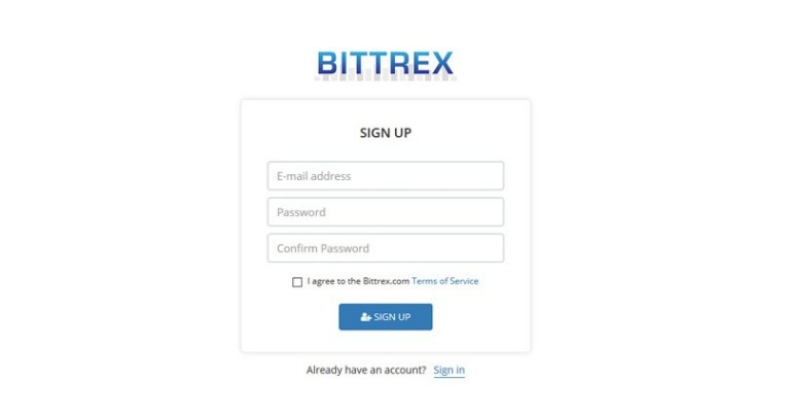 Once you've registered, check your email for verification. You will need to click the link to complete the registration process.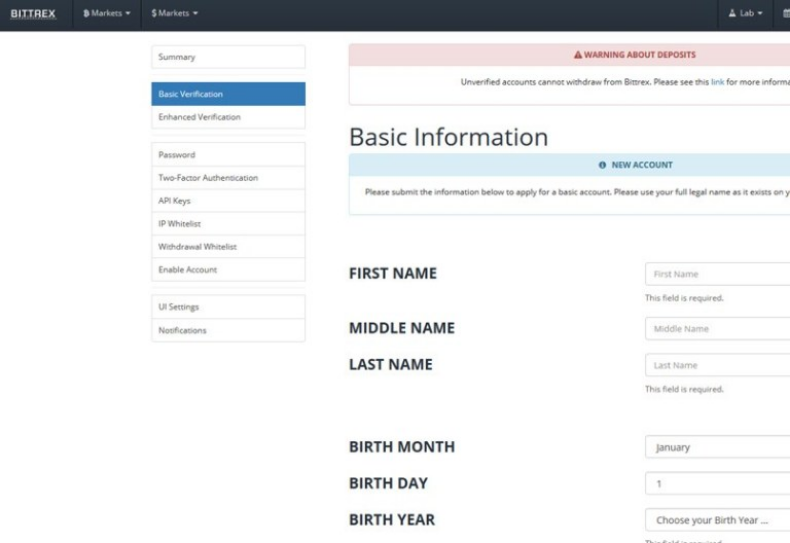 Making Deposits
By clicking on the wallets link you can deposit a cryptocurrency of choice.
Search for the cryptocurrency you want to deposit by typing the ticker symbol or name in the search bar.
By clicking on the plus icon, a deposit box will come up allowing you to generate a deposit address. It's advisable you start by trading small, then as you get a hang of it, you can increase your deposit. You can also transfer funds in cryptocurrency from an already owned crypto wallet.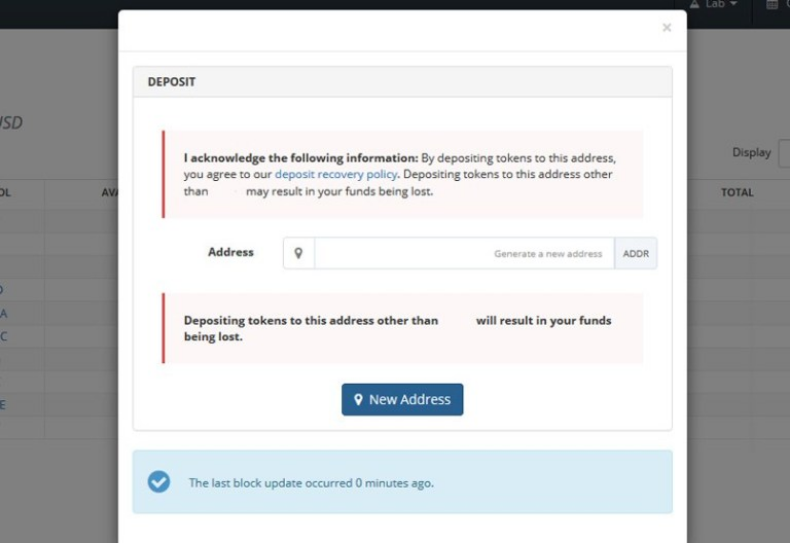 After a couple of blockchain verifications, you'll receive your deposit and begun your journey into the world of crypto trading.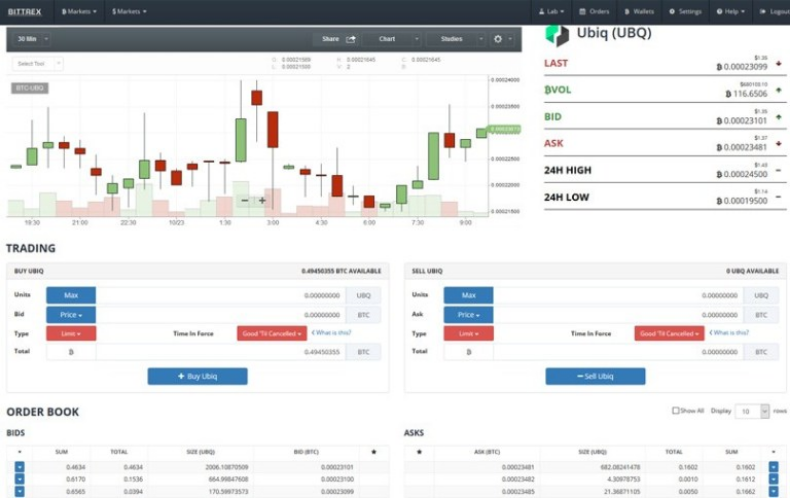 Conclusion
With an active social media presence and commitment to compliance within the regulatory framework of Maltese government and European Union, Bittrex is one of the exchanges we highly recommend. However, ensure to only trade with a fraction of your crypto holdings on any exchange, as they are not full proof from hacks.
Disclaimer

Content provided by CryptoTraderNews is for informational purposes only, and should not be construed as legal, tax, investment, financial, or other advice. All information is of a general nature. As always, there is risk with any investment. In exchange for using our products and services, you agree not to hold CryptoTraderNews Pro, its affiliates, or any third party service provider liable for any possible claim for damages arising from decisions you make based on information made available to you through our services.