Introduction

Founded in 2009 by Maxim Blagov and Witek Radomski, Enjin is a blockchain-based startup targeting an estimated two billion blockchain gamers. Based in Singapore, the platform is one of the most significant social gaming websites with a global user base of over 20 million on 250,000 game communities, and 60 blockchain-based games on the Enjin network. The company's platform allows developers and game enthusiasts to create digital assets to be used across multiple video games.
[wlm_private "Crypto Trader Pro – Monthly|Crypto Trader Pro – Yearly|Crypto Trader Pro (Lite)"]

The gaming platform which is powered by the Ethereum blockchain allows for the real ownership of items by gamers. Also featuring censorship-resistant transactions, it also has makes possible for digital gaming items to be exchanged, or melted as a reserved value into the Enjin crypto coin.

Pegged at a fixed supply of one billion ENJ, the value of Enjin is determined by the forces of supply and demand in the gaming ecosystem, which is triggered by purchases of digital items, and melting of the items into ENJ.

The Enjin platform within just a month of its release recorded over 470 downloads of the SDK and pulled almost 4,000 innovators as well.

We shall consider the events and developments on the Enjin network within the Q1 and Q2 2019.
Enjin's Platform Launch

To enable developers the ease of creating blockchain games and avoiding the bottlenecks that come with writing blockchain codes, as well as developing and maintaining blockchain infrastructure, the Enjin team launched a Platform as a service (PaaS) on the Ethereum blockchain in March. The platform comes with Blockchain SDKs, Trusted Cloud, a Platform API, and Wallet Daemon.

Update to Enjin Wallet

Enjin's fifth wallet update allows for a seamless token-swaps of over 200 tokens to cryptocurrency and blockchain asset wallet using token conversion platforms, such as Bancor, Kyber Network, and Changelly.

Enjin Wallet Offers Full Binance chain plus all BEP-2 Tokens

The official launch of the Binance Chain Mainnet on April 23, saw the Enjin wallet include full native support for the Binance Chain and all its BEP-2 assets. This means that all Binance Chain assets are safely stored on both iOS and Android phones, and can be easily transferred resulting in an increase in the mainstream approval of Enjin Coin.

Enjin's Partnership with Samsung

On 25 February reports from an anonymous source surfaced claiming that Samsung would be deploying the Enjin wallet in its new Galaxy S10 smartphone. A screenshot revealing the Enjin wallet in use on the Galaxy S10 for Ethereum transactions was purportedly posted by Tworld, Korea's second-largest telecom company. Though these reports remain largely unconfirmed, it has helped to popularize the Enjin coin.

Launch of Enjincraft, brings the true economy into Minecraft

For a long time, Minecraft has been missing a real in-game economy but the launch of Enjin now sees an Enjin coin – Minecraft integration. Using the Enjin SDK, Minecraft players can purchase virtual items and move them across servers in real-time. This integration signals a step in the direction towards the absorption of Enjin ENJ and the entire cryptocurrency market into the mainstream.

Conclusion and ENJ Price Projection

As a way of conclusion, it will be smart to note that, the creation of a Stormwall shield (virtual item), which allows users to lock up ENJ, thereby, increasing the value of ENJ has directly led to an increase in the approval rate of the gaming ecosystem. This development has made ENJ the more scarce, consequently increasing its price.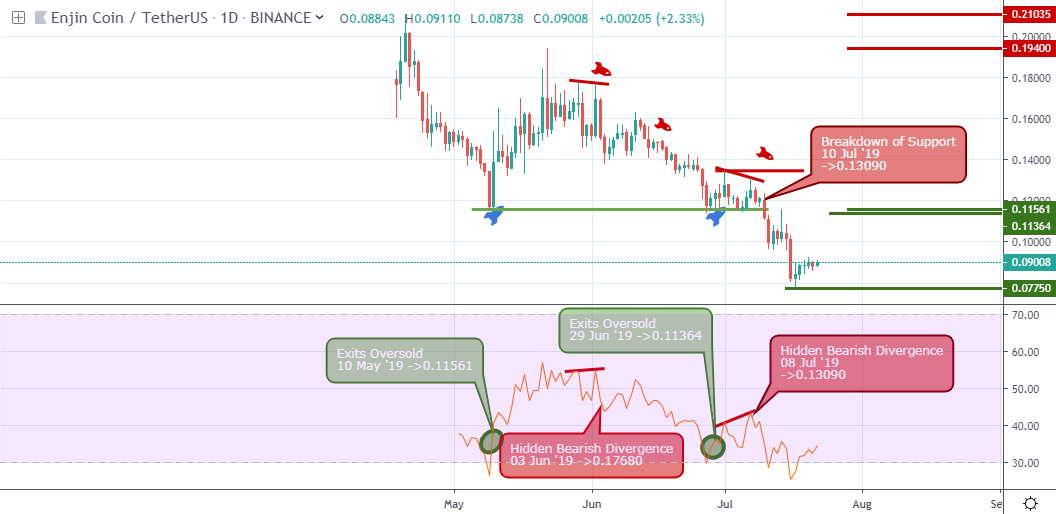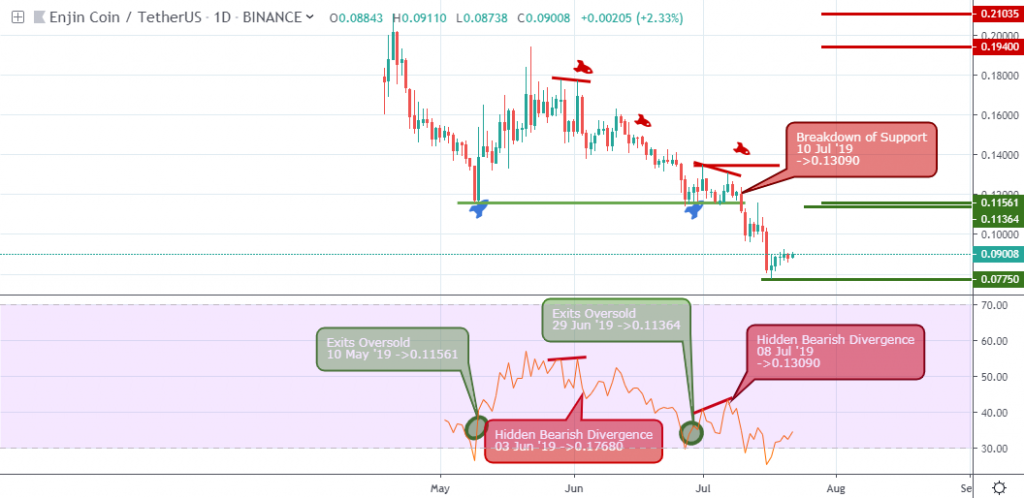 Notice how the pair exits the oversold territory on 10 May '19 and 29 June '19. A double bottom price pattern is formed at the 10 May '19 support of 0.11561. A break above the 0.13459 resistance will emphasize an increase in buying power.

However, the double bottom support failed to an increase in selling pressure at press time in response to negative criticism towards cryptocurrencies from the US President Donald Trump and Treasury Secretary Mnuchin.
Disclaimer
Content provided by CryptoTraderNews is for informational purposes only, and should not be construed as legal, tax, investment, financial, or other advice. All information is of a general nature. As always, there is risk with any investment. In exchange for using our products and services, you agree not to hold CryptoTraderNews Pro, its affiliates, or any third party service provider liable for any possible claim for damages arising from decisions you make based on information made available to you through our services.
[/wlm_private]
Want to read the rest of the article? Join our pro-membership and receive all of the following:
✅Access to ALL content.
✅Access to the CTN editorial staff.
✅Access to our CTN trading dashboard.
✅Access to our exclusive telegram channel where all our pro-members and editorial staff are in.
✅Ability to request content/research material!