Short-term traders often refer to themselves as day traders; they're the people who play the markets within a very short timeline that could range anywhere between a few minutes, an hour, a half a day… Depending on your school of thought, short-term traders can be seen as brave or reckless, but most of them actually know what they're doing to turn a quick profit. Here are some tips for those looking into short-term trade.
[wlm_private "Crypto Trader Pro – Monthly|Crypto Trader Pro – Yearly|Crypto Trader Pro (Lite)"]

What to look for in the vast market.

The first thing to scope out and identify the prior action of a token or stock. Let's take a situation where a cryptocurrency has been trending downward throughout the previous day but it's caught our interest. Short-term traders aren't necessarily looking beyond last week's charts but maybe they'll scope out the resistance levels going back three to five days. Are there patterns? Does it coincide with the time of day? What's a good entry and exit point?

Some short-term traders are only looking at the last few candlesticks and quick market fluctuations. Depending on the trader, they'll jump at an opportunity that's trending in the right direction.

Three things to look for:

There are three minimum, yet vital, bits of information you want from the previous days as a short-term trader – the price highs and lows, the resistance level, and the price support for the day. This information is vital for a short-term trader.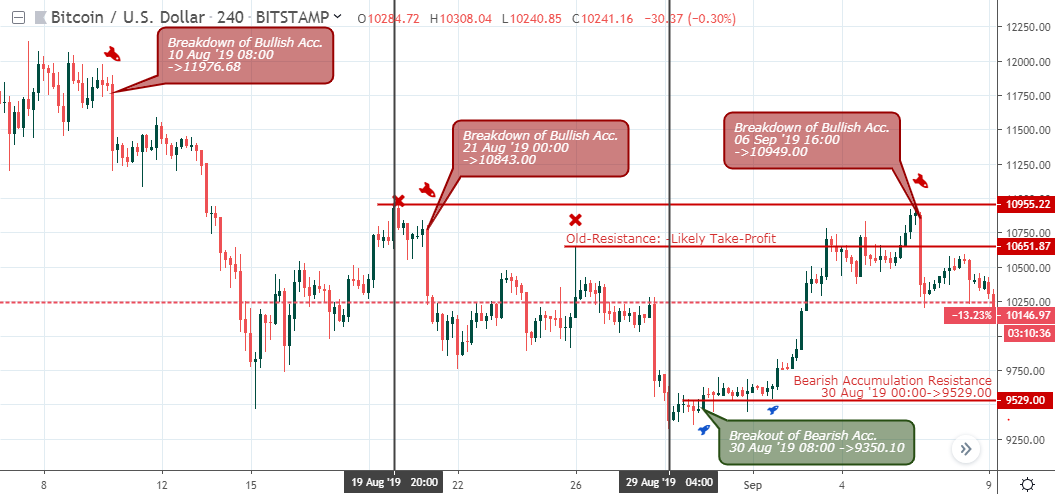 Selling Below Resistance
Using the chart illustration below, you can see the support and resistance levels of the previous day and stay short if the price remains under the previous day's level of resistance.

You can say, "I will start my first long entry if the price exits yesterday's resistance level." They are several scenarios around this. The bottom line is to look at yesterday's data to decide on today's course of action.

Notice how the Bitcoin (BTC) price trades below the bearish accumulation resistance of September 09 at $10,542.93, and signals five consecutive bearish accumulation resistance levels starting from September 14.

A price close above the $10,263.65 resistance of the previous day shows a weak bearish trend, and a bullish trend will be reinforced if the price advance further above the $10,441.47 level.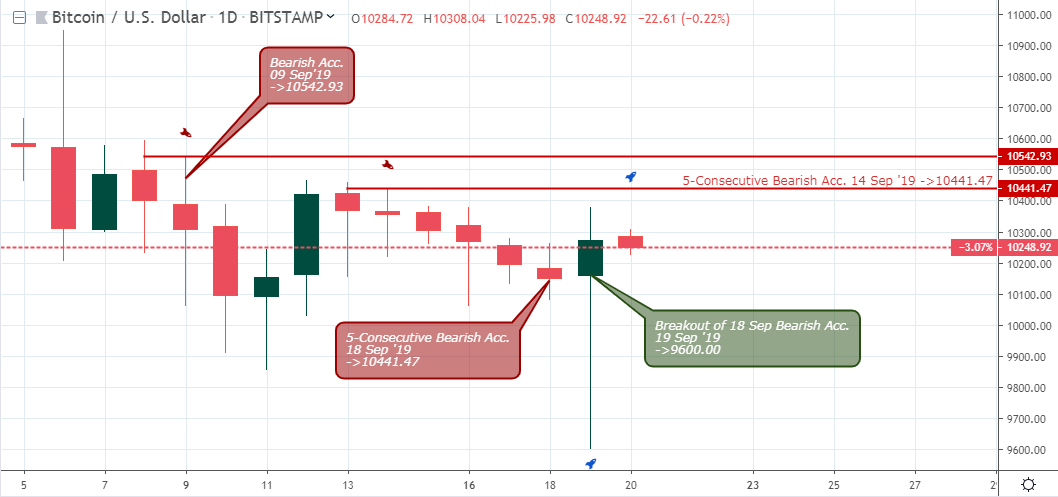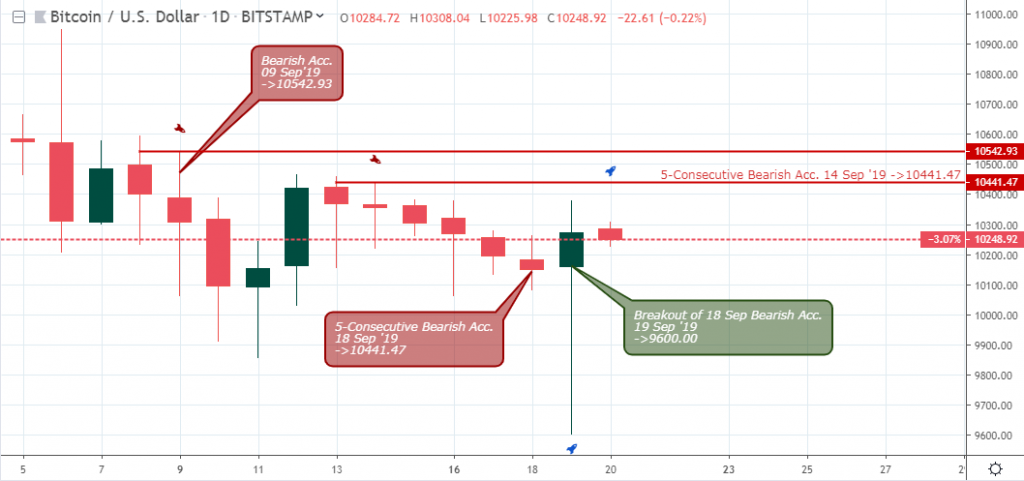 In this example, let's say you have been staring at your chart for a few days without a solid price pattern within the not-too-distant candlesticks. You will then have to look out for long-ranged chart patterns like harmonic patterns and divergence patterns on different cryptocurrencies for an entry signal.

Try looking at the resistance levels for the previous four days and its price highs and the lows. As a trader, good interpretation of the analysis should guide your decision to buy or sell. Here's the thing… The bottom line for most short-term traders is to make a quick decision on the recent information – not necessarily looking at the long. Certainly the prior action gives a limited view of the scope of things, but that speaks to the different investment strategy that you employ.

Prior action here could mean a previous day trade analysis that doesn't really extend beyond two or three days depending on what you believe is the relevant information from a short-term perspective. Focus on the things that matter in the short term as a short-term trader then jump on it.





Disclaimer
Content provided by CryptoTraderNews is for informational purposes only, and should not be construed as legal, tax, investment, financial, or other advice. All information is of a general nature. As always, there is risk with any investment. In exchange for using our products and services, you agree not to hold CryptoTraderNews Pro, its affiliates, or any third party service provider liable for any possible claim for damages arising from decisions you make based on information made available to you through our services.

[/wlm_private]
Want to read the rest of the article? Join our pro-membership and receive all of the following:
✅Access to ALL content.
✅Access to the CTN editorial staff.
✅Access to our CTN trading dashboard.
✅Access to our exclusive telegram channel where all our pro-members and editorial staff are in.
✅Ability to request content/research material!