If you are HODLing Bitcoin in a wallet, you can earn interest on it; in fact, this is possible on several exchanges and wallets if you know where to go. Indeed, some high-end financial products pay interest on Bitcoin to HODLers and traders who stake their cryptocurrencies because these financial products leverage your crypto to other institutions, plus margin trading exchanges, and other means to generate a return. By doing this, they share the profits with you and it's a fairly easy way to earn passive income on your cryptocurrency.

I have scoured the internet to find the sources that offer the best interest on Bitcoin, so let's dive right into the list of Bitcoin Saving Accounts.

[wlm_private "Crypto Trader Pro – Monthly|Crypto Trader Pro – Yearly|Crypto Trader Pro (Lite)"]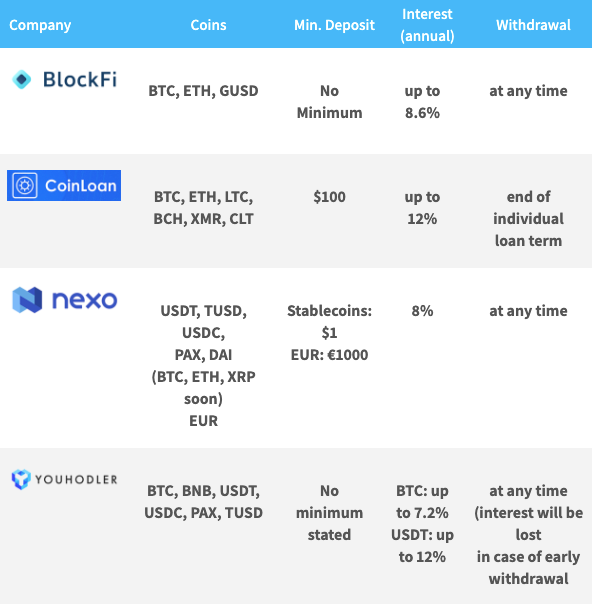 Source: Internet

The accounts shared here are similar to traditional savings accounts that are maintained in banks. However, these are activated by depositing a minimum quantity of Bitcoin or Ethereum. The amount of cryptocurrency that is deposited is then lent to margin trading exchanges and other cryptocurrency exchanges looking for a larger liquidity pool and this helps in generating interest. This is a great alternative for traders who don't trade daily and tend to store cryptocurrencies in cold wallets.

The interest earned on these cryptocurrencies is paid out in monthly payouts. This depends on the provider and annual returns vary between 6% to 12% dependent on minimums and withdrawal times. Some of these accounts have their assets safeguarded by a trust or escrow so your crypto is safeguarded.

Several wallets offer profits on balances in cryptocurrencies. This practice began with brokers and fund managers offering users a profit on their Bitcoin balance by setting up a Bitcoin savings account. The accumulated funds put together by these lenders are then distributed to borrowers, and they would present collateral for the loan. In case of non-payment, the collateral assets would be diluted to recover the lender's funds. Basically, with P2P lending platforms of this kind, there was a relatively high-risk that the loan may not be recovered. This risk is mitigated with official institutions managing the lenders and borrowers.

In the beginning of this offering, these practices were more like the Wild West, but since then, this practice has become more secure with available systems of high level security. Without collateral, a borrower does not get access to funds. Naturally, P2P lending is still prevalent and third parties can act as an intermediary, just like on cryptocurrency exchanges or with fund managers.

How to set up a Bitcoin Savings Account? How does it work?
Setting up a Bitcoin Savings Account is easy and all you have to do is sign up on the exchange or platform that provides this service. Login and verify your identity. Access your savings account and make a deposit. Usually, there is a minimum deposit criteria that users are expected to meet. It varies from $1 to several thousand dollars.

Before you sign up, be sure to study the security infrastructure and features of the platform before depositing your funds. It's best to steer clear of offshore companies and opt for a regulated financial services platform that offers insurance on the funds deposited. If you don't do this, you risk losing your cryptocurrency to fraudsters.

Users oftentimes get to determine the changes and decide on the the terms of agreement, but many of these platforms will have a minimum deposit, so take that into account. Know your budget and how much of your crypto can be locked in the agreement because there can be early withdrawal penalties or the loss of interest.

Funds that are raised are granted as loans to other customers (borrowers) who pay a predetermined interest on the loan. The platform may lend to another exchange or platform, however, the security of funds depends on the platform's security infrastructure. While you may earn more interest than you would by HODLing your coins, the actual interest rate depends on the provider. Bitcoin has been an attractive investment choice since its launch in 2009. In the past year alone, it gained over 100% from January to December 2019. People who HODL Bitcoin earn attractive returns which beats the interest earned through traditional lending platforms or banks, any day.

Naturally, comparing Bitcoin returns on regular savings accounts isn't exactly a fair comparison and HODLing tokens have the potential of losing value in a volatile crypto market. We only need to look at the Bitcoin highs of 2017 and its subsequent crypto winter. With these interest-bearing accounts, at least you are guaranteed interest, which is better than a gamble. For some people, this offer is a lot better than holding Fiat currencies in a bank account.





Disclaimer
Content provided by Crypto,Trader,News. is for informational purposes only, and should not be construed as legal, tax, investment, financial, or other advice. All information is of a general nature. As always, there is risk with any investment. In exchange for using our products and services, you agree not to hold Crypto,Trader,News. Pro, its affiliates, or any third party service provider liable for any possible claim for damages arising from decisions you make based on information made available to you through our services.

[/wlm_private]
Want to read the rest of the article? Join our pro-membership and receive all of the following:
✅Access to ALL content.
✅Access to the CTN editorial staff.
✅Access to our CTN trading dashboard.
✅Access to our exclusive telegram channel where all our pro-members and editorial staff are in.
✅Ability to request content/research material!