Hailing themselves as social trading using blockchain technology, HedgeTrade (HEDG) is an altcoin that is ranked 22nd on coinmarketcap.com based on market capitalization, with its current market cap at $475 million. They're also boasting a way to earn profit from correct crypto market predictions. Intriguing, right?

Its 24-hour trade volume is $182,751 and the coin has an RoI of 1069.37% since its launch. If you visit their website, HedgeTrade Beta is now live.

So, how does this altcoin differentiate itself from others by ranking in the top 25 tokens?

We'll discover more about HedgeTrade, its goal to be a knowledge sharing platform and how it aims to bring the world's best traders together. Their predictions are brought together in a smart contract-powered Blueprint where HedgeTrade users can purchase and unlock access to their signature predictions. Users are rewarded if the Blueprint is corrected, otherwise the purchase is refunded; an interesting concept.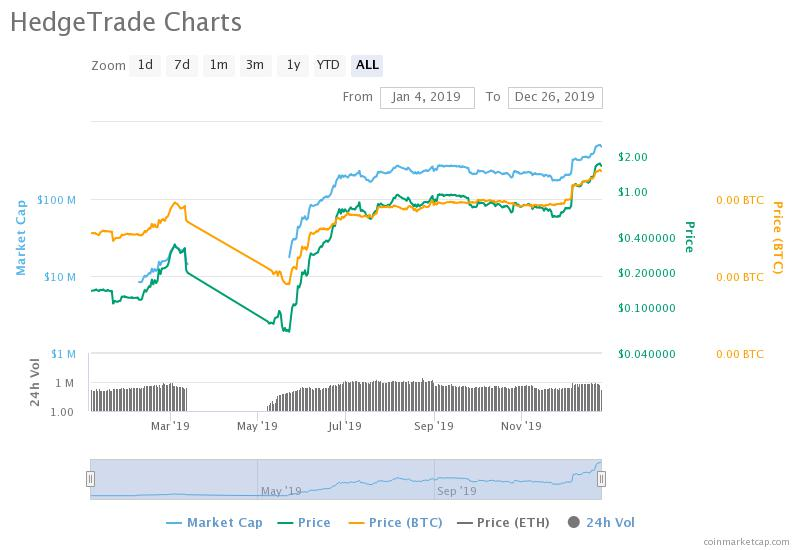 The exciting thing about the coin is that it has only gained value, except for May 2019 when it had dropped to almost $0.1, which is an all-time low for the coin. Currently HedgeTrade is in the buy zone as the price has dropped by over 4% in the past 24 hours. If we buy now, the sell target would be above $2. The currency is expected to see a trend reversal in the next 48 hours, based on technical analysis of the chart.

What is HedgeTrade?
HedgeTrade is an altcoin launched with the goal of revolutionizing social trading using blockchain technology. The platform witnessed fast growth in 2019 and gathered mainstream media attention. It has consistently ranked in the top 25 cryptocurrencies based on market capitalization. It is a DApp specifically designed to provide users with crypto trading technical analysis, price predictions, and content to learn more about trading and analysis.

A major goal is to bridge the gap between new traders and professional ones. When trading on a cryptocurrency exchange or when predicting the price through technical analysis, professional, seasoned traders have an advantage over newbies. But new users on HedgeTrade get the advantage of learning from the pros in a somewhat curated atmosphere. Professional traders share their wisdom through predictions, and if they turn out to be accurate, they win HEDG tokens as a reward.

How is it useful for new traders?
Less experienced users are able to buy trustworthy trading predictions, as blueprints using HedgeTrade smart contracts. After buying predictions and implementing them enough number of times, new traders will learn enough to start predicting by themselves, on the platform.

When was the project launched?
The project was launched in late 2018 by Rublix which offers financial technology products paired with the blockchain implementation. The key contributors to this project are Dave Waslen, Peter Danihel and Frank Danihel. The project has a team with strong fundamentals and solid experience acquired over the years of working in the field of blockchain and cryptocurrency.


Where Can I Buy HedgeTrade?
You can buy the token against BTC/ETH on exchanges like HitBTC, VCC Exchange and Livecoin. You can explore more markets on CoinMarketcap.





Disclaimer
Content provided by CryptoTraderNews is for informational purposes only, and should not be construed as legal, tax, investment, financial, or other advice. All information is of a general nature. As always, there is risk with any investment. In exchange for using our products and services, you agree not to hold CryptoTraderNews Pro, its affiliates, or any third party service provider liable for any possible claim for damages arising from decisions you make based on information made available to you through our services.