Ethereum ranks second in market capitalization and has a 24-hour trade volume of over half a million Bitcoins. New research conducted by Blockchain Analysis Startup – Chainalysis, proves that ETH is owned by just 376 whales and they control 33% of Ethereum's circulating supply. This number is down from the levels seen in 2016 and 2017. Whales have no significant impact on Ethereum's price though they are responsible for intraday volatility and large sell-offs. Whales currently account for just 7 percent of all transaction activity on the Ethereum blockchain.

Ethereum Price Action

Ethereum is more than just a secure means of payment or a store of value. It is nothing less than the future of the internet. And despite slow price action in 2019, buying Ethereum right now is the equivalent of buying Apple stock when it was running out of a garage.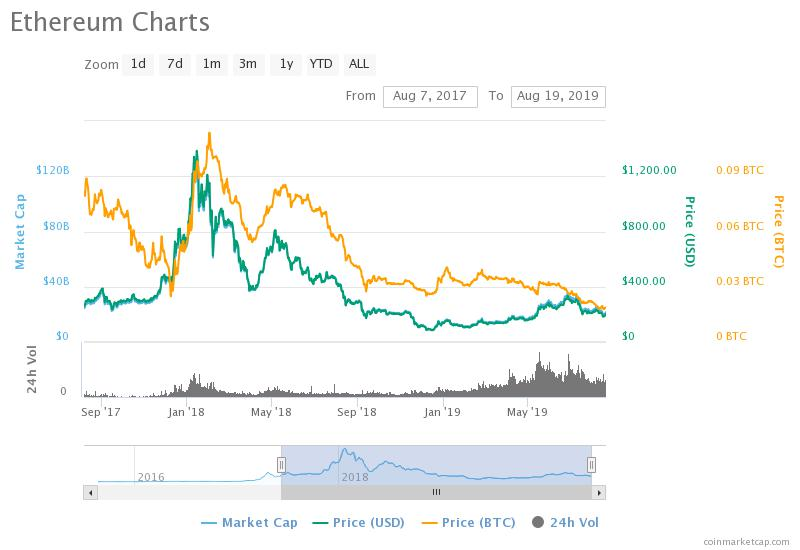 Ethereum's price hit an all-time high in December 2017 and showed some signs of recovery after the crash of Jan 2018 in May 2018. It enjoys more base pairings on crypto exchanges than any other altcoin, and it has been viewed as a store of value. The price tumbled progressively and it is unclear whether it will reach that height again.

HODLing Ethereum in 2017
If you HODL'ed ETH in 2017, you would have an astounding ROI of 10,000 percent. ETH's price was $7.98 in January 2017 and it hit $1400 at its peak during the bull run of December 2017. Ethereum has an ROI of 6952.34 percent since its launch and has seen massive adoption during the ICO craze of 2017.

HODLing ETH in 2017 was the equivalent of holding a piece of the future. However, it was subject to market whims and many Ethereum killers like EOS, TRX, and NEO entered the market as strong players in the months following the bull run. Ethereum's focus was on driving adoption and becoming mainstream, as the fundamental building block of the new internet.

The crypto investors who resisted cognitive dissonance and held onto their coins throughout 2017 saw some serious returns, depending on when they booked their profits. Though 2017 was the year of ERC-20 tokens, Ethereum has a lot more to offer but arguably has been struggling with key issues such as scalability. These issues might get resolved by the end of 2019 and HODLing might become profitable once again.

HODLing Ethereum in 2019
Are you HODLing Ethereum in 2019? If your answer is yes, then you would find it interesting that an online analyst – Bobby Ullery has put forward a model for predicting Ethereum prices for 2020. The model Ullery uses is based on the global economy and the assumption that blockchain technology will play a much bigger role in international trade.

According to him, Bitcoin and Ethereum will each hold 25% of the entire cryptocurrency industry, which he predicts will have a total market capitalization of $4.5 trillion in 2020. This means that, though Ethereum has no fixed supply, we can safely assume a total coin circulation of 100 million (as previously suggested by the creator – Vitalik Buterin), Ethereum would be worth $11,375 with a total market capitalization of over $1 trillion!

For this prediction to be true, Ethereum has to gain 775%. This is not unrealistic compared to the massive adoption and technical improvements like sharding and plasma that are planned for the next few months.

Conclusion
Putting a price on Ethereum is not as straightforward as it may seem. Ethereum represents the future of technology and has evolved by leaps and bounds in the past two years. Though there is a huge difference between Ethereum and Bitcoin, Ethereum has wider potential and drives more adoption than Bitcoin. The coin has strong fundamentals and is working on resolving its scaling issues, this may fuel its growth in 2020.