Today we're going to give a quick overview of Ripple (XRP) price analysis and our market prediction as the week closes out. XRP has been losing ground steadily since late June 2019 with Ripple's valued at $0.248 at press time. The market cap is at $10.95 Billion and the 24-hour trade volume is at $1.24 Billion which is a 0.54% fall over the past day.

The XRP daily chart shows a consistent decline in value over the past few months. XRP has entered a falling wedge towards the end of June, rising from $0.254 to $0.326 in mid-September where it tested the SMA100. What's going on?

[wlm_private "Crypto Trader Pro – Monthly|Crypto Trader Pro – Yearly|Crypto Trader Pro (Lite)"]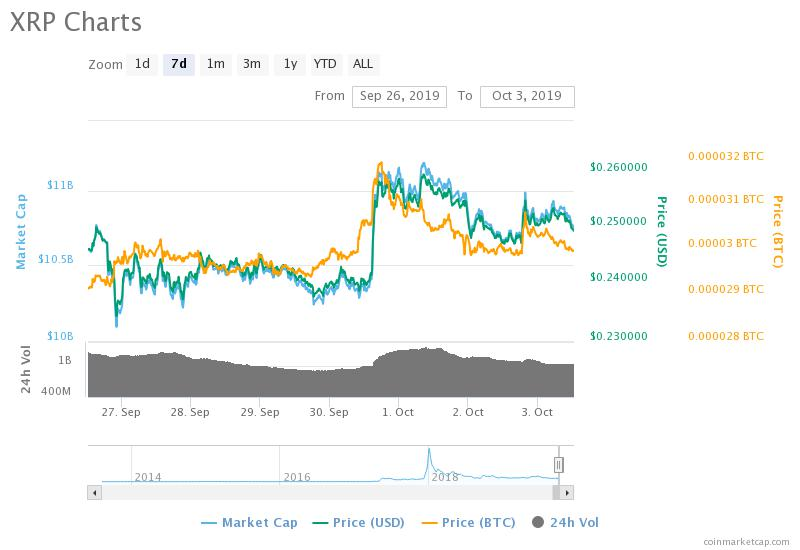 After last Tuesday's bloodbath, the price failed to touch SMA100 and fell back down below the $0.28213 support and the 50-day moving average line. It is currently testing support at $0.26 and a short breach in the last week of August led to bounce back from the support.

XRP will make a major comeback in the following months on testing the 100-day Moving Average. After breaching resistance at $0.28213 the price will drop below the support, and may fall to $0.19 level. However, a drop to $0.19 was last seen only in late-2017. XRP could bounce back from the support line, and will have to test the 50 and 100-day moving average lines before trying to breach the $0.30 resistance.

Critical demand zone should be noted at the range of $0.2400 to 0.2300, where the price bottomed between September 25th through 29th, its short-term movement locked between the simple moving average support and resistance.

Like most altcoins, Ripple is struggling with increased sell-off. It has corrected lower 0.50% within one day to trade at $0.248. The prevailing trend is strongly bearish based on the cryptocurrency live rates, while the volatility and market capitalization is shrinking.

A short-term triangle pattern in the weekly chart is approaching a breakout. The trading of a lower high pattern due to the rejection was faced around $0.2650. XRP is also trending upwards above a short-term accelerated trendline. Breakout from this triangle could push XRP upwards towards the $0.28 level.






Disclaimer
Content provided by CryptoTraderNews is for informational purposes only, and should not be construed as legal, tax, investment, financial, or other advice. All information is of a general nature. As always, there is risk with any investment. In exchange for using our products and services, you agree not to hold CryptoTraderNews Pro, its affiliates, or any third party service provider liable for any possible claim for damages arising from decisions you make based on information made available to you through our services.

[/wlm_private]
Want to read the rest of the article? Join our pro-membership and receive all of the following:
✅Access to ALL content.
✅Access to the CTN editorial staff.
✅Access to our CTN trading dashboard.
✅Access to our exclusive telegram channel where all our pro-members and editorial staff are in.
✅Ability to request content/research material!