Ripple is currently trading at $0.29 and the altcoin has gained nearly 1% in the past 24 hours. It is becoming increasingly clear that Ripple has finished the downside correction movement and is gaining ground with its current price performance which may be an indication that Ripple is on the brink of a bull run.
[wlm_private "Crypto Trader Pro – Monthly|Crypto Trader Pro – Yearly|Crypto Trader Pro (Lite)"]

As with most cryptocurrency, Ripple has been volatile in the past 2 weeks and now it is differentiating itself from the Top 10 cryptocurrencies in terms of price. It rebounded from $0.2866 to $0.30 and is on pace to reach $0.31.

As mentioned in the most recent Crypto Trader Digest, the rebound from this level indicates a healthy correction and XRP is gaining value every day. In addition, it is seen that the 200 MA as 4-hour golden cross has received a positive response. However, at the press time token is near $0.29 and shows 0.97% growth.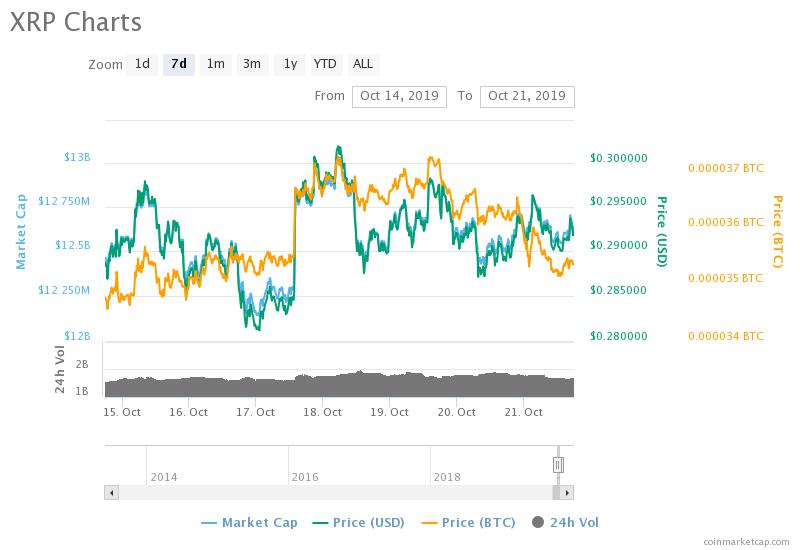 Ripple's price had hit a peak on October 16, signaling an upward trend for the coming days. On the other hand, there is a strong resistance in the area of $0.30. If the token is able to reclaim the $0.30 level, it may test the 200 MA at a level of $0.3320 before moving forward.

The altcoin had 70% volatility in September and it has depreciated in value all summer. In the period of bearish dominance, the price of this altcoin decreased from $0.55 to $0.19. Volatility indicated a decline in the monthly balance sheet over September while signaling a good achievement in October.

In technical terms, a bullish candlestick pattern appearance at the end of a falling dynamic indicates the end of this negative trend. Though Ripple's effective performance has had a limited impact on the XRP price, we saw that the Ripple Swell event had a positive impact on the XRP price in previous years. A large part of the crypto community believes that Swell, which takes place in November, will be able to provoke a pump in the price of the token up to 75%.

Of note, following the 2018 rise, the coin registered a smooth decline with the lowest point in September of about 4%. Since mid-September, the cryptocurrency has seen a trend reversal and its price against USD has been competitive in the market.

XRP has the support of an active community that believes in the future of Ripple and the token's functionality and price action. A horde of influencers and the emergence of new partnerships and applications for Ripple has paved way for a long-term bull run. As we can see, the strategy of the company's development is paying off and Ripple is demonstrating the potential to offer huge profits. Signs indicate that we may be on the edge of Ripple's next bull run.






Disclaimer
Content provided by CryptoTraderNews is for informational purposes only, and should not be construed as legal, tax, investment, financial, or other advice. All information is of a general nature. As always, there is risk with any investment. In exchange for using our products and services, you agree not to hold CryptoTraderNews Pro, its affiliates, or any third party service provider liable for any possible claim for damages arising from decisions you make based on information made available to you through our services.

[/wlm_private]
Want to read the rest of the article? Join our pro-membership and receive all of the following:
✅Access to ALL content.
✅Access to the CTN editorial staff.
✅Access to our CTN trading dashboard.
✅Access to our exclusive telegram channel where all our pro-members and editorial staff are in.
✅Ability to request content/research material!