It's been a tough few weeks for crypto. Today, our focus will be on Ethereum. We'll look at the charts to see if there is any indication that ETH will cross the $200 threshold this weekend.

Ethereum is trading at $174.50, down 2.16% since yesterday and the ETH/USD price action is within a bearish flag structure. The price is largely capped by resistance heading into the $180 mark. Price action is limited to the upside and bulls are facing challenges in crossing the resistance. The price is moving within a rising channel structure, subject to a potential breakout south.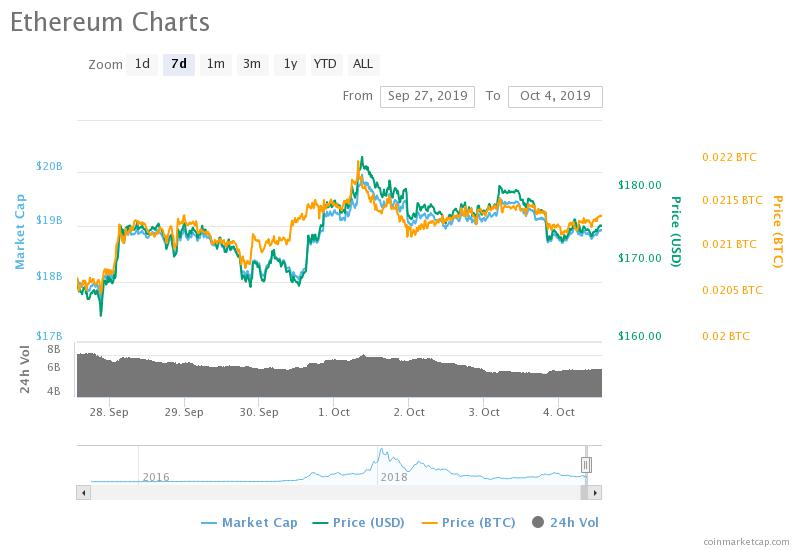 This has, in turn, led more investors to buy Ethereum in anticipation of more future token sales – or initial coin offerings (ICO) – to be launched by tech start-ups for funding their next innovative projects as they believe Ethereum is the "go-to blockchain" at the moment. Investors are increasingly buying Ethereum to participate in upcoming token sales and the startup projects sell a percentage of the cryptocurrency, which in this case many expect to be Ethereum, to support the early stages of their blockchain project. Average daily Bitcoin turnover is still more than three-fold that of Ethereum and there is an increased demand from institutional investors.

Several crypto brokers have agreed that there is demand for Ethereum and the demand is rising. Ethereum has faced scaling issues over the medium term and projects on the network have slowed it down, sometimes. As an example, in November 2017, the Ethereum network saw a new craze for CryptoKitties, a virtual kitten game that lets players buy and breed 'crypto-pets'. This slowed the network down considerably and highlighted one of the challenges facing older blockchains – a challenge of scalability.

Despite this, industry experts are optimistic that Ethereum's scalability is being addressed by both users and the development community of the Ethereum blockchain. This may make Ethereum prices more volatile in the future but it may struggle against a strong resistance at $180, $185 and $187 this weekend. Ethereum has growing support from the community and positive sentiment among its traders, however, the pressure of sell-off hasn't eased just yet and we will be surprised if the price crosses the $200 level over the weekend.





Disclaimer
Content provided by CryptoTraderNews is for informational purposes only, and should not be construed as legal, tax, investment, financial, or other advice. All information is of a general nature. As always, there is risk with any investment. In exchange for using our products and services, you agree not to hold CryptoTraderNews Pro, its affiliates, or any third party service provider liable for any possible claim for damages arising from decisions you make based on information made available to you through our services.