As more mainstream conversations are turning to crypto, more investors are jumping on board to expand their portfolios, and with that more crypto companies are springing up every day to accommodate the growing interest. One such company is Prime XBT Exchange, which was founded this year, 2019. Being new on crypto landscape, we wanted to investigate it and review the platform for our Crypto Trader News Pro subscribers.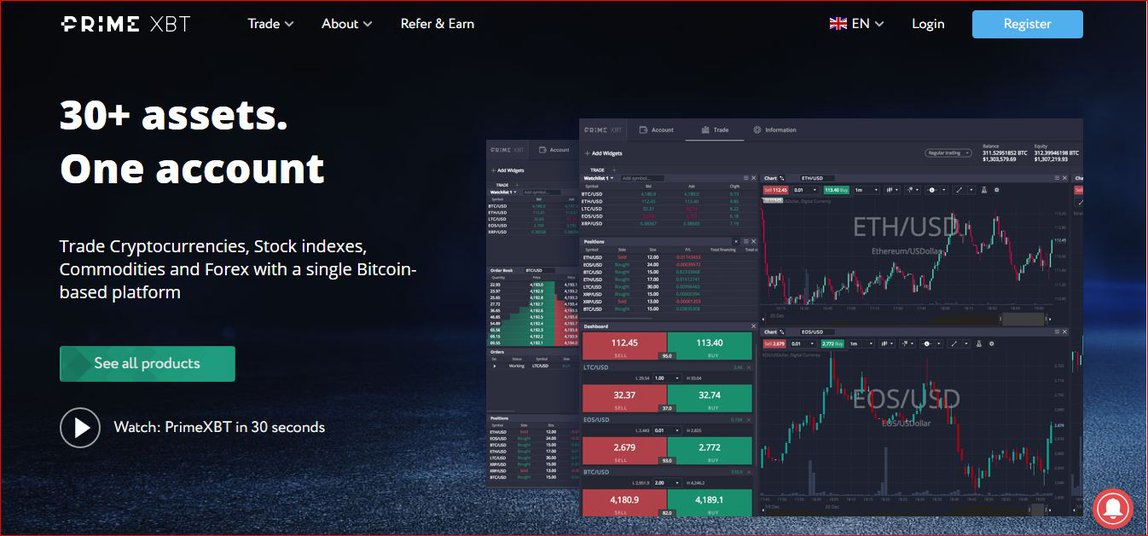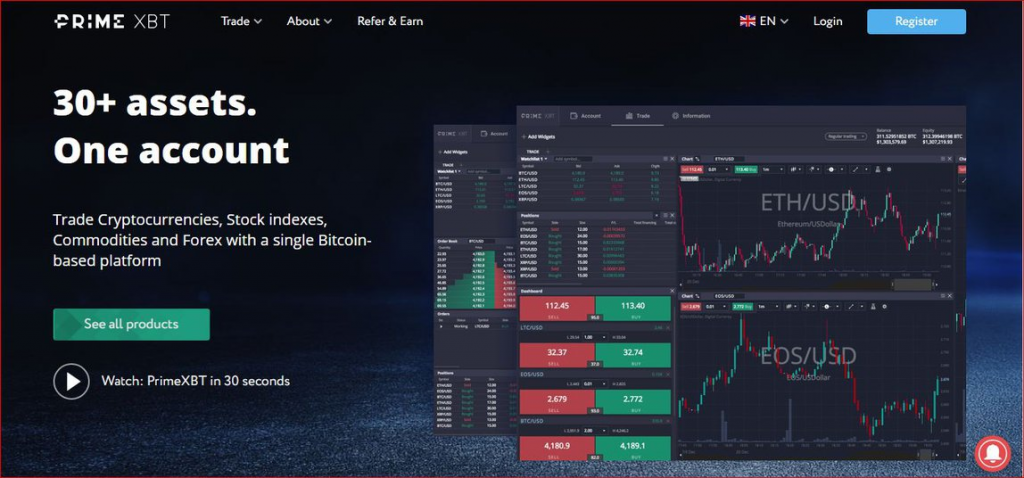 Prime XBT is a new trading platform established on decades of brokerage expertise in traditional markets. Launched in early 2019, the platform offers margin trading with 1:100 leverage across all crypto assets including Ethereum, Litecoin, EOS, and Ripple, which allows crypto traders to take advantage of the ability to trade major cryptocurrencies and multiply their profits significantly.
The exchange features state-of-the-art security, short-selling, an extensive amount of liquidity, plus customizable features. Their aim is to overcome frequent challenges noticeable in several other crypto platforms, some of which include: KYC approval processes, low liquidity, unanticipated downtime, inadequate order types, challenges trading on markets that are collapsing, high trading fees, and bad user experience.
Prime XBT is presently running in over 175 countries around the globe.
Below is a snapshot of what the main trading interface looks like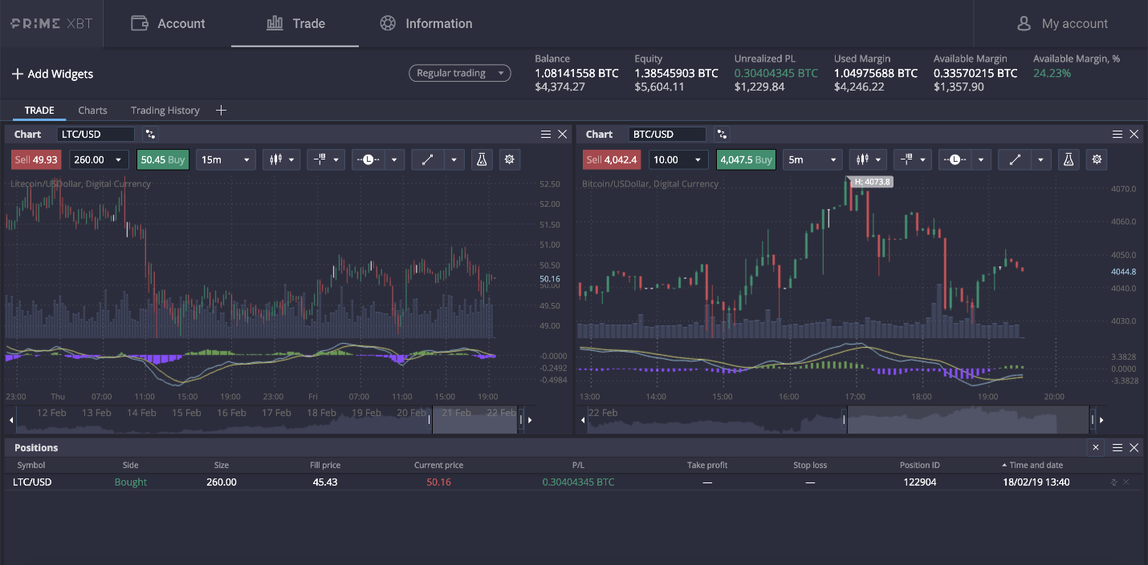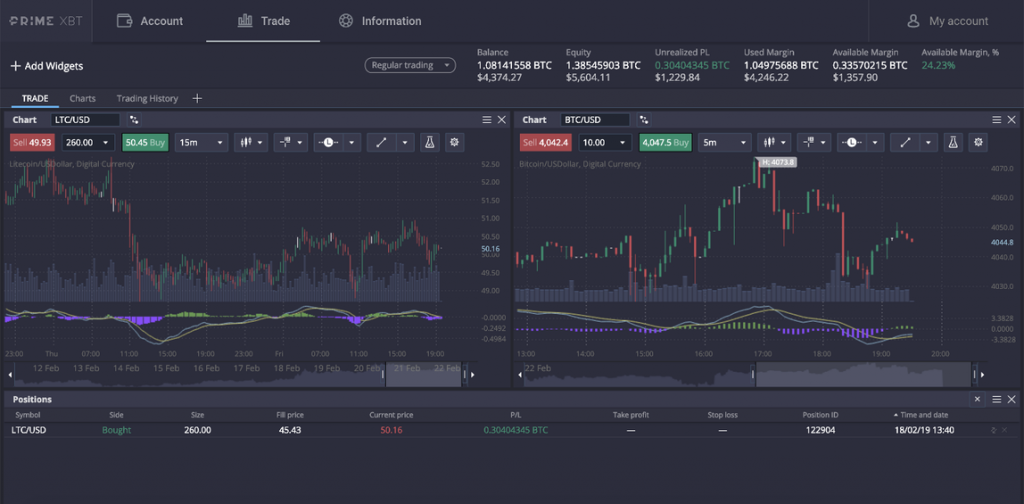 Trading With Leverage
Leverage is one of the major and most sought-after features of PrimeXBT with most other platforms offering very limited leverage on cryptocurrency trading.
To fully understand the concept here is an example offered on the exchange's website.
Assume that Bitcoin is $5,000 each, and during your investment, its price rose by 10%, you could buy 10 BTC for $50,000 (10 x $5,000) if you were to use a traditional exchange without leverage. Now let's say the price goes up by 10%. You can make $5,000 off of your $50,000 investment if you sell your BTC as each coin will be worth $5,500.
In contrast, if you were to make the same trade on PrimeXBT with its 1:100 leverage, you would only have to pay 1% of the $50,000 position, meaning an investment of $500 up front. In the samesituation, this means you would still make $5,000 but would have only invested $500. This goes to show that with the equal measure of first capital you can compound your earnings using leverage.
PrimeXBT provides a comprehensive explanation of how leverage works on its website to assist those that do not completely understand.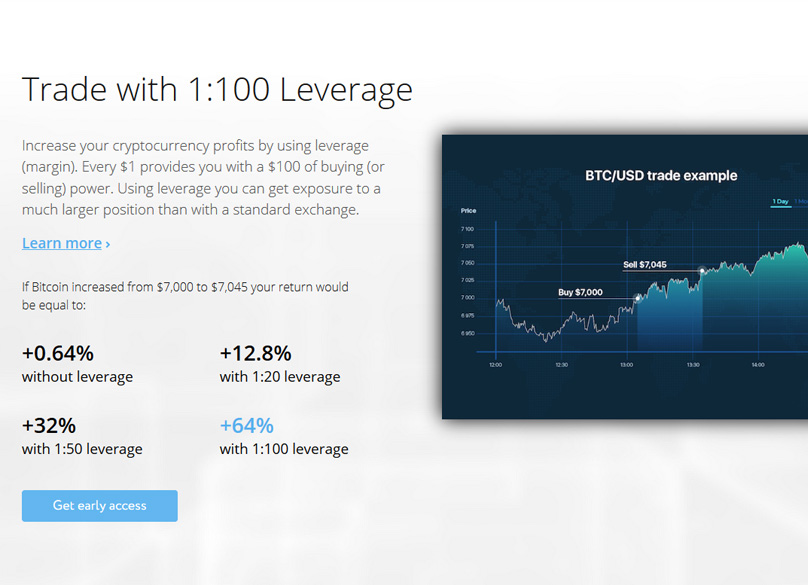 PrimeXBT Fees
The platform charges fees for trading and overnight finance. Because instruments are leveraged products, you have to fund the traded value via overnight financing. Financing (borrowing cost) depends on the liquidity of the basic asset. You are not obligated to pay the overnight financing fee if you initiate and close a leveraged position in the same trading day. On the other hand, the fee for trades is only 0.05% across all trading pairs.

Limit Orders
The exposure limit is used to set the maximum or minimum price each user is willing to buy or sell at with PrimeXBT. The PrimeXBT platform will not permit clients to place orders which will exceed the limit when it's executed. Users make use of this order type to increase their entrance and exit prices. This does not guarantee execution as there is a chance the market may not reach the limit order level. An Order Duration must be chosen to complete the Limit Order. GTC (good 'til cancelled) and Day Order are the two available options available to traders. These restrictions are dependent on factors such as volatility, instrument liquidity, and other market restrictions, which is established by the risk management department of the exchange.
PrimeXBT Trading Platform
PrimeXBT has a feature that allows you to preview its live trading platform. It's sort of like a demo but quite similar to the real version. This helps users become familiar with how the platform works before you sign up.
The real trading platform interface is relatively no different from the trading pages experienced investors are used to. The top left corner of the interface has a list of cryptocurrency pairs that include BTC/USD, EOS/USD, LTC/USD, ETH/USD, and XRP/USD. You can view the asking price, bid price, and change for each pair.
Clicking on any of the listed pairs leads you to a screen that displays the prices for buying and selling as well as the low and high for the pair of the crypto in question.
The Order Book is positioned below this section on the left of the screen.
Supported Coins
PrimeXBT covers trading across Bitcoin, Ethereum, Litecoin, Ripple, and EOS. In addition to fiat currencies, like USD and EUR, the exchange also supports various crypto assets as one of its numerous deposit and withdrawal methods.
Security and privacy
PrimeXBT values the privacy of users and they require no personal information for a user to begin trading. They also offer a tight security infrastructure and a variety of safeguards and protections such as two-factor authentication (2FA), address whitelisting, and several others.
PrimeXBT advantages
No order submission errors.
The ability to hold both long and short positions at once to safely prevent crypto volatility.
Customizable user experience with a variety of widgets.
Strong security infrastructure.
PrimeXBT provides a 4-level referral system.
Brilliant charting software for comprehensive technical analysis.
Relatively low trading fees when compared to the other platforms.
PrimeXBT offers substitute methods of deposits including EUR, USD, and additional cryptocurrencies.
Financing commission is only taken once a day.
Cons
The only major disadvantage we find with the platform is that it is relatively new in the crypto space.
Conclusion
As always, do your due diligence and trade with caution, especially with any entity that is new to the market and without a broad track record. Until PrimeXBT has proven itself over an extended period, we recommend that you do not use the exchange as a wallet. A good recommendation is to save your token in cold storage for the long term as you become more familiar and confident with this exchange.Disclaimer

Content provided by CryptoTraderNews is for informational purposes only, and should not be construed as legal, tax, investment, financial, or other advice. All information is of a general nature. As always, there is risk with any investment. In exchange for using our products and services, you agree not to hold CryptoTraderNews Pro, its affiliates, or any third party service provider liable for any possible claim for damages arising from decisions you make based on information made available to you through our services.