Newsflash: Before you begin reading… The CTN editorial staff is hosting a live discussion on our YouTube channel on November 6 at 11 AM Eastern, and we'll be debating whether Gold or Bitcoin is the better investment.
[wlm_private "Crypto Trader Pro – Monthly|Crypto Trader Pro – Yearly|Crypto Trader Pro (Lite)"]

There has never been a better time to debate about the best performing investment vehicle and Gold versus Bitcoin seems to be on a lot of investors' mind. Which is the better choice for ROI in the last quarter of 2019?

When it comes to Gold vs. Bitcoin traders are beginning to waffle between the two; staunch supporters of one versus the other are beginning to sway, and people are hedging their bets on which asset that takes the top spot in their portfolio. Historically speaking, gold has been the classic hedge against market uncertainties. Traders and investors often turn to gold when the stock market is at risk of a collapse and becomes risk-averse on stock holdings.

Bitcoin, on the other hand, has been more volatile since its inception, often called the "gold standard" of cryptocurrencies, and more recently compared to the actual gold asset. As traders, we want to trade the more volatile asset because it's often faster gains, so in this case, Bitcoin is the choice as opposed to less volatile pairs promoted by most retail brokerage firms.

Below we're going to take a quick review of recent months to and see what's been going on with Gold (XAUUSD) and Bitcoin (BTCUSD).

Technical Analysis
BTCUSD: Weekly
Bitcoin exited the RSI oversold area in December 17 after a prolonged crypto winter in 2018. The break of significant bearish accumulation resistance on February 04 '19 reinforced the confidence to launch a bullish campaign bringing the price to a high of $13,880, about 261.09% at the 2019 all-time high.



The Bitcoin price entered a correction wave since it exited the oversold area in July for roughly 47% from the June 24 high.

The recent increase in trading volume on Bakkt Bitcoin futures leads to a break above a recent bearish accumulation resistance on October 21 '19, as the price traded within the MA-50 zone.

Bitcoin BTC price from this level is projected to set a new all-time high before the year ends.

XAUUSD: Weekly
Gold, on the other hand, exits the overbought area on September 02 from the monthly time frame, a setup that shows that the bulls may be scaling out of their previous long positions.



The recent entry signal to buy gold on June 03, 2019, suggests that we should already be in a long position. We may want to consider adding to the position after a price correction and entry signal on say the weekly or daily time frame.

Let's continue to analyze the XAUBTC with charts courtesy of teletrader.com.


XAUBTC: Weekly
After exiting the overbought area on December 21, 2018, the BTC price began to strengthen against gold.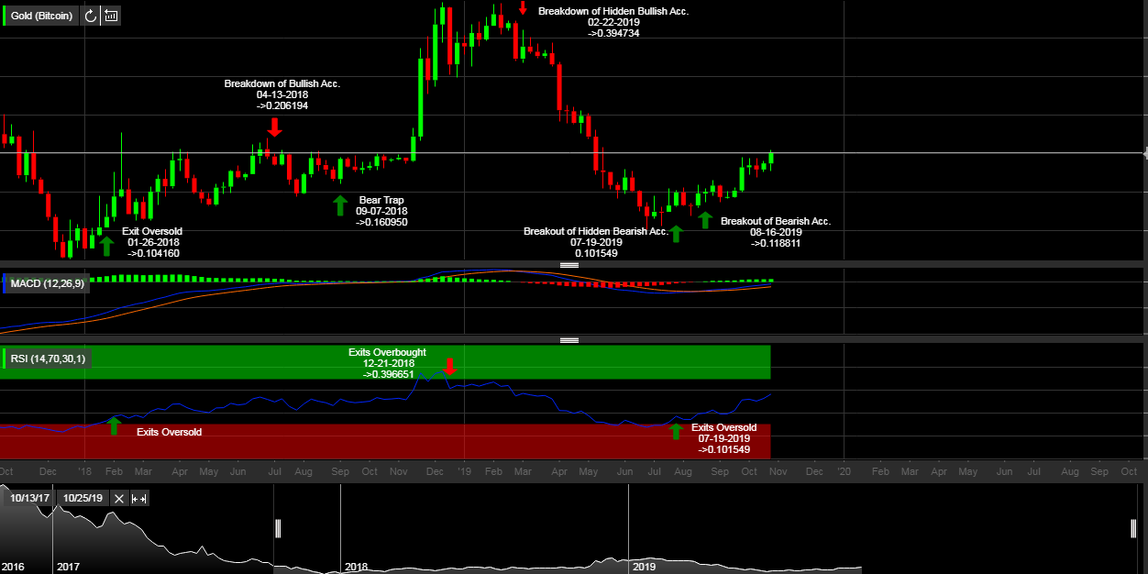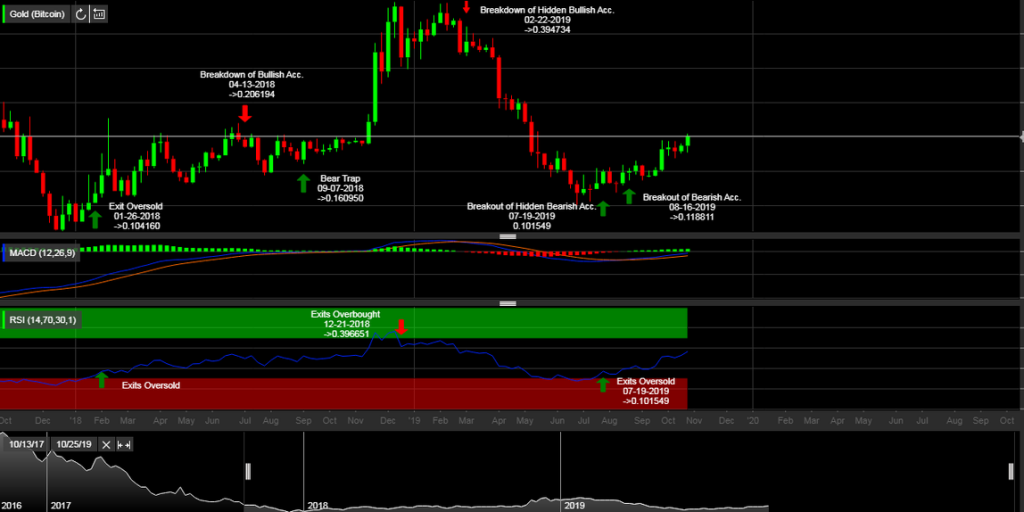 The collapse of hidden bullish accumulation support on February 22, 2019, was the straw that broke the camel's back as the XAUBTC price crashed by roughly 68%.

Upon exiting the oversold area on July 19, 2019, investment interest switch to buying gold over the BTC. The bullish sentiment towards gold intensified following a breakout of bearish accumulation on August 16, 2019, however, recent events will reveal why we favor investment in Bitcoin over gold.

XAUUSD: Daily
A view from the daily time frame reveals the bullish buildup, beginning with a regular bullish divergence setup on July 01, which continued to form higher troughs on August 10, September 17, October 11, and October 22, 2019.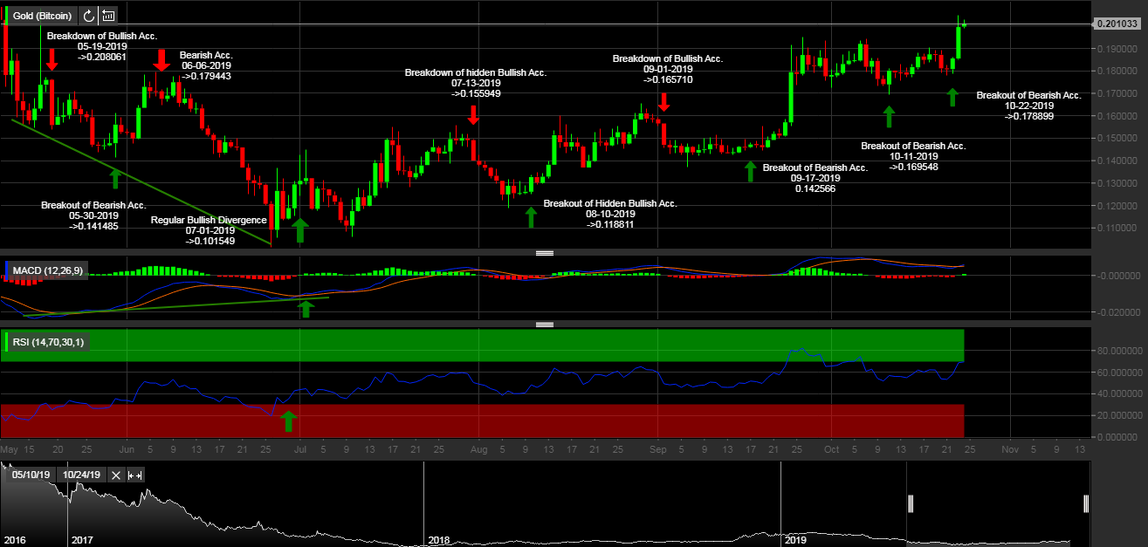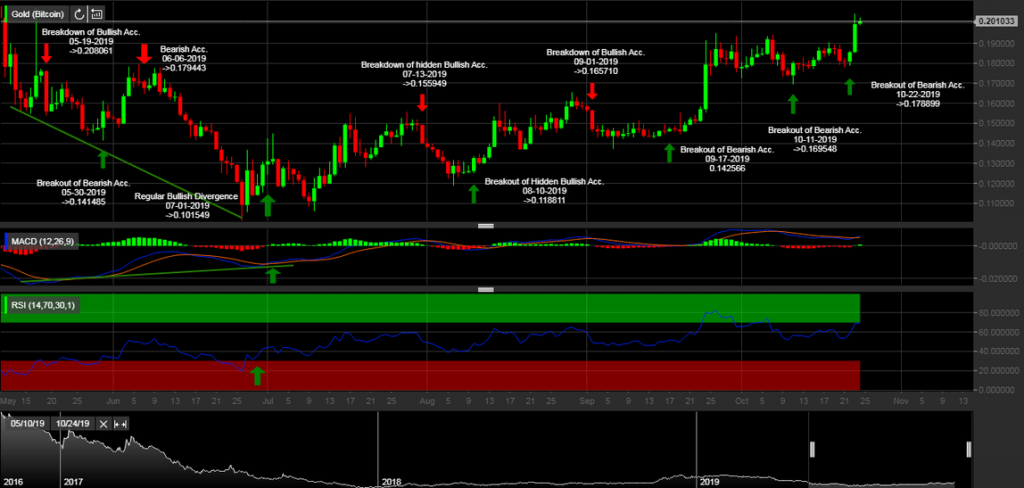 The chart below shows the sudden change in trend polarity from bullish to bearish.

XAUUSD: Daily (Update)
While the price of gold vs. BTC continued to attain new highs, the MACD oscillator formed a lower high, which is known as a regular bearish divergence in technical terms.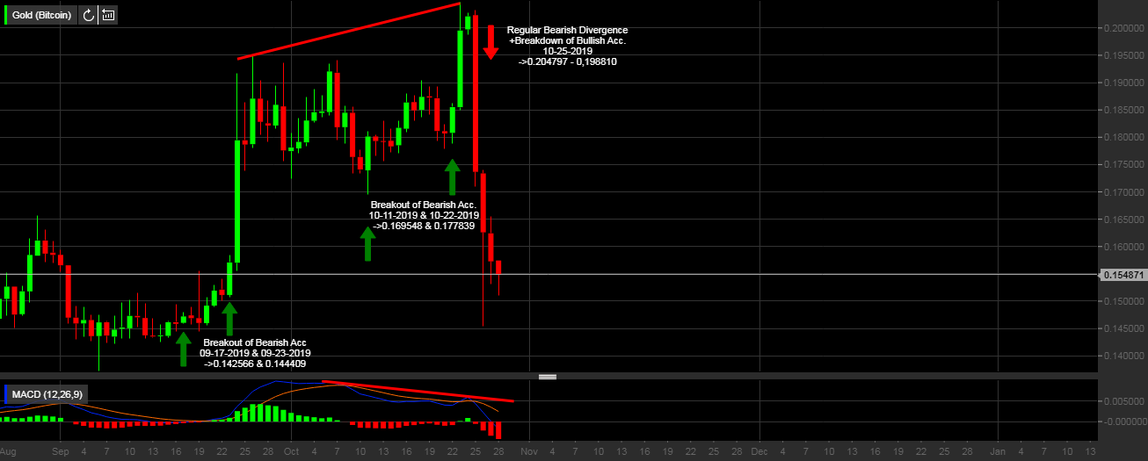 This bearish divergence pattern was accompanied by a failure of bullish accumulation support, therefore increasing the depth in a price change.

Conclusion and Projections
Finally, from a weekly chart perspective, the collapse of the bullish accumulation support at 0.172411 set up a sound resistance at 0.204797 for a highly probable bearish trend.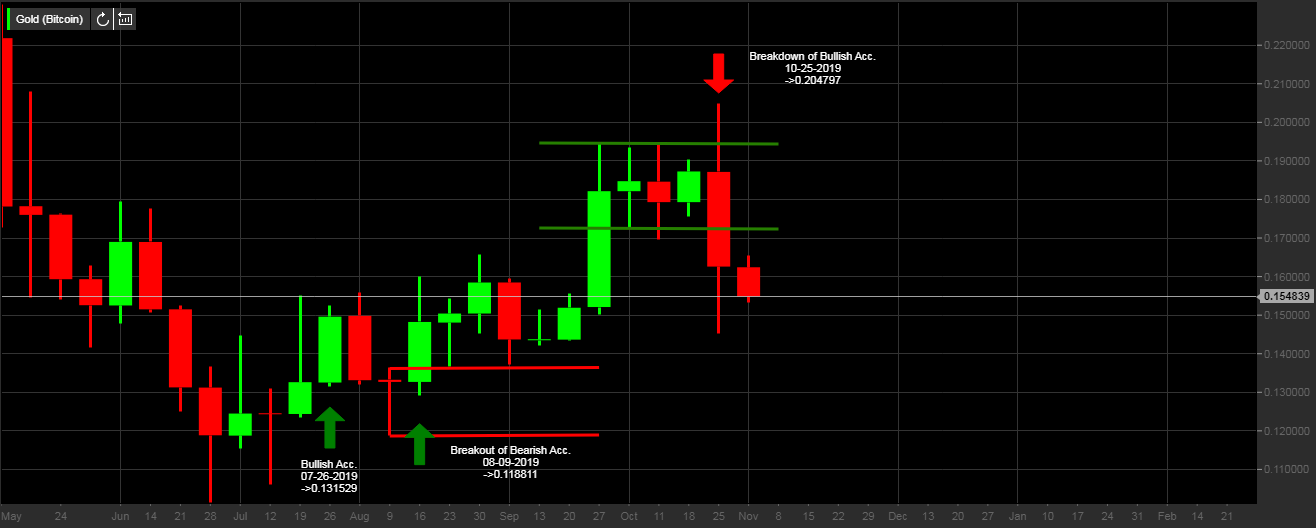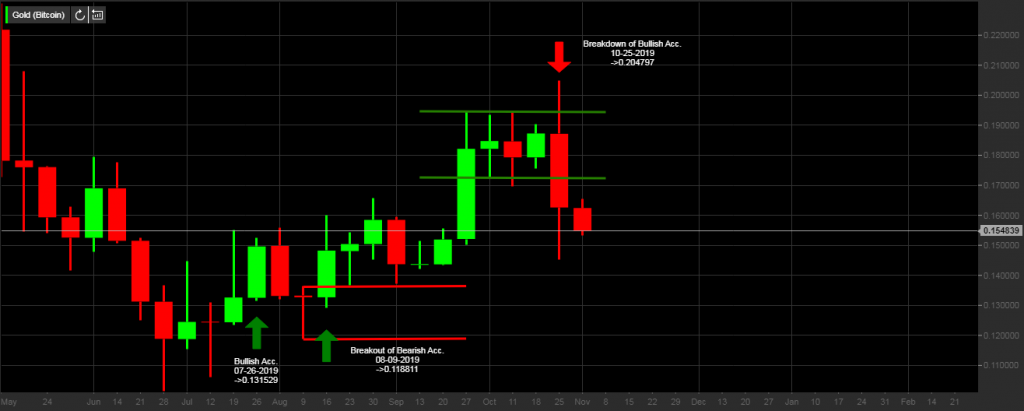 With that said, we are more bullish on Bitcoin over gold. We may decide to include a fractional percentage of gold in a general portfolio in a bid to diversify other asset classes.

Bitcoin will offer high returns compared to gold thanks to its high volatility rate.





Disclaimer
Content provided by CryptoTraderNews is for informational purposes only, and should not be construed as legal, tax, investment, financial, or other advice. All information is of a general nature. As always, there is risk with any investment. In exchange for using our products and services, you agree not to hold CryptoTraderNews Pro, its affiliates, or any third party service provider liable for any possible claim for damages arising from decisions you make based on information made available to you through our services.

[/wlm_private]
Want to read the rest of the article? Join our pro-membership and receive all of the following:
✅Access to ALL content.
✅Access to the CTN editorial staff.
✅Access to our CTN trading dashboard.
✅Access to our exclusive telegram channel where all our pro-members and editorial staff are in.
✅Ability to request content/research material!