After hitting the $13000 mark, crypto market shed over $30 B in value in less than 24 hours. Bitcoin dropped below $12000 and it at the risk of dropping further with developments like the US regulator's stance on Facebook's Libra and regulatory uncertainty in India. Bitcoin's price drop has pulled the altcoin's down drastically amidst this bloodbath.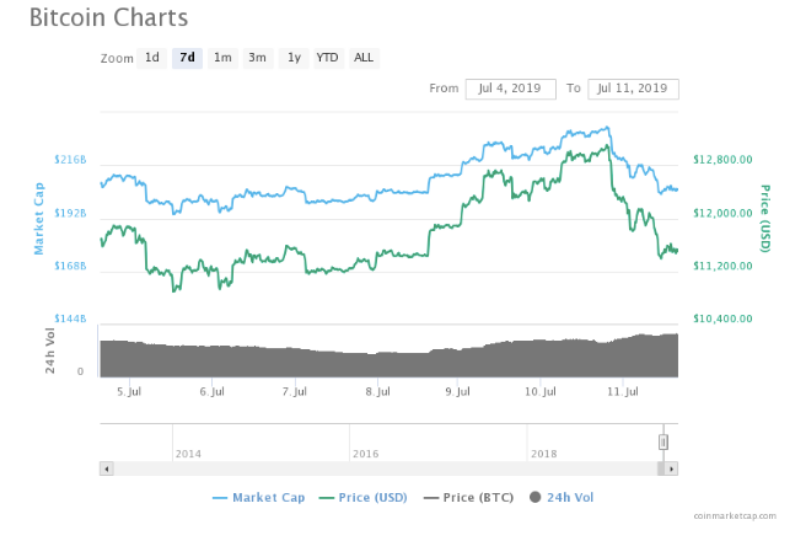 While Bitcoin continues holding its dominance over 65% in the global crypto market, the price drop could indicate that $11000 is its new resistance. The market and investors are now uncertain about direction, and what will come next.

Experts have predicted that altcoins might bounce back and bring in some much needed relief to HODLers and altcoin believers but we have to wonder if it's too early to really state that alt-season is on the near horizon.
The sentiment on Twitter indicates that Bitcoin's price may drop below $10K. While the rally may appear to be in jeopardy, April's bull run and feel good predictions might be over for good. Over 70% losses from December 2017 were recovered in this bull run and throughout Bitcoin's price rally in April 2019, corrections have been shaken off with newer investors and traders. When Bitcoin hit $14K, indicators revealed that investors didn't feel confident, which is shown by the pull back in BTC price to $12K and lower. Bitcoin has not been able to reclaim the important resistance between $14000 and $19000, the all-time high.
[rml_read_more]

What's worse is that in an attempt to break $14000, Bitcoin was stopped short just above $13,000, sending it down to a current price of below $11,800. Altcoins started shooting through the roof and tearing down their support since the end of 2018 and that could have fueled Bitcoin's collapse and erasure of over $30 billion in market cap.
Altcoins have not bottomed the way Bitcoin did back in December, yet despite a strong bounce, Bitcoin's rally didn't make it past $14000. HODLers are holding onto their hope for alts; that the initial flight of capital that caused the drop indicated a real downward pressure on Bitcoin and caused by a frenzy among investors and alt-believers.
Altcoins have shown signs of a strong bounce back but will it continue to trend, will it fall further, is this just a minor correction or are the whales manipulating the markets? In the past, whenever Bitcoin has plummeted or under-performed, buying blood has been wise. Though the panic could make it buying dangerous and prolonged process, we issue a word of caution here to those waiting to buy right now. It's a long game for sure.

Disclaimer

Content provided by CryptoTraderNews is for informational purposes only, and should not be construed as legal, tax, investment, financial, or other advice. All information is of a general nature. As always, there is risk with any investment. In exchange for using our products and services, you agree not to hold CryptoTraderNews Pro, its affiliates, or any third party service provider liable for any possible claim for damages arising from decisions you make based on information made available to you through our services.