Litecoin's price dynamics have been indicating a strong downtrend since the past month. After reaching an all-time high in June 2019 at $146, the cryptocurrency has faced serious selling pressure. At the time of writing, Litecoin is trading at $72.30, showing a decline of almost 50% in 2 consecutive months. The halving was considered bullish for Litecoin but it failed to push the coin to new highs.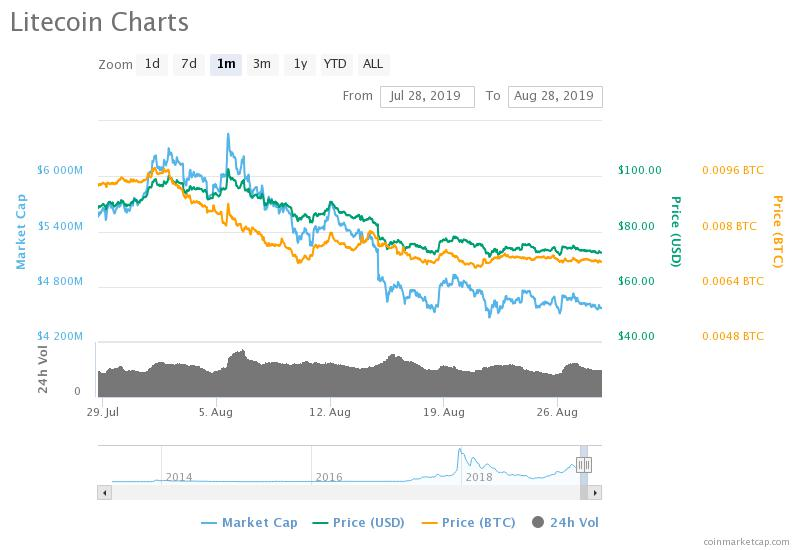 Litecoin's trend was expected to reverse at the end of July, however, the price has been dropping since the first week of August. The Litecoin halving turned out to be a fundamental issue affecting the asset's price. A hash rate decline followed the halving that took place on August 5. Since block 1680000, miners have been receiving 12.5 LTC instead of 25 for each new block.

Though the price didn't rally upwards as expected this time, two months before the first halving LTC gained 440% and traded at $8.59 instead of $1.60. The positive growth forecasts of the past two months turned out to be premature and this halving went by without much price action.

Since the halving, mining difficulty reduced by over 30% and network complexity decreased by 28%. The obvious explanation for the price action is that mining became unprofitable as rewards didn't cover mining costs.

Hold on! This is for Crypto Trader Pros Only!
Hi there! This article is for pro users only. Please log in or register to continue reading the article.