The bearish outlook of altcoins persists following an increasing Bitcoin dominance across the crypto market. Wanchain, the blockchain interoperability platform caught our attention this week while scanning for top-performing altcoins against Bitcoin (BTC).
Without further ado, let's dive in and analyze major chart patterns driving the price against Bitcoin, the number one cryptocurrency by market cap.
[wlm_private "Crypto Trader Pro – Monthly|Crypto Trader Pro – Yearly|Crypto Trader Pro (Lite)"]


WANBTC Weekly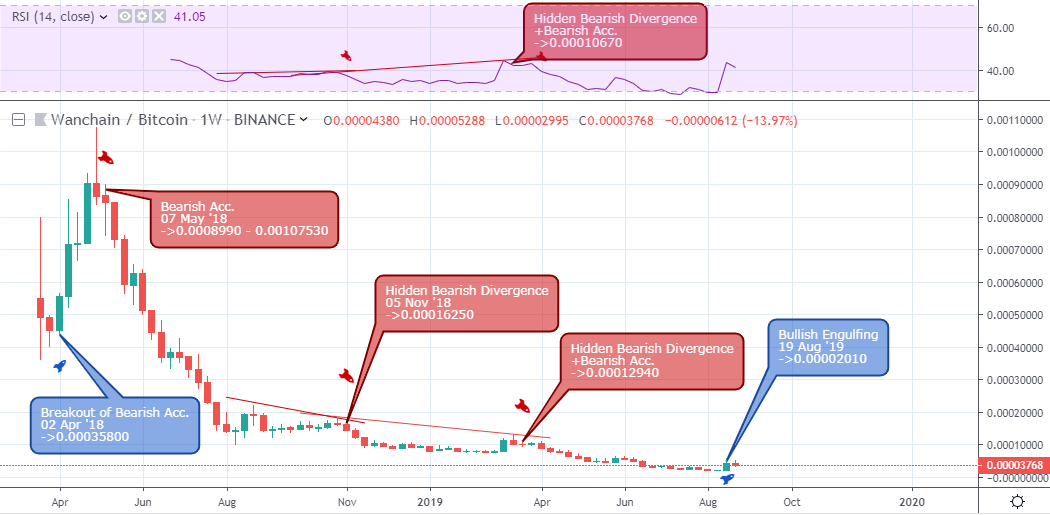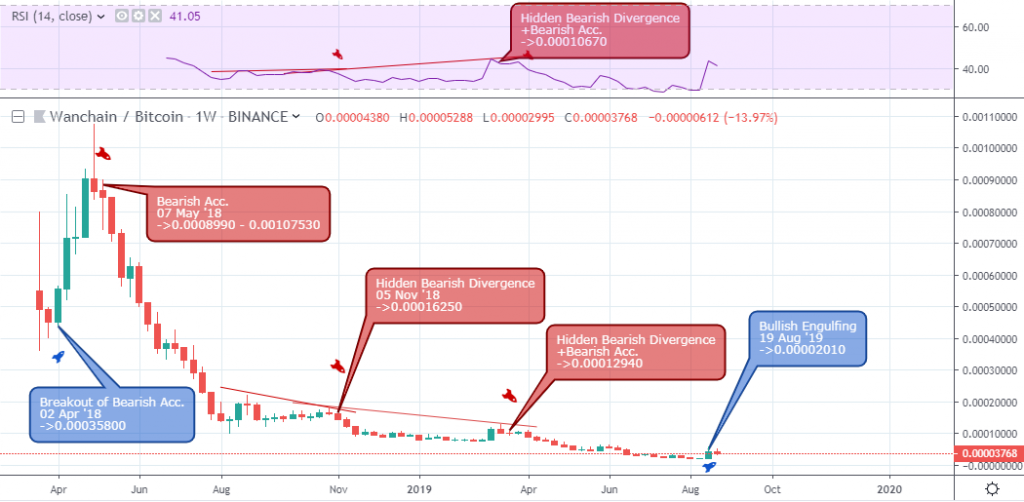 Starting from a weekly chart perspective, the WANBTC has been in a long bearish trend that transcends the crypto winter of 2018. After establishing an all-time high at 0.00107530, the WANBTC price has so far crashed by about 97.9% from the bearish accumulation pattern on May 07 '18.

Hidden bearish divergence patterns signaled on November 05 '18 and March 18 '19 fuel a continuous decline of the price forming lower highs.

On August 19 '19, the WANBTC price comes out of the oversold area, while signaling a bullish engulfing candlestick pattern. The move is the most recent towards a price recovery to the upside.


WANBTC Daily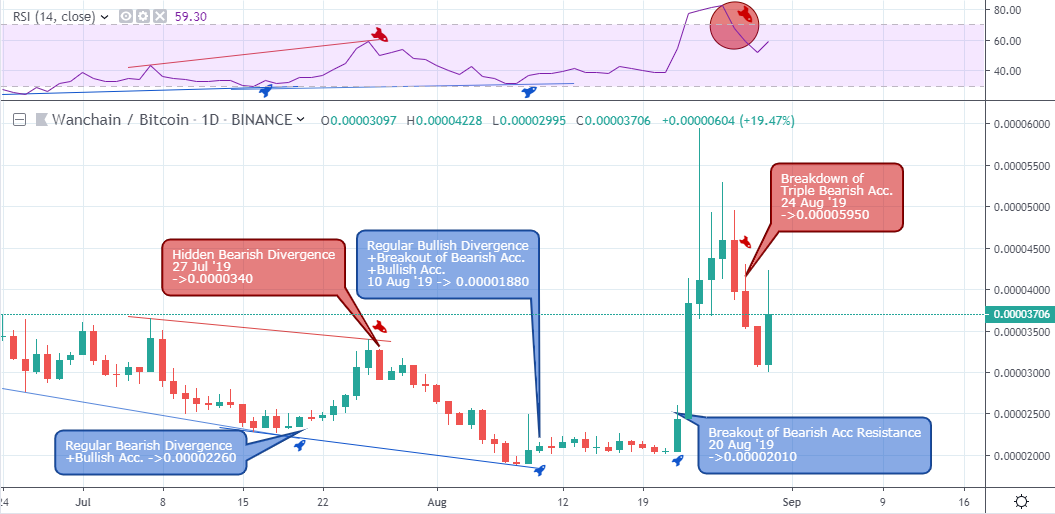 The above daily chart reveals a buildup of the price breakout on the weekly time frame.
As the WANBTC price made lower lows, the Relative Strength Index oscillator formed higher lows, signaling a regular bullish divergence on July 20 '19 and August 10 '19.

The hidden bearish divergence pattern on July 22 '19 formed an upper bearish trend line channel that drove the price lower where it finally signaled a bullish accumulation pattern on August 10 '19.

A breakout of bearish accumulation resistance on August 20 '19 highlights an increase in buying power in the regular bullish divergence direction of August 10 '19.
Coming out of the overbought zone on August 24 '19, the WANBTC price broke below bullish accumulation support levels of 0.00003640, 0.00003680, and 0.00004120, correcting the earlier gains of Wanchain.

Notice the bullish engulfing candlestick pattern on August 30 '19 as it signals an end to the price correction and usher in a continuation of the price rally. However, a breach of the 0.00002995 support may reinforce the Bitcoin BTC dominance against Wanchain.


WANBTC 4-hour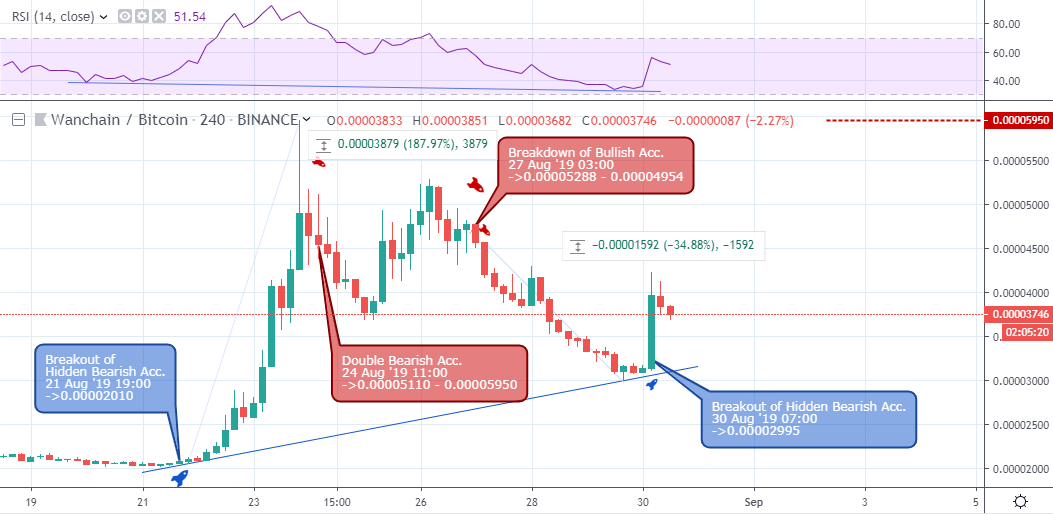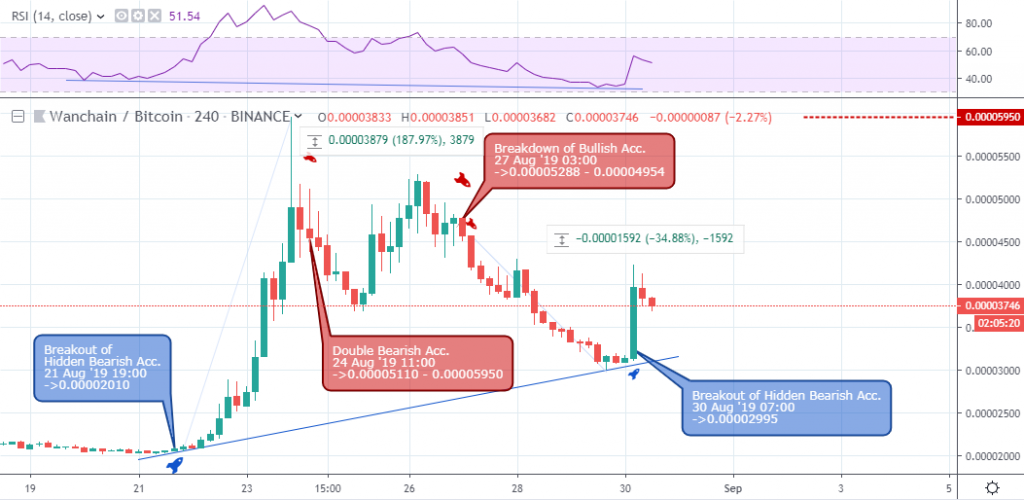 Coming closer to the intraday level, a breakout of hidden bearish accumulation pattern initialized the 187.9% price increase on August 21 '19 19:00. After a double bearish accumulation pattern on August 2 11:00, the bears showed strength by forcing the price of WANBTC below a series of bullish accumulation pattern on August 27 03:00 for a 34.88% price decline.

It signals a hidden bullish accumulation pattern at publication time and for a continuation of the bullish trend.

WANBTC 1-hour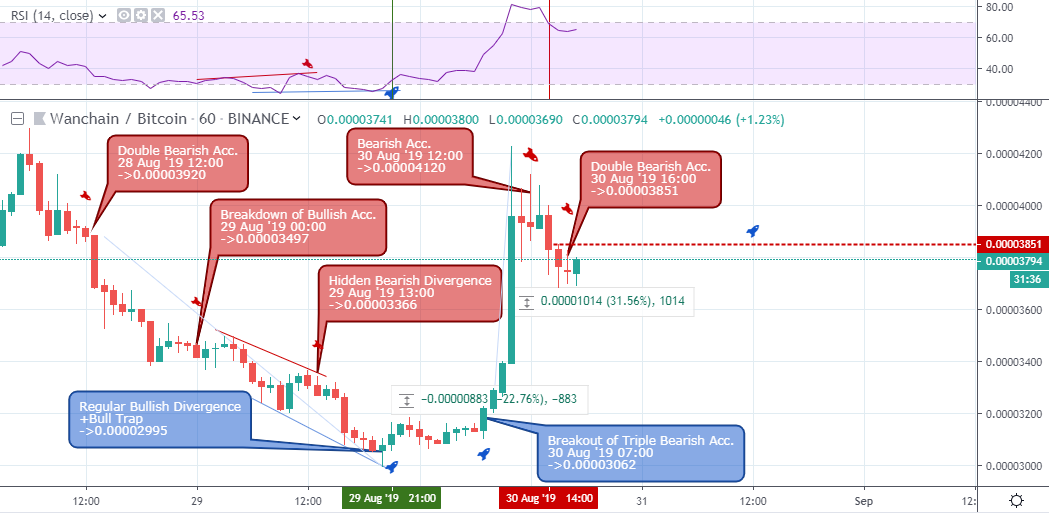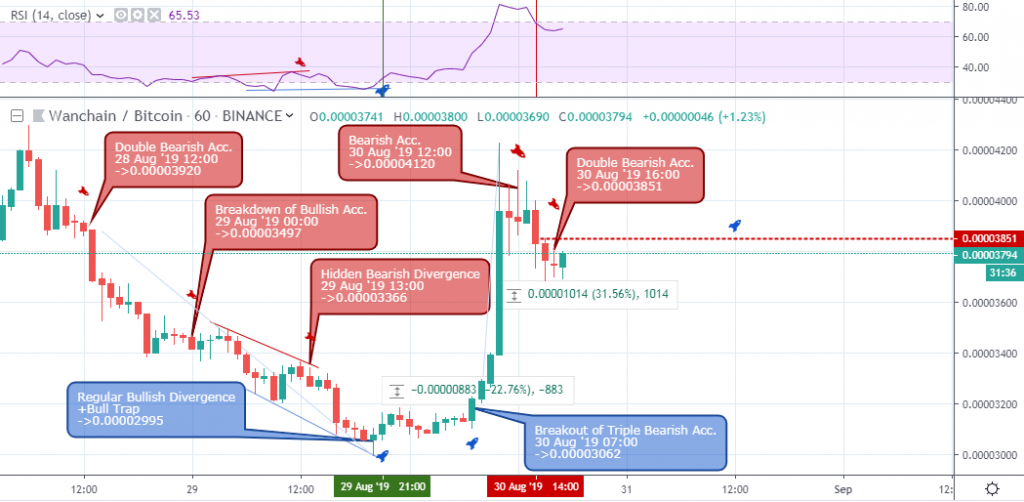 From the intraday 1-hour time frame above, the WANBTC price enters the oversold area and gets enclosed within an expanding channel built from bearish and bullish divergence patterns on August 29 13:00 and August 29 21:00.

A final break of triple bearish accumulation pattern on August 30 07:00 confirms the bullish campaign, for a price increase of about 31.56%.

The WANBTC corrects the current price surge after a bearish accumulation pattern in the overbought area, breaks below bullish accumulation support on August 31 07:00, and recently a new breakout above hidden bullish accumulation.

Conclusion
The regular bullish divergence on the higher weekly time frame hints at possible bullish recovery to favor Wanchain in the long term. However, a price close below the engulfing candlestick support at 0.00002995 may show more strength for Bitcoin BTC.



Disclaimer
Content provided by CryptoTraderNews is for informational purposes only, and should not be construed as legal, tax, investment, financial, or other advice. All information is of a general nature. As always, there is risk with any investment. In exchange for using our products and services, you agree not to hold CryptoTraderNews Pro, its affiliates, or any third party service provider liable for any possible claim for damages arising from decisions you make based on information made available to you through our services.

[/wlm_private]
Want to read the rest of the article? Join our pro-membership and receive all of the following:
✅Access to ALL content.
✅Access to the CTN editorial staff.
✅Access to our CTN trading dashboard.
✅Access to our exclusive telegram channel where all our pro-members and editorial staff are in.
✅Ability to request content/research material!