Bitcoin is currently trading at $10,150.91 and has so far failed to reach the $11K threshold since Aug 13, 2019. The bearish movement has continued for the past two weeks.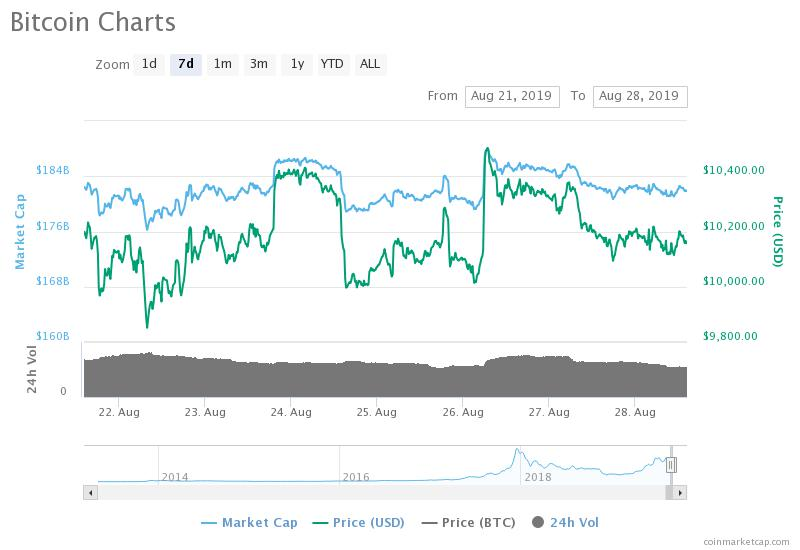 Bitcoin has dropped by 10.78% in recent weeks, with the support at $9800 holding steady. This is a level that has proven resilient since mid-June, however, crypto experts don't see the price dropping below critical support. We note that the first support zone isn't the ideal buy. Bitcoin expert Jacob Canfield doesn't see Bitcoin falling lower than $8900 and predicts the ideal buy zone to be around $8900-$9100. Despite the price struggling to stay above $10K, Bitcoin fundamentals and adoption has been consistently improving.

While adoption improves, everyone has been asking the question, "To buy or not to buy at $10K?"

The current price of Bitcoin has the energy to climb up and sustain above support. Though unpredictable, it may be a good time to take a calculated risk and buy in the zone. The answer to this critical question comes from determining if $10K is a fair price for Bitcoin. If there is a chance for the price to drop in the next few weeks it may be prudent to wait. So it is recommended to take the approach of cost averaging and invest only a percentage of what you initially would have and invest the rest when there is more indication on the price. Bitcoin has consistently found takers below $10K over the last eight weeks.
Hold on! This is for Crypto Trader Pros Only!
Hi there! This article is for pro users only. Please log in or register to continue reading the article.