Intro
Dash (DSH) since Q1 '19 has been showing strength against Bitcoin (BTC) and USD. Spend.com, an expense management app, recently added support for Dash making new features available to users.
Among such bullish announcement by the Dash Core Group is the launch of a Dash Ventures entity registered in the Cayman Islands with a focus on investing in different asset classes and returning the gains to further the Dash ecosystem.
The privacy coin (DASH) has become a safe haven for citizens of Venezuela following the crisis that hit the nation, and the cryptocurrency is looking towards expanding into Columbia.
Not too long ago, Dash (DASH) got listed on Daexs a Latin American cryptocurrency exchange enabling investors to purchase the crypto with Colombian Peso.
[rml_read_more]
We also see a gradual expansion in Thailand with approximately 100 online transactions made with Dash in March.
Nations like Zimbabwe and Turkey which are currently suffering hyperinflation will find the digital cash a safe haven.
Below we identify major technical patterns that show the transition from bearish to a bullish trend.
DSHBTC: Monthly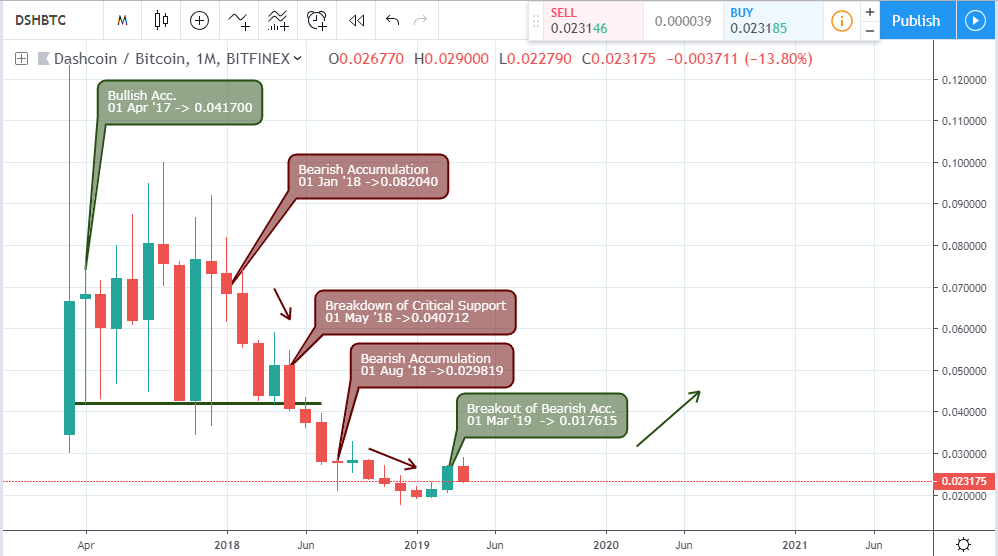 Bitcoin (BTC) the number one cryptocurrency by market capitalization was favored over DASH (DSH) last year following a breakdown of critical support level on May '18. The above monthly chart shows a buildup of the bearish trend which started from a bearish accumulation pattern on January '18. Later on August '18, the pair signaled another bearish accumulation. The last bearish accumulation pattern formed at the end of Q4 '18 failed to a breakout of resistance on March '19, setting up support at 0.017615.
DSHBTC: Weekly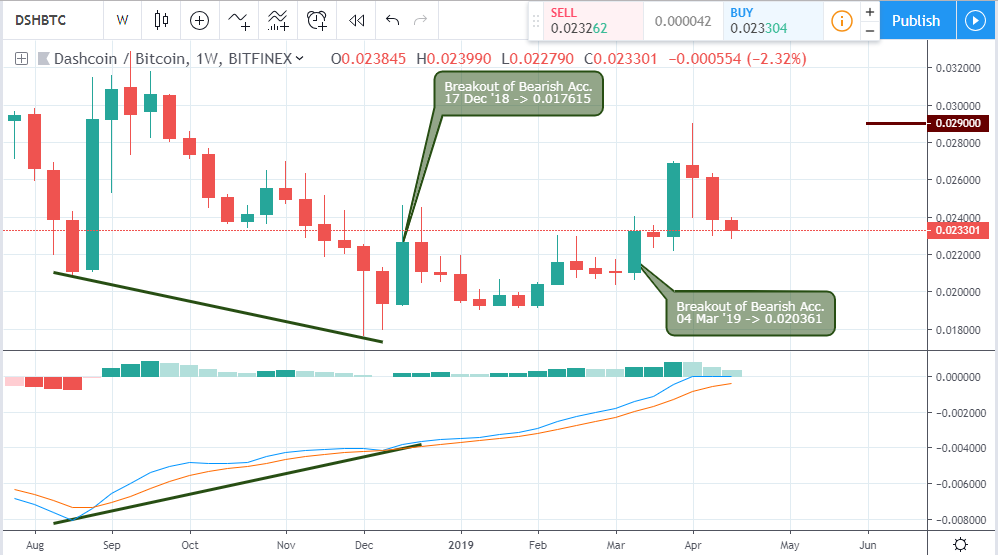 A weekly overview shows the last bearish descent, triggered by a breakdown of bullish accumulation on 08 October '18. This bearish price decline settles into a bullish regular divergence with early confirmation from an opposite breakout of bearish accumulation on December '18.
On 04 March '19, another follow up of bullish pressure was triggered from a breakout of double bearish accumulation for a 25.57% price increase from the bullish signal. The daily chart below brings clarity to the recent three consecutive bearish closing candles.
DSHBTC: Daily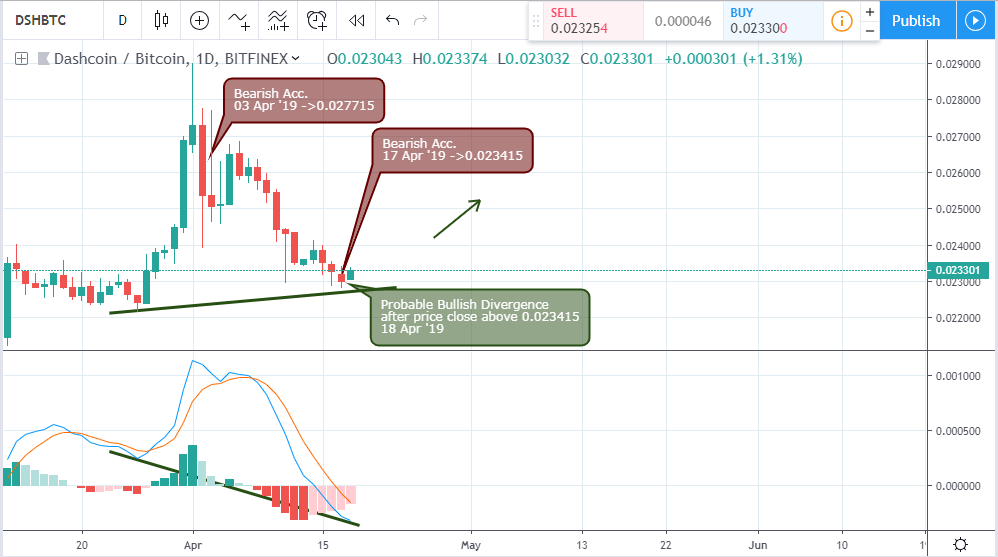 Following a break of critical resistance level on 12 March '19, the DSHBTC chart entered into a bullish oscillatory cycle which can be viewed through the sub-window of the MACD chart. The pair shoots higher by 24.4% and later showed bearish sentiment from a bearish accumulation pattern on 03 Apr '19 with resistance at 0.027715.
The bearish accumulation pattern (17 April '19) at the base of a bearish trend has a higher probability of failing to bullish pressure. A bullish price close above the 0.023415 resistance will give an early confirmation for a bullish hidden divergence and consequently a bullish trend.
DSHBTC: H4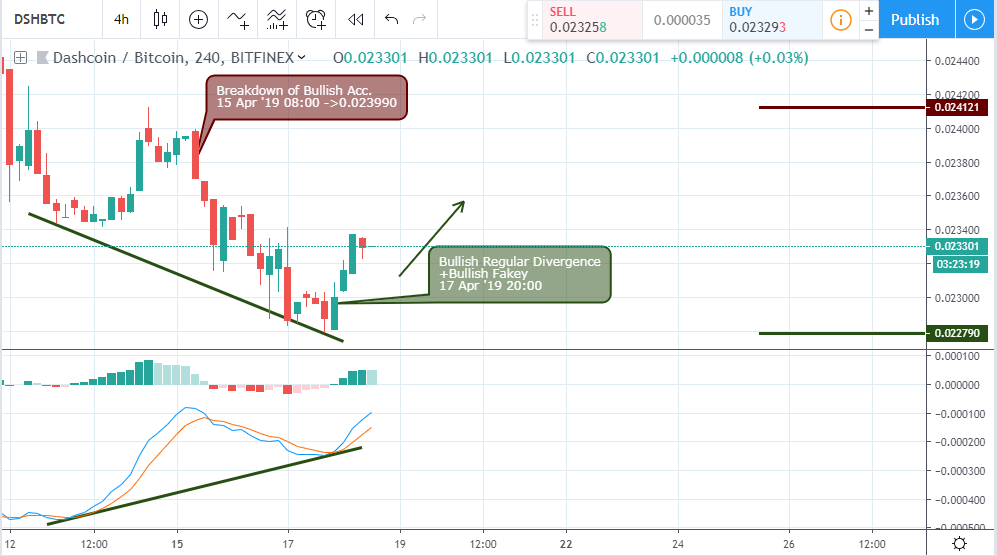 The anticipated bullish divergence on the daily chart is already formed on the 4hour chart. The bullish pattern was confirmed by a bullish Fakey pattern on 17 April '19 20:00. A good first target for a long position in the 0.024121 resistance.
DSHBTC: H2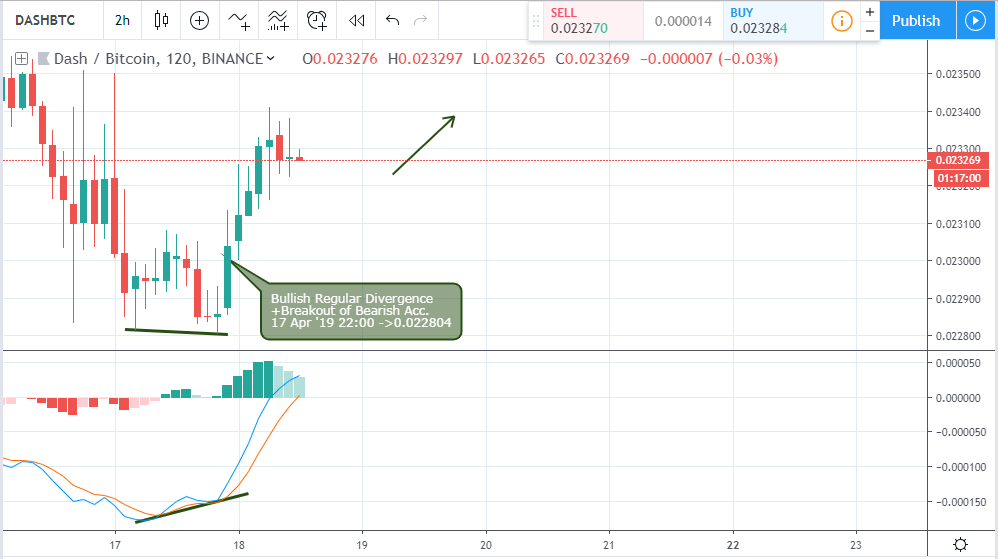 Similar to the 4hour chart, the 2hour chart also triggers a bullish regular divergence setup confirming the presence of exhausted bears in the market. A price close below the bullish accumulation support of 0.023160 will confirm a retracement of the short term trend.
DSHBTC: H1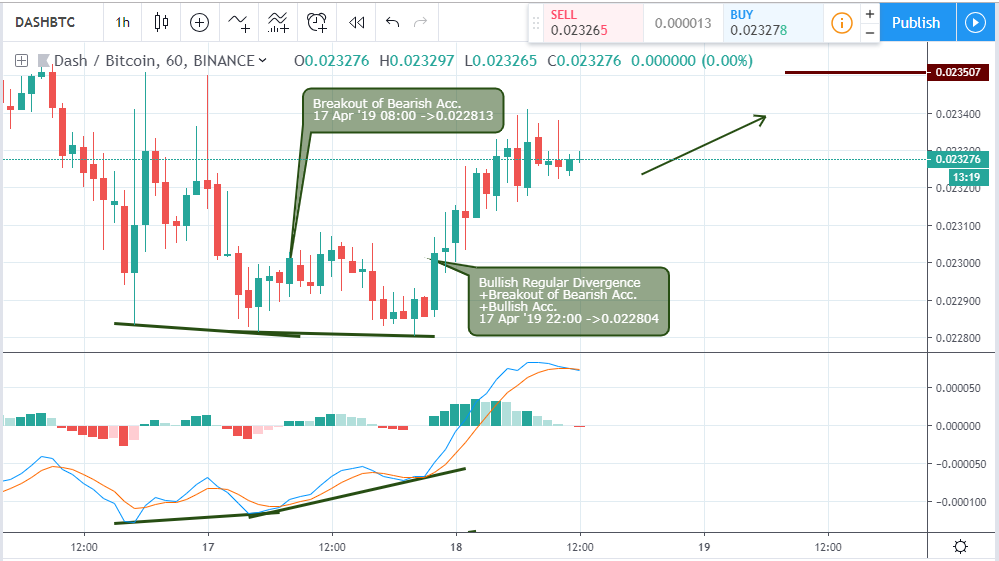 Looking at the above one hour chart, a breakdown of bullish accumulation on 16 April '19 00:00 resulted in a bearish price decline that later showed oversold setups via bullish divergence patterns. The divergence setups were initialized via a break of bearish accumulation on 17 April '19 08:00 and 17 April '19 22:00 with significant support levels at 0.022813 and 0.022804 respectively.
Significant Support and Resistance Levels
Significant Resistance Levels of Dash (DSH)
Monthly
0.0123390, 0.082040, 0.029819
Weekly
0.072496, 0.054757, 0.051849, 0.039550, 0.032864, 0.024364
Daily
0.0290, 0.027715, 0.024345, 0.023415
4-Hour
0.027310, 0.026378, 0.024829, 0.023978
1-Hour
0.024129, 0.024035, 0.023624, 0.023537, 0.023507, 0.023392
Significant Support Levels of Dash (DSH)
Monthly
0.017615
Weekly
0.017615, 0.020361
Daily
0.019013, 0.019151, 0.020361, 0.022142, 0.022790
4-Hour
0.022790
1-Hour
0.022813, 0.022804
Conclusion
With an increase in bullish sentiment and an increase in adoption rate in inflation torn States, Dash appears to be a great investment vehicle to hedge against such threats amongst advantages of making anonymous transactions.
In the long term, we look forward to going long on Dash with a projected price target of 0.040712.