Vechain (VET) is a company that seeks to tackle the growing issue of fake products by revolutionizing the supply chain through blockchain technology adoption. The company believes that leveraging digital identification of assets on the blockchain will enable transparent production lines, build trust and transparency across borders and companies, ensure product provenance from birth to grave, and ensure authenticity of the supply chain in luxury brands, automobile, and carbon credit goods.

Also known as Vechain Thor, the platform creates smart-contracts which are automatic and do not require a third party for execution. Below, we look at some of the developments of the VET within Q1 and Q2 2019.

Migration of DNVGL's Private Blockchain to Vechain's Public Blockchain

At the Vechain 2019 Summit, DNVGL, a quality assurance company founded in 1864, announced a move away from its traditional method of validating products and processes, which involved the issuance of a Management System Certificate at the end of their inspection of renewable, oil and gas, maritime, and power industries. The announcement stated that there would be a complete migration of its private blockchain to Vechain's public blockchain as a way of avoiding falsified certifications. Customers will have digital identities that will allow them to transact with the DNVGL ecosystem.

[rml_read_more]
Vechain and BMW to Jointly Develop a Decentralized Application for BMW cars

BMW and Vechain have collaborated since March 2018 when they announced their strategic partnership and formally announced at the Vechain 2019 Summit. Dubbed VerifyCar, it is a Decentralized App that will record BMW vehicle information on the Vechain blockchain. Information to be recorded in the DApp include vehicle insurance, service records, and mileage.

Vechain PWC Partnership

Vechain also revealed that PricewaterhouseCoopers, one of the Big Four auditing firms that service 420 of the Fortune 500 companies, would announce the development of a great product built on the VechainThor blockchain in two months. Though the nature of the partnership is still not clearly known, Vechain's collaboration with PWC is a very exciting step in mainstreaming blockchain.

Vechain Partners with Walmart China

Walmart China announced on 25 June, a food safety and food traceability platform built on Vechain with products already live on the Vechain blockchain and ready for purchase in stores.

The platform by Walmart is an initiative to arm consumers with more information on the quality of their food purchase. The process involves scanning a QR code, which directs the consumer to a webpage where the product information is displayed.

Safe Haven Applies for Listing on Binance

Vechain project, Safe Haven, has applied to be listed on Binance Exchange. However, at the time of this article, Binance has not approved the application.

Conclusion and Vechain VET Price Projection

An increase in the adoption of the Vechain Vet by seasoned enterprise companies is signaling a rise in the Vechain (VET) price, as it comes out of a long term oversold region viewing from the weekly time frame.

The price signals a hidden bullish divergence pattern at press time, and set for a bullish campaign.

VETUSD: Weekly Chart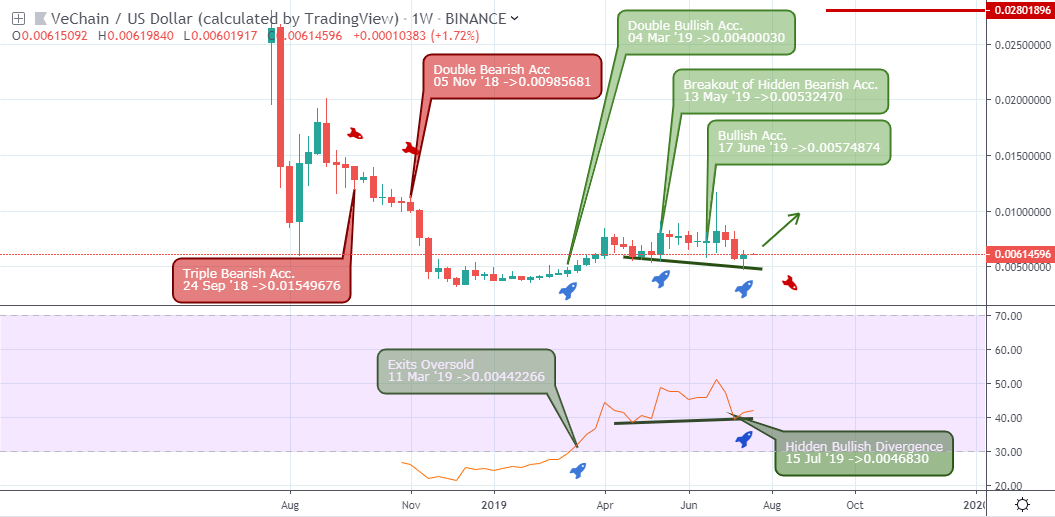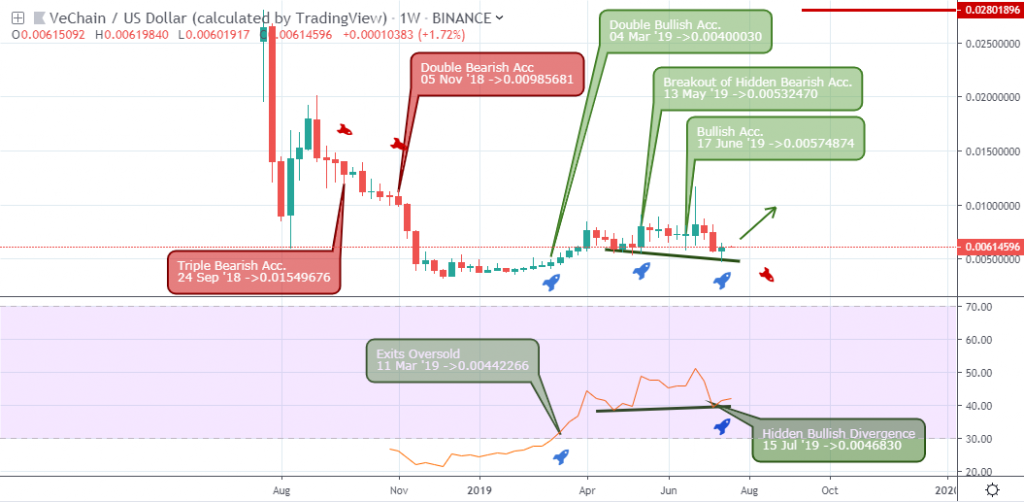 VETUSD: Daily Chart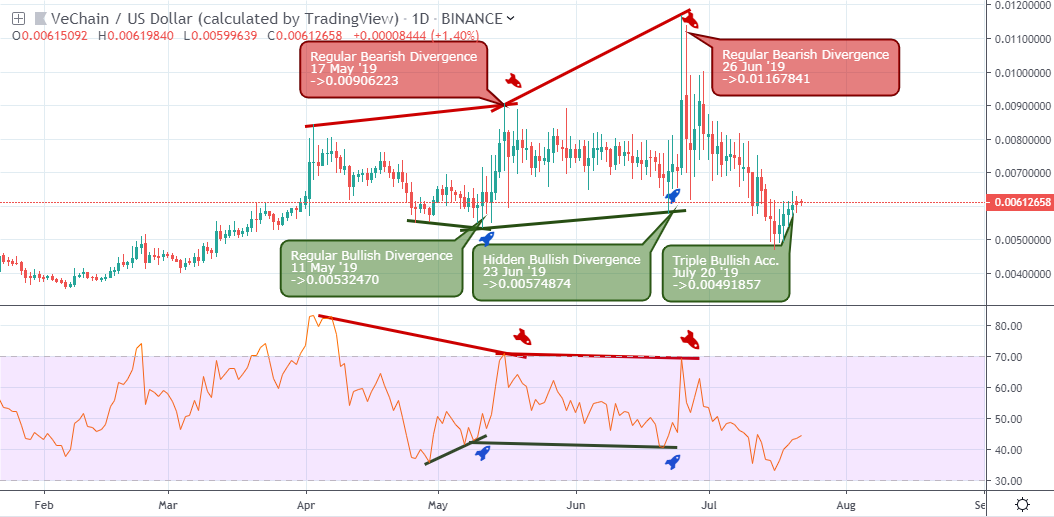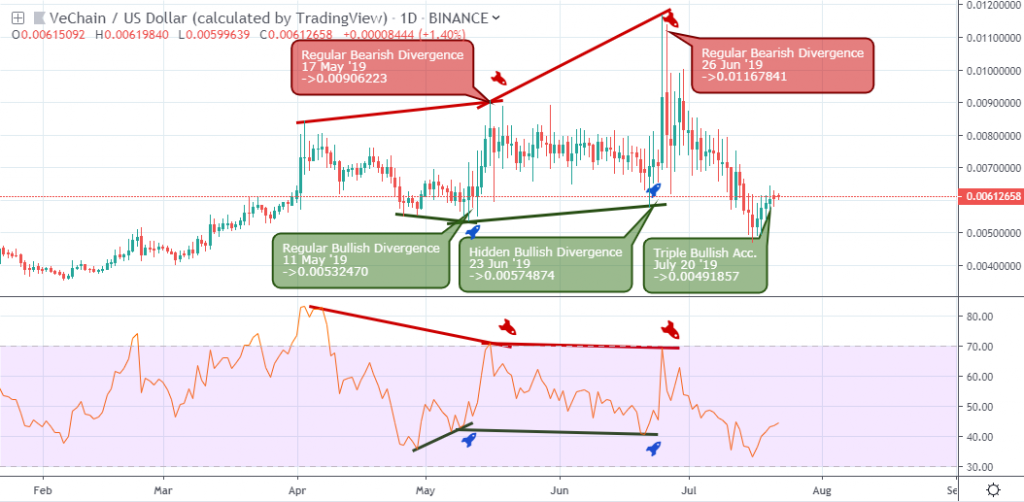 The above VETUSD daily chart indicates an increase in Vechain price. This is shown by a regular bullish divergence pattern appearing on May 11 and 14 '19 and accompanied by a hidden bullish divergence pattern on June 23 and 25 '19. Support levels for both were respectively set at 0.00532470 and 0.00574874.

Formation of regular bearish divergence is signaled on June 26 '19 and a series of bullish accumulation patterns set the price up for an upbeat.
Disclaimer

Content provided by CryptoTraderNews is for informational purposes only, and should not be construed as legal, tax, investment, financial, or other advice. All information is of a general nature. As always, there is risk with any investment. In exchange for using our products and services, you agree not to hold CryptoTraderNews Pro, its affiliates, or any third party service provider liable for any possible claim for damages arising from decisions you make based on information made available to you through our services.