The end of 2019 doesn't just mark the end of the year, it also marks the end of the decade. Bitcoin launched in 2009 and this ends a Bitcoin decade too. Just a couple years ago, Bitcoin, and cryptocurrency in general, witnessed a historic bull run followed by a year-long crypto winter, mainstream adoption, regulatory hold ups, and a fair share of scams and scandals.

The previous decade also puts Bitcoin and cryptocurrencies into perspective in front of regulators and governments worldwide. In this article we'll discuss the highlights in cryptocurrency leading up to 2019.
A decade ago
It all started in 2009, with Bitcoin's launch. Bitcoin was introduced as P2P electronic cash system; its underlying technology coining a new term: blockchain. It was differentiated from other coins launched before it and all others after it. Bitcoin traded below $200 until 2013, its first bull run just before July 2014. Another exciting bull run started after November 2017, and the third bull run is expected, as some analysts are predicting, right before the halving in the first quarter of 2020. We can see the historical price action in the chart below.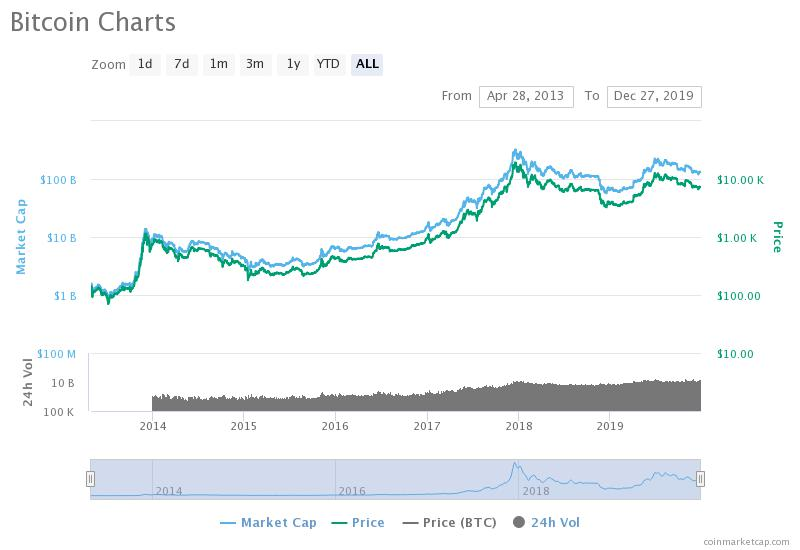 Source: coinmarketcap.com

Bitcoin has an ROI of 5307.60% since its launch. Since 2013, its all-time high is just below the $20K level; its all-time low being $65 in this time frame. Bitcoin has a market dominance of 68% with a market capitalization of $132.6 trillion.

Hardforks and altcoins
Speaking strictly about the events that happened in 2019, we've seen several hundred altcoins launch. While the number remains lower than those launched in 2017, it is significant. The altcoins launched in 2019 have largely been focused on security, infrastructure, sustainability and problem solving, while the ones launched in 2017 were often used as crowdfunding tools on projects that never came to fruition, giving rise to skepticism with ICOs and shitcoin scams. Lately, focus has been on DApps and DeFi with billions of dollars being invested in projects in these two focus areas. With increased maturity in the space, regulations have been implemented by a few countries, while others are still in an initial round of discussions.

Bitcoin Futures
Bakkt launched listed Bitcoin Futures Contracts throughout 2019. Its parent firm Intercontinental Exchange (ICE) said the Bakkt Bitcoin Cash Settled Monthly Futures contracts will be listed on ICE Futures Singapore and was cleared by ICE Clear Singapore; both regulated by the island-state's de facto central bank, the Monetary Authority of Singapore (MAS).

The cash-settled contracts will be settled against prices of Bakkt's physically delivered Bitcoin futures contracts. It launched in the U.S. in late September 2019.

Bakkt's futures launch marked an important milestone in Bitcoin's timeline.

Hacks and security breaches
Cryptocurrencies are considered secure due to blockchain technology, however, exchange wallets aren't exactly the most secure place to store your funds – as we learned in 2019.

There were four major security breaches in top exchanges and wallets.

As soon as 2019 kicked off, Cryptopia was hacked, losing $2.44 million in Ethereum along with CENNZ tokens worth around $1.18 million. The hack continues to remain a mystery and the exchange failed to return user funds or get back online, which has investors screaming SCAM!

The second major hack was in the top crypto exchange, Binance. This was due from a combination of malware and phishing attacks. While Binance managed to pay back roughly $41 million to its users, the funds were never recovered.

But hackers didn't stop there. Next they targeted Bithumb of South Korea and stole $19 million worth of cryptocurrency. While the media reported this as an insider job, there hasn't been any official statement from the exchange.

The last hack was on Coinbene, another popular cryptocurrency exchange. Funds notoriously went missing from the exchange's hot wallet. The hack happened when the platform was down for maintenance and the exchange hasn't exactly shared details of the incident.

Regulatory clamp down and trend reversal
In the first few months of 2019, there were negative sentiments and statements from countries around the world. Bitcoin and cryptocurrencies suffered much criticism. Then came the announcement of Libra in June 2019 and suddenly, or perhaps forcefully, a dialogue began about the possibility of embracing digital currency as a potential replacement to centralized fiat money. Bitcoin was seen in a whole new light.

Bitcoin's underlying technology is blockchain, and it's been adopted by most countries even as they continue to criticize cryptocurrencies. Naturally, blockchain and cryptocurrency is not synonymous and there are relevant arguments to implement blockchain and regulate crypto within the economy.

The United States initially drafted regulations on securities, however, due to rampant confusion between the status of tokens as altcoins or securities, a need for clear regulation is underway. China had declared the possibility of shutting mining operations altogether, but in a strange turn of events, the PBOC declared that it's working on developing its own digital currency, the digital RMB. So too was French Prime Minister Le Maire critical of Libra and all other cryptocurrencies, but France is also working on issuing a centralized digital currency. India's approach to cryptocurrencies has been one of ring-fencing and nay-saying but the draft report of a research committee submitted earlier this year indicates positive changes are to be expected in the crypto ecosystem within the subcontinent.

Stake and earn
More and more projects offered the option of staking tokens to earn interest which has lured thousands of new traders into the cryptosphere. With interest rates up to 15%, projects like NPXS and NEO are winning hearts and getting added to the portfolio of almost every crypto trader. Before staking, we'd only heard of HODLing and nothing to do with earning fixed interest. Staking has become mainstream and a popular way to earn passive income through cryptocurrencies.

Wild predictions are not for the faint-hearted
Throughout the year, experts and influencers have made price predictions that are wildly optimistic or quite dire. From John McAfee to Anthony Pompliano, or gold buff Peter Schiff, Bitcoin's price has been predicted to hit as high as $100,000 to $250,000 by 2021. Most analysts predict $50,000 per Bitcoin by 2020. Predictions for a $20,000 2019 year end bull run have yet to happen but we've still got a couple of days before we put the nail in that coffin.






Disclaimer
Content provided by CryptoTraderNews is for informational purposes only, and should not be construed as legal, tax, investment, financial, or other advice. All information is of a general nature. As always, there is risk with any investment. In exchange for using our products and services, you agree not to hold CryptoTraderNews Pro, its affiliates, or any third party service provider liable for any possible claim for damages arising from decisions you make based on information made available to you through our services.