In this guide we'll cover


Bitcoin performance in 2017,18,19
What to expect in 2020
What are the experts saying
Buy/ Sell/ HODL this
This guide is an initiative to inform traders of updates in the cryptocurrency market, to share insights and to answer questions on top cryptocurrency performance in 2020. This is not, in any way, meant to be advice. We have shared our insights on cryptocurrency performance and made conclusions based on trends.

Bitcoin performance in 2017, 2018 and 2019
There are hundreds of new cryptocurrencies being added to the market almost every year. Cryptocurrency exchanges have been adding new cryptocurrencies to increase the number of available markets for traders. This may look like an exciting opportunity to noobs, but for seasoned traders, they know what's beyond the hype.

In 2017, the year of the Bitcoin, the industry witnessed the rise of several hundred ICO projects and less than 1% of them went live. An even smaller number is still in various forms of development, and here we are on the edge of 2020. Market capitalization, investor interest and FOMO was at its peak in 2017 but there is definitely a different aura surrounding crypto from then to now. Cryptocurrency investors have become wary from the hype and scams.

Naturally, there are still pump and dump schemes but people fresh into crypto are generally the target unless they enter after doing a ton of independent research.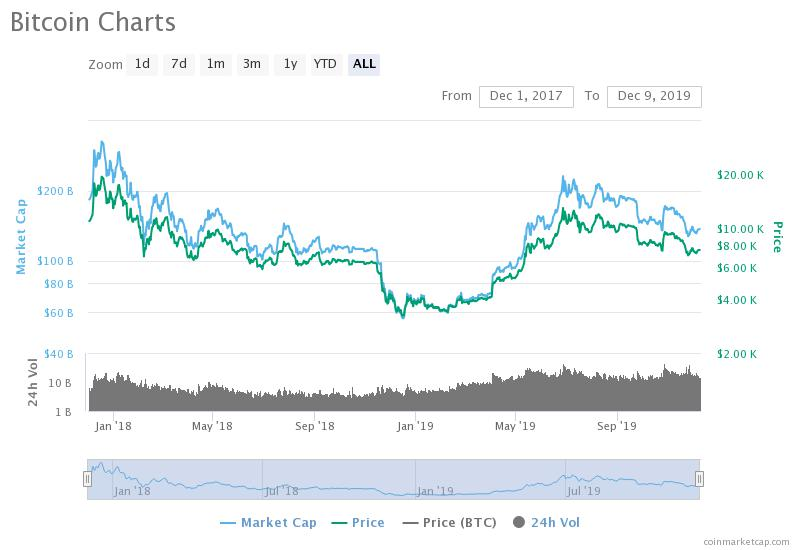 In the above chart, we can see that market capitalization in June-July 2019 inched closer to the 2017-hype level. Some experts believe that the bull run of June 2019 was the one that was predicted to come before Bitcoin's halving in 2020. Litecoin, another leading cryptocurrency witnessed the same right before its scheduled halving this year.

Since Bitcoin makes headlines almost every day there is no fear of investors losing interest in the digital asset, despite this, its volatility and unrealistic, baseless predictions by the likes of John McAfee and Pomp raise red flags. This is slowly pushing individual investors away and the market may soon be dominated by institutions.

Institutions amassed Bitcoin in the dip of 2018 and of all the Bitcoin held in wallets, less than 10% is being circulated. This could be indicative of a HODLing tendency and this could also be the reason for massive volatility. The investing sentiment ran low through 2018 and interest has spiked again since June 2019. Holiday season may bring more joy to the community and give us another price jump on Christmas Eve or New Year's before we enter 2020.

What to expect in 2020?
According to the Bitcoin Block Reward Halving Calendar, the Bitcoin halving is scheduled to occur on May 14, 2020. This means the block reward will be slashed in half and 50% fewer Bitcoins will be generated for every block found. This is not the first time. We've had two halvings since it's launch in 2009 – and every time it there was a halving, Bitcoin witnessed a boost in its price. There was a major hype the last two times but we're left wondering if the hype and excitement is gone with halving number three.

The current block reward is 12.5 BTC, which will be reduced to 6.25 BTC. So, approximately every four years there will be less Bitcoin being mined. Some believe that the price will rocket up due to scarcity. Then again, when the block reward drops to 6.25 there are some miners who may find it difficult to keep running their rigs as the remaining miners look for profit by leveraging their Bitcoin on the markets for better prices.
If Bitcoin follows the trend, we should gear up to see the next all-time-high. While $100K is a little far-fetched, crossing $25K is a possibility and the cryptocurrency may do so before June 2020. My conclusion is based on Supply-Demand Economics and no random predictions whatsoever.

However, the market has matured and is very different from 2017. We may or may not see a bull run in the short term, however, long-term price appreciation is in the cards for sure.

What are experts saying?
Anthony Pompliano, popularly known as pomp says $100,000 by December 2021, that's what Bitcoin's price will be. However, I'd like to shed some light on his previous predictions.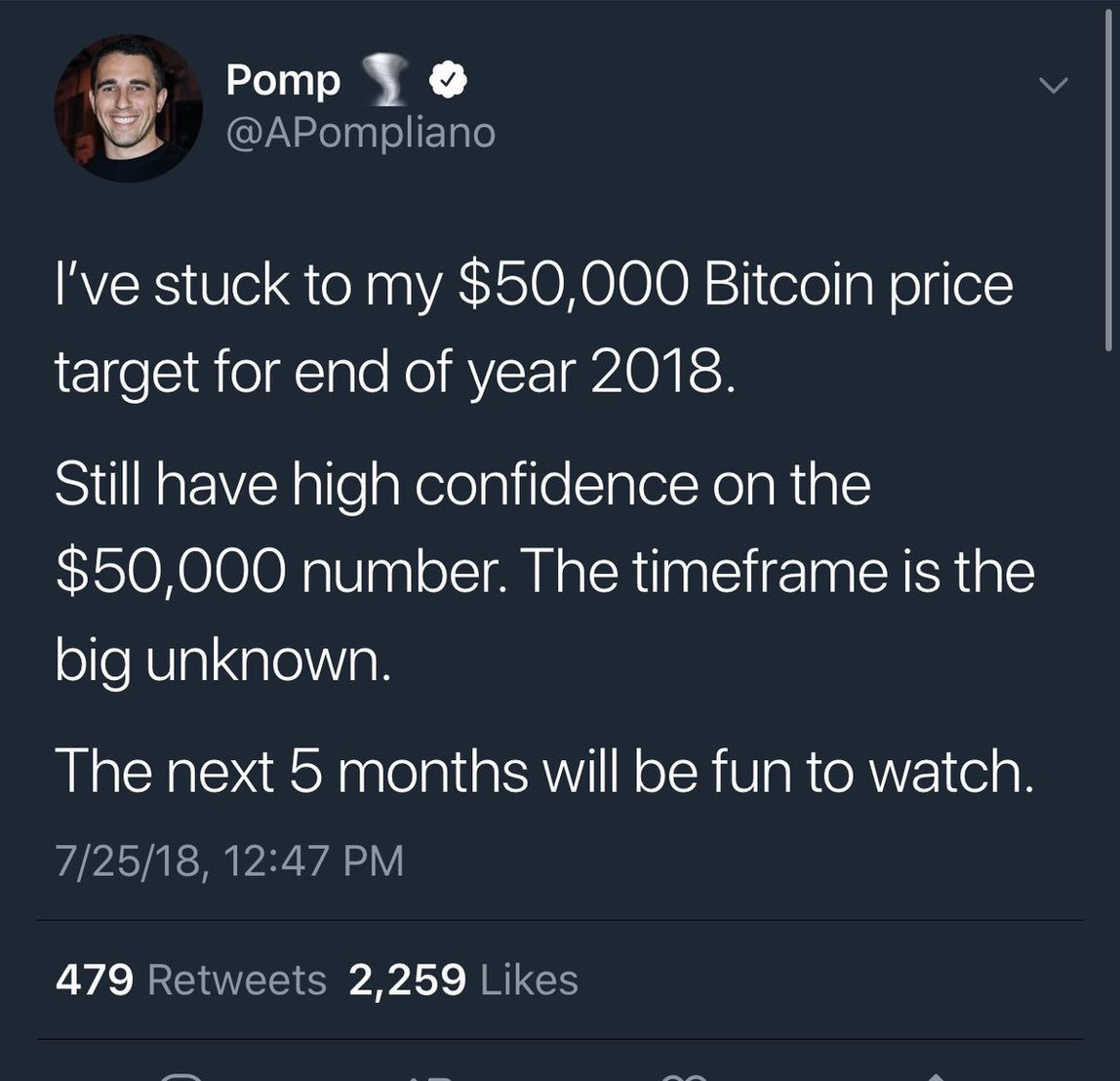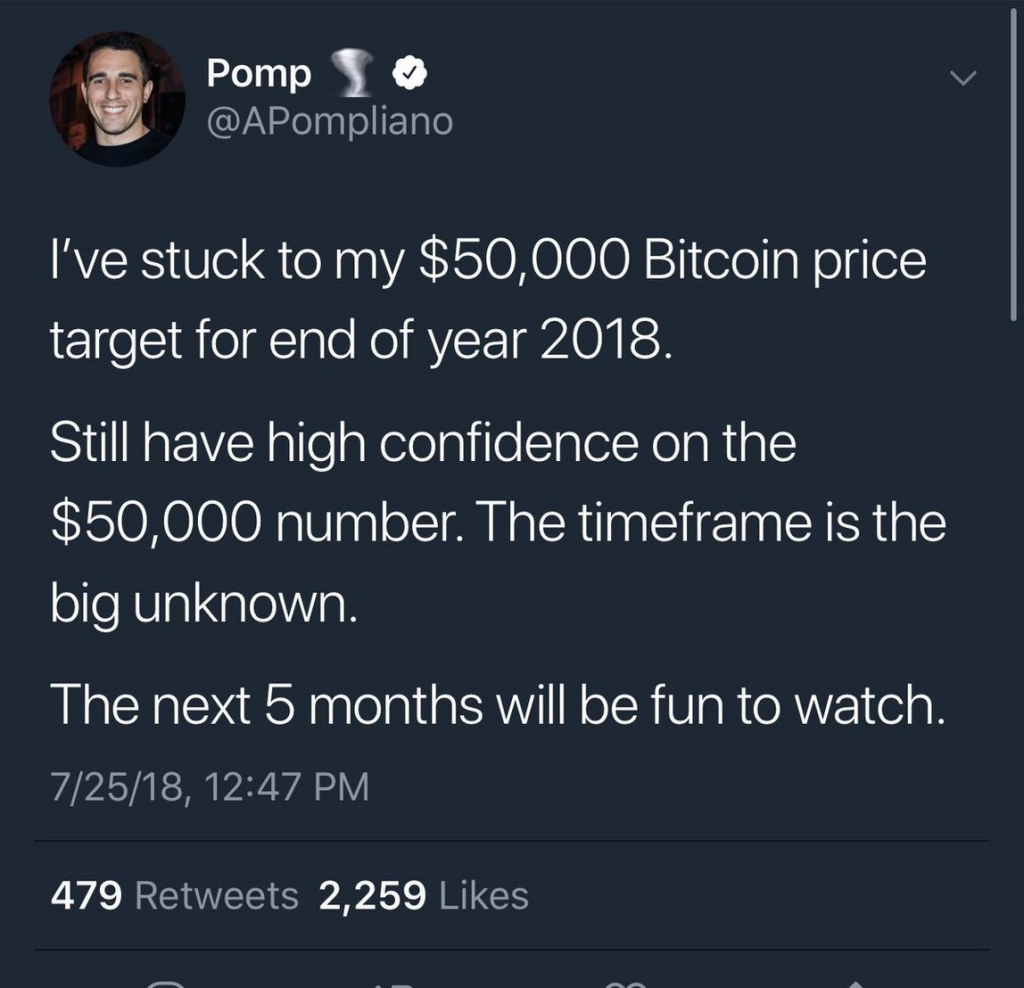 This was his prediction for 2018, $50,000. If we think of what really happened, his predictions may seem far fetched.

John McAfee, in his own words.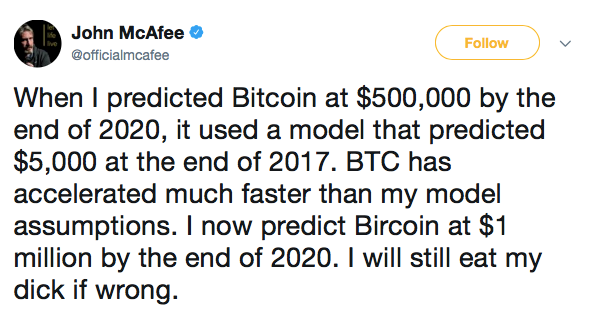 John also predicted Altcoin Prices.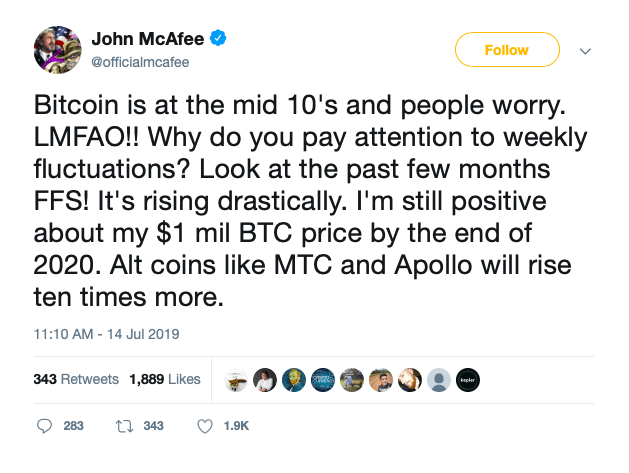 Buy/ Sell/ HODL
Now that we've covered the prediction for 2020, let's move on to the most exciting part of the guide. In this section we'll cover a list of cryptocurrencies to buy, sell and hodl in 2020, so that you know what to expect.

Buy This
Bitcoin – Immediately after the halving there will be a massive price drop (this follows from its previous year trends) and the cryptocurrency will be at its lowest, for 2020. Buy the dips. The selling window is approximately 3 months away from the dips. So buy your heart away, and you won't regret it.
Neo – NEO may make a recovery in 2020, given its trend. Though the cryptocurrency has been experiencing a dip like the rest of the altcoins, the projects fundamentals are strong and its different from the rest. NEO is setting out to gain its lost value in the first half of 2020 and January/February may be a good time to buy. Checkout its current price action here.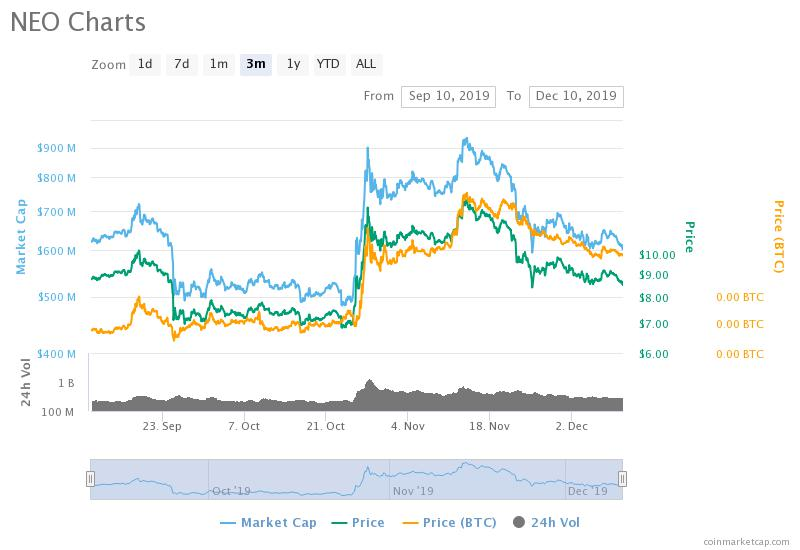 Sell This
Binance Coin – The currency of the world's leading cryptocurrency exchange has taken a hit this month, however, Binance is increasing it's partnerships and making its crypto pool stronger. With more volume, the exchange will be ready to roll out futures and other exciting products for its users. This means BNB will go up. There may be more IEO projects on launchpad and HODLing BNB through the rest of 2019 seems like a good strategy.
HODL This
With Ethereum's Istanbul upgrade, we can expect the network to get stronger than before. Casper Protocol is underway, this would usher in sharding and much awaited features and all this will be rolled out in 2020-21. We have all waited to see ETH 2.0 and it's on its way. To usher it in, we recommend HODLing through 2019 and the first 3 months of 2020. There will be an opportunity to sell as soon as we learn more about the updates on the Ethereum Network, in 2020.





Disclaimer
Content provided by CryptoTraderNews is for informational purposes only, and should not be construed as legal, tax, investment, financial, or other advice. All information is of a general nature. As always, there is risk with any investment. In exchange for using our products and services, you agree not to hold CryptoTraderNews Pro, its affiliates, or any third party service provider liable for any possible claim for damages arising from decisions you make based on information made available to you through our services.