ChainLink is currently trading at $1.79 with the price dropping 0.53% since yesterday. Overall, ChainLink has dropped 5% below its 20-day SMA and technical analysis suggests that ChainLink's price may bounce up by 10 to 15%. The price is in a tight range between $1.58 to $2.99.

Notably, LINK's market cap is currently $625 million with a 1042% RoI.
ChainLink's price has been dropping and there is a trend reversal well on its way. Three days ago the price dropped 2.3% below the average and the trend has not exactly been clear. The price's current proximity to the bottom of the range has offered buyers an attractive opportunity to scoop up LINK as other traders are more interested in trading the range.


✅Access to ALL content.
✅Affordable ($10.00/month).
✅Access to the CTN editorial staff.
✅Access to our CTN trading dashboard.
✅Access to our exclusive telegram channel ​where all our pro-members and editorial staff are in.
✅Ability to request content/research material!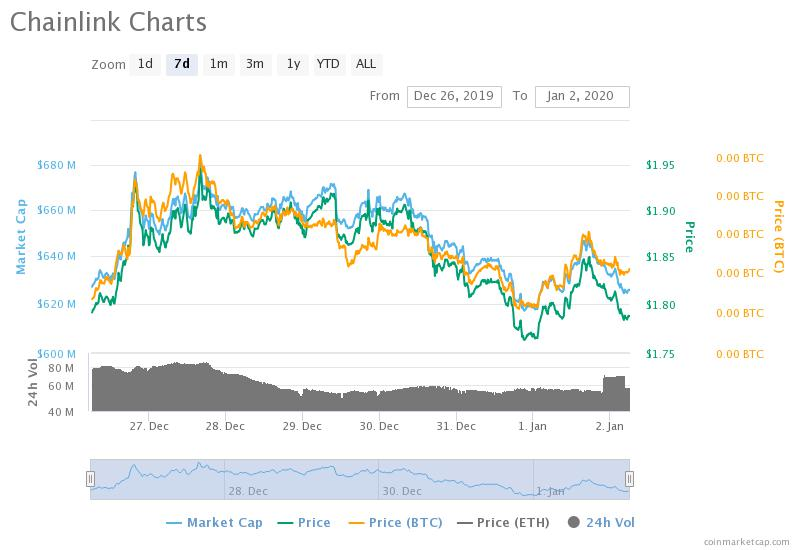 LINK News
ChainLink has announced their partnership with Enigma, the platform that facilitates blockchain functions on sensitive data. This strategic partnership between Enigma and ChainLink with facilitate the emergence of new use cases operating on secret smart contracts.


The total number of ChainLink HODLers has gone up in the past few days with over 16,000 transactions in a single day.
Of the total wallets holding ChainLink, the richest 10,000 wallets currently own 91.76% of LINK.
One of the short-term, yet enduring goals of this partnership will be to enhance practicality, convenience and an improved user experience.
ChainLink's oracles will be used to initiate ENG/ETH gas price conversion. With the help of an Ethereum callback mechanism, the user has to pay for both the secret contract computation and Ethereum callback in ENG. Paid ENG should comprise the ETH gas cost to trigger usability. The inclusion of a ChainLink oracle can be computed from varied data sources, reducing the occurrence of price manipulation.

ChainLink's dev team has remained active on the project, indicated by their GitHub repository which was last updated on December 26, 2019.

The altcoin's growth rate has accelerated and the number of watchers is growing every day. The Enigma/ChainLink partnership long-term objectives include a combined and individual ecosystem of protocols. The two protocols plan to work on:

Off-chain payments : a non-crypto payment that boosts the release of data within a contract
Social integrations : real-time updation of a Twitter "following" list
Cross-chain activity : facilitating the running of operations on the logic of secret contracts
ChainLink's association with Enigma offers the infusion of the Trusted Compute Framework that runs conveniently on the Ethereum mainnet. The firms will provide devs with tangible projects as the two work together for the future of cryptocurrency payments.

In terms of social media presence, ChainLink's Twitter and Reddit followers have gone up and ChainLink's social media is more updated than most altcoins. ChainLink is available to buy against BTC, USDT, ETH and USD. It can be bought on top cryptocurrency exchanges like Latoken, Binance, Sistemkoin, Huobi Global and many more.






Disclaimer
Content provided by CryptoTraderNews is for informational purposes only, and should not be construed as legal, tax, investment, financial, or other advice. All information is of a general nature. As always, there is risk with any investment. In exchange for using our products and services, you agree not to hold CryptoTraderNews Pro, its affiliates, or any third party service provider liable for any possible claim for damages arising from decisions you make based on information made available to you through our services.