Ethereum's price is plummeting rapidly and it dropped below the crucial support of $185. It is currently trading at $170.84 and next support is at $168. If the price stays upwards of $168 for over 4 days, a takeover by bulls might send the price above $185 this week.

The Ethereum price chart for the past 10 days shows a steady decline and takeover by bears. To predict the price for this week we have considered the moving average and the cumulative volume index.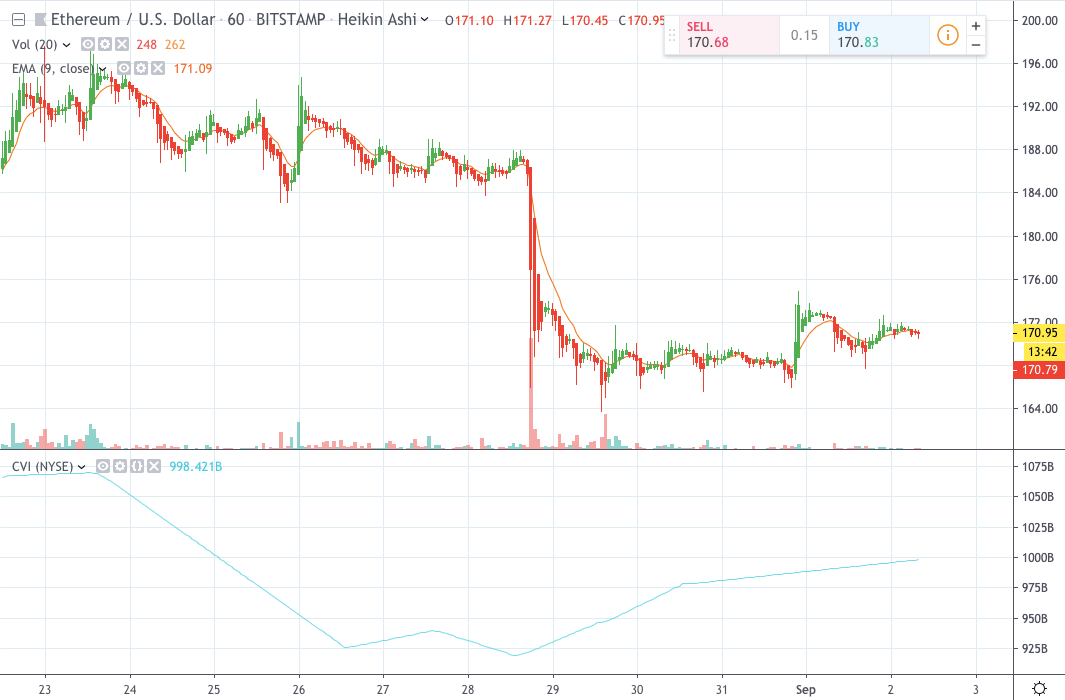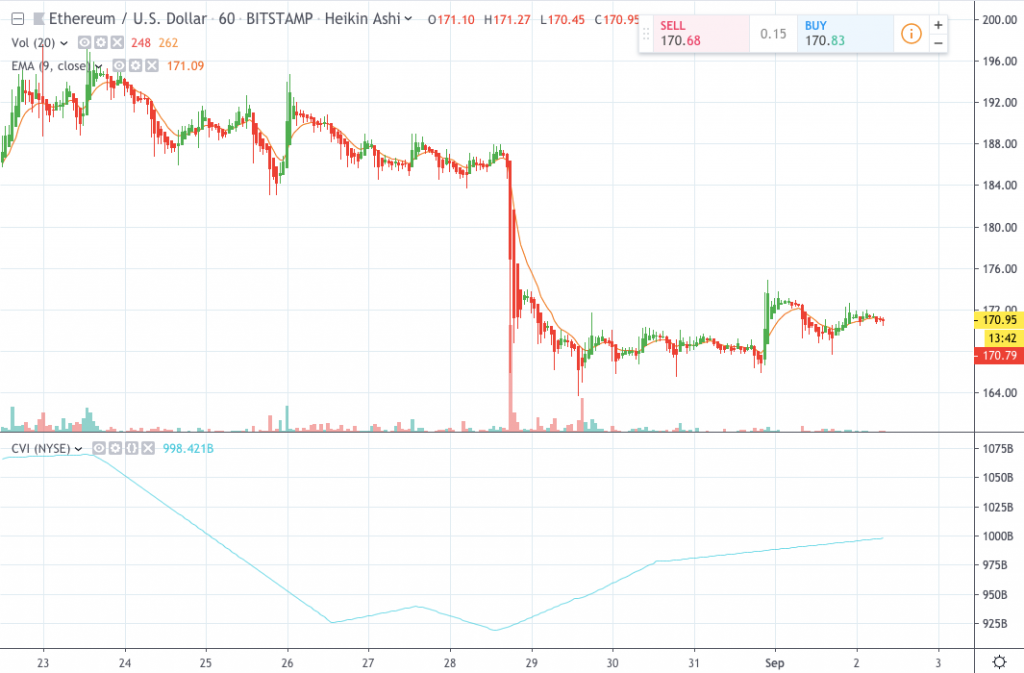 This is a 1-hour chart and it shows a major bearish trend that kicked in on August 29, 2019. Since then the price is correcting downwards and there are no signs of recovery in the next 4-5 days. However, there is a possibility of a short term upwards correction which would most likely hit close to $180. Bulls are likely to continue the struggle to take the price above $185 in the next two week. The price needs to climb above $185 to move back in the bullish zone and correct upwards this month.

On the flip side, there is another key support at the $165 level. If the price falls below this level, it is likely to hit lower prices and continue downwards this week. Following that it may drop below $160. Bears are likely to defend any movement above the $180 level.

In June 2019, Ethereum hit $350 and amidst the transition to Casper (PoS), a decline has set in. It managed to stay above $200 for most of July and August, however, we are below the $180 level currently and this is a critical zone for predicting Ethereum's price action in September 2019.

It has been reported that Telegram's new blockchain TON will be compatible with Ethereum's network. It will specifically support Solidity – Ethereum's smart contract language and allow Ethereum apps to run on TON. This is a key update for the Ethereum Network and is likely to influence positive price action in the following week. Telegram has raised over $1.7 Billion through GRAM token's ICO and its TON will be launched in October 2019. Telegram is one of the most popular chat apps and has over 200 Million users, this may influence Ethereum's adoption and have long term positive influence on its price. It is definitely a major win for Ethereum and we wait to see a positive turn in the price action.

Currently, Ethereum's trading volume is low and recovering from the weekend's slump. The altcoin will recover from low market activity later this week and an increase in volume and transactions will give a clear picture of the price action. It is recommended that traders keep an eye out for a significant drop this week as every rebound has been followed by a massive drop in the past. Ethereum is currently oversold and this warrants a drop in the next few days. For today and tomorrow expect sideways trading in Ethereum in response to low market activity.



Disclaimer
Content provided by CryptoTraderNews is for informational purposes only, and should not be construed as legal, tax, investment, financial, or other advice. All information is of a general nature. As always, there is risk with any investment. In exchange for using our products and services, you agree not to hold CryptoTraderNews Pro, its affiliates, or any third party service provider liable for any possible claim for damages arising from decisions you make based on information made available to you through our services.