Similar to Bitcoin, Ripple's XRP is the only other popular altcoins with crypto maximalists. The XRP army is a force of allied powers in the XRP community with Crypto Bitlord a leader in the crypto movement with over 102K Twitter followers. Crypto Bitlord is a Ripple maximalist and this has earned him a reputation within the crypto community and it's reasonable to believe he has some sway because, in the light of Ripple's massive sell-off to commercial banks and institutions, Bitlord is has been issuing threats to fork Ripple and save it from dying.

Last month a petition was started on Change.org to convince Ripple to stop "dumping billions of XRP" and "crashing its price". Crypto Bitlord suggested that the XRP army should rally together and pump the price to higher levels. This petition has gained over 2900 signatures. Bitlord is taking this petition to an altogether new level by threatening to fork XRP to take control of the token. He has asked his followers to spread the good word. "I'm thinking about forking XRP so we don't have to deal with the founders dumping. This will be a community effort," he said on Monday, August 28.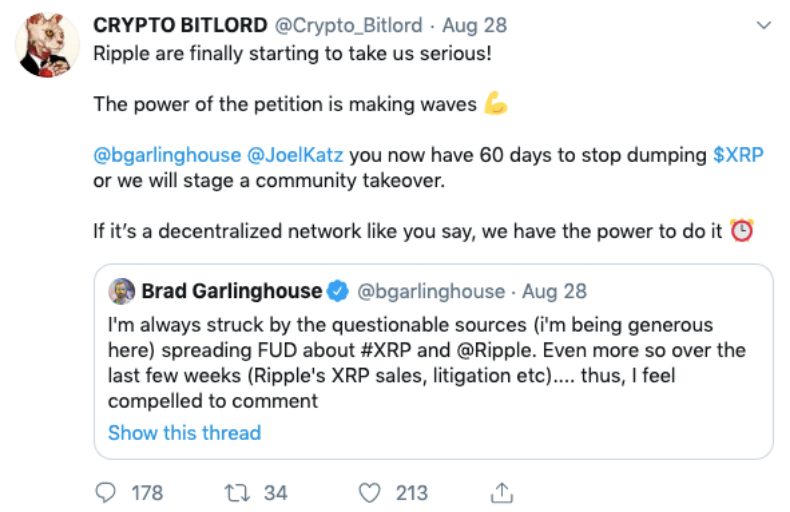 Bitlord's tweet comes after numerous huge movements of XRP to mysterious wallets. Ripple Network appears to be moving large amounts of XRP again—this time moving a total of 522 million XRP to an unknown address. These movements were tracked by Whale Alert and in response to this and the community's outrage, Ripple CEO Brad Garlinghouse addressed "the questionable sources spreading FUD about XRP and Ripple," and defended the way in which Ripple manages its reserves of XRP, arguing that "XRP sales are about helping expand XRP's utility."

Bitlord's ultimatum to Ripple is more than an empty threat as the founders haven't taken it lightly. The trader has been receiving numerous death threats after this bold attack on Ripple and announced that he wishes to take time off Twitter.

While the XRP Army's aggressiveness is legendary, it may not be justified. Ripple Network is the largest blockchain investor globally and the team is taking substantial efforts to make the token financially viable. Selling tokens to commercial banks is a move to increase its adoption in the long run and the team is promoting XRP's usability. It would be challenging for a community version of XRP to build and maintain partnerships and drive the altcoin to the same level of acceptance and financial backing as Ripple's XRP.

Bitlord's call for a fork is a desperate move to prevent XRP's price from plummeting further. The XRP army is planning a pump to reap profits in the short term. This may not, however, turn out to be the best long-term strategy. This season altcoins have seen a steady decline since the start of 2019 and for XRP it has been a bloodbath. XRP lost 61% of its value and is now worth less than 0.00002604 BTC. Ripple's dumping may be a driver for short term growth but there is no good end in sight for the community.




Disclaimer
Content provided by CryptoTraderNews is for informational purposes only, and should not be construed as legal, tax, investment, financial, or other advice. All information is of a general nature. As always, there is risk with any investment. In exchange for using our products and services, you agree not to hold CryptoTraderNews Pro, its affiliates, or any third party service provider liable for any possible claim for damages arising from decisions you make based on information made available to you through our services.