Bitcoin and leading altcoins managed to recover late on September 12, 2019, however, no major market breakthrough has been seen yet. The total market capitalization is close to $264 Billion and average daily trade volume is at $49 Billion, down from $51 Billion. Bitcoin's market dominance increased to 70.3%.

Markets continue to diversify today as Bitcoin has stabilized above $10,300 and altcoins are varying between positive and negative 24-hour changes. Notable movements come from ETH (+1.33%), XRP (+0.81%), BNB (+5.89%), TRON (+1.76%), and MIOTA (+29%).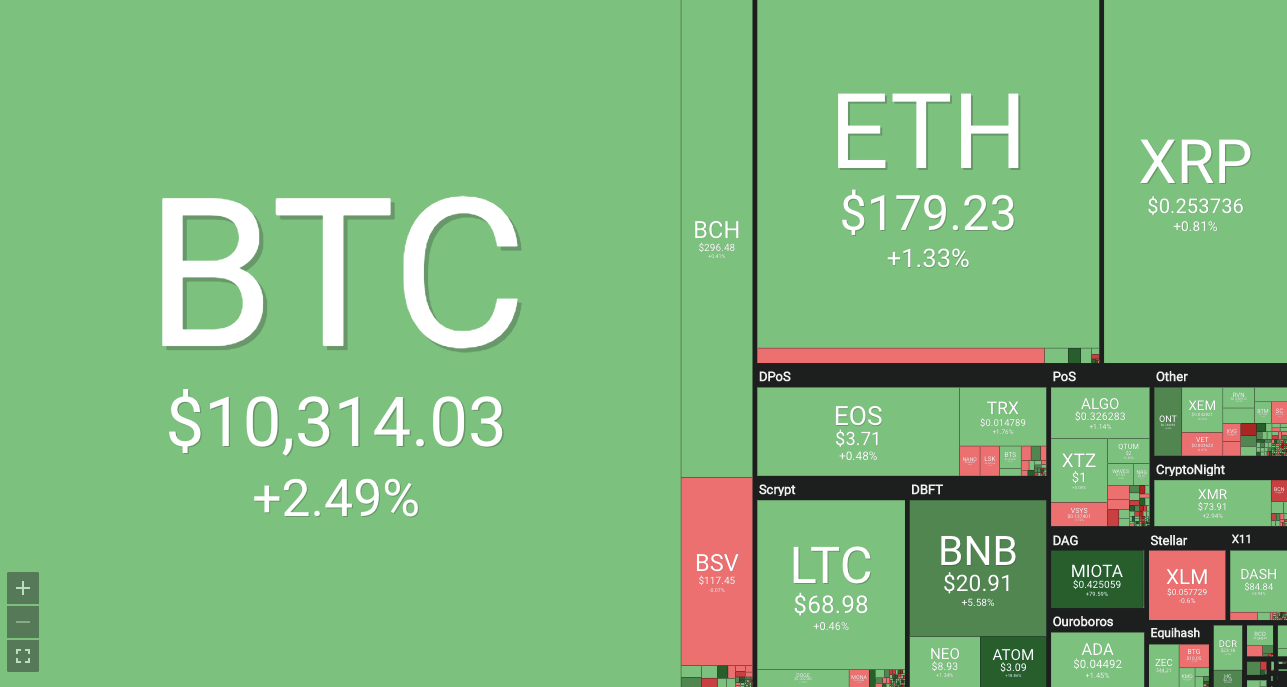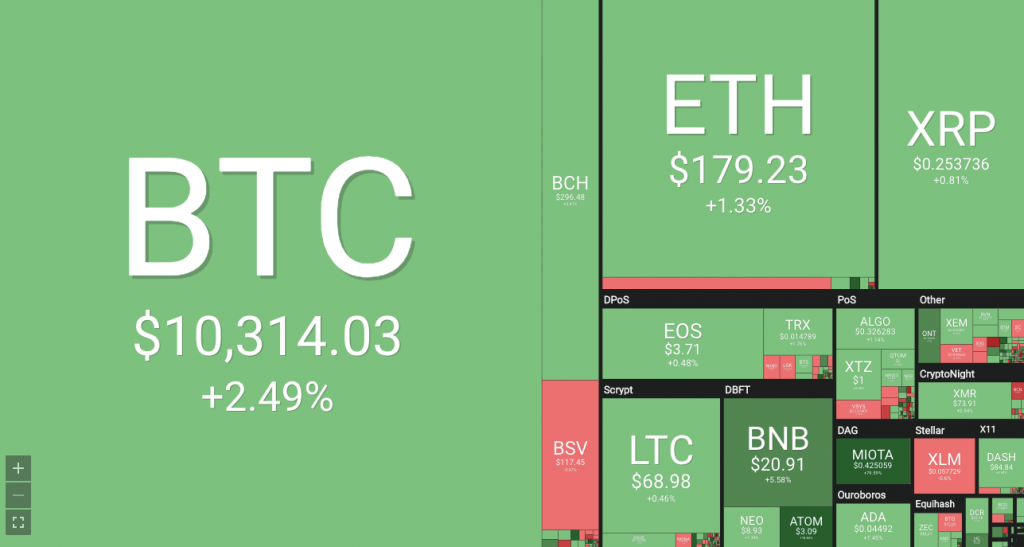 Institutional investments are ramping up and plans for a full Bitcoin ETF are inching closer to approval. SEC Chairman Jay Clayton noted in a recent interview that there are only two major issues left to be solved for the approval of an ETF: safe custody of crypto assets and proving that the price isn't subject to manipulation.

Bitcoin and cryptocurrencies inherently tackle the first challenge – safe custody of crypto assets and verifying ownership of cryptocurrencies. While verifying ownership is a slightly nuanced problem, private keys may be stolen or retrieved by the wrong party. Regulated custodians like Bakkt and Coinbase are entering the Bitcoin ETF race and this might be sufficient to get SEC's approval.

While cryptocurrencies are far more resilient to price manipulation on regulated exchanges, SEC may deliberate this further and find notable exchanges that are not yet regulated in the U.S. In a few weeks, the SEC will be forced to make a decision on two Bitcoin ETF applications: Bitwise Asset Management on October 13th, while VanEck/SolidX will receive its decision on the 18th. Analysts in the industry have predicted that the approval of either of these Bitcoin ETFs would be a regulatory boon to Bitcoin.

Let's consider the VanEck/SolidX application for creating a Bitcoin ETF. The two firms have jointly applied for the opportunity to create a Bitcoin ETF in the past and bypassed regulatory hurdles to launch the new product. Because of SEC exemption 144a, which can be used to allow securities to be resold to qualified buyers, shares of the VanEck SolidX Bitcoin Trust can now be traded by hedge funds and banks, but they are still unavailable to retail investors. The project is similar to an ETF. The shares are the first institutional-quality cleared product providing exposure to bitcoin and enabling a standard ETF creation-and-redemption process.

Unlike an ETF the shares aren't listed on a national exchange, but rather they are quoted on the OTC Link ATS platform. Given that it will trade over-the-counter via broker-to-broker transactions, it is referred to as Broker Traded Fund, a BTF. Three days after launch, the VanEck Bitcoin trust for institutional investors has reportedly managed to issue four Bitcoins or $41,348 in assets under management.

So does this mean that approval is around the corner? Perhaps, but it seems unlikely that the two companies will receive the approval that they are waiting for. Markets will react to the news of the ETF and other companies vying to be the first to create the product may want to reconsider the time and resources that they are willing to spend on getting the SEC's approval.





Disclaimer
Content provided by CryptoTraderNews is for informational purposes only, and should not be construed as legal, tax, investment, financial, or other advice. All information is of a general nature. As always, there is risk with any investment. In exchange for using our products and services, you agree not to hold CryptoTraderNews Pro, its affiliates, or any third party service provider liable for any possible claim for damages arising from decisions you make based on information made available to you through our services.