Where's the Bitcoin market mojo, man? If you follow cryptocurrency then you are definitely familiar with Peter Schiff's controversial and mostly accurate views on cryptocurrency. Schiff is an American libertarian, stock broker, financial commentator, economist and radio personality who also happens to be the CEO and Chief Global Strategist of Euro Pacific Capital Inc. He's been around for a while and confident that he knows his stuff.

So, while scrolling through my Crypto Twitter feed, I came across Schiff's comments on Bitcoin's pump and dump. In his own words, "Bitcoin pump & dumpers are losing their mojo…"
He made the remark on December 4, 2019 in response to Bitcoin's recent pump, criticizing the leading cryptocurrency for its price movements, claiming that price manipulators have lost their edge. And within a few hours of the pump where Bitcoin suddenly rose 7.5%, it fell sharply back by 8% later in the day. No gains there!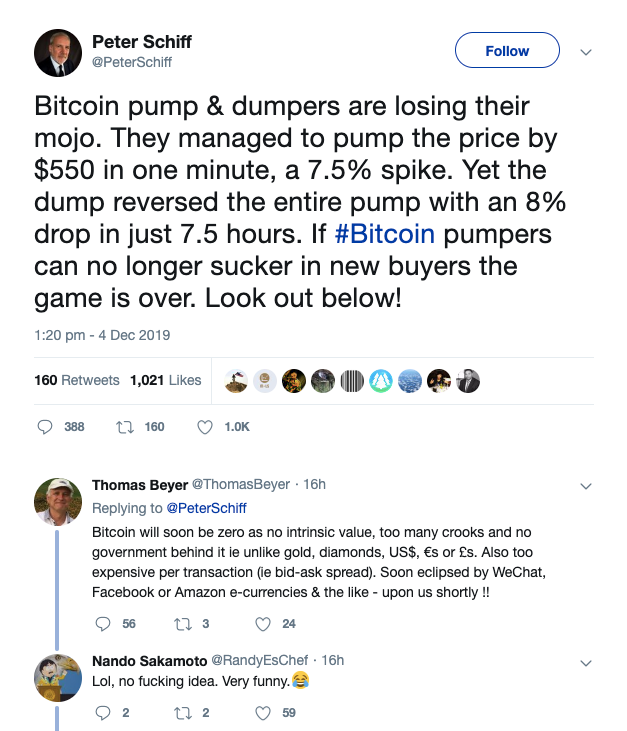 Several critics responded to this and claimed that bulls will not be able to beat bears this season as Bitcoin's bearish sentiment continues.

Bitcoin's Journey This Week
Bitcoin has spent most of this week in a declining channel as it grinds lower towards $7K. A sudden flurry of activity in trading on December 4th saw the digital asset surge by over $550 in less than an hour. Six hours later it dumped the same amount which triggered Peter Schiff's reaction.

You know how when you were a kid and you looked up at the sky and saw pirate ships and smiley faces in the clouds? Well, here's a funny example of what Crypto Twitter is seeing in the Bitcoin market.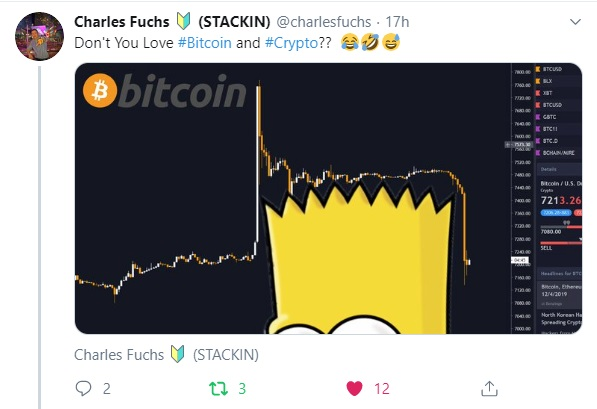 What's our take on the Bitcoin pump and dumps?
Bitcoin was accumulating losses this week, especially since it dipped below $7,100. The highest point was last week at $7,850 and that was followed by a dump of over 10%. During yesterday's trading we saw a huge candle indicative of the $550 surge and then the sudden drop within six hours. This pattern looks very suspecting on charts and it does indicate a drop in mojo, albeit a sudden one.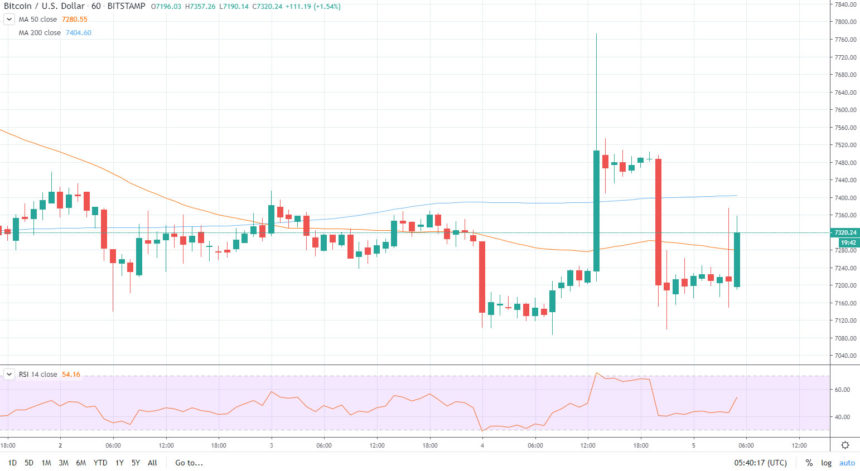 Source: tradingview.com

Since then the digital asset has returned to $7,400 as the down trend has resumed. Sentiment has turned south and analysts are forecasting a dump into the $5K zone soon, if there is no recovery. Indicators are mostly bearish so these minor bullish moves are of little consequence in the long term.

While we know Peter Schiff as a popular fan of gold and critic of Bitcoin, he has consistently made bearish calls and told his followers to invest in gold instead of Bitcoin. His thoughts on Bitcoin may not be the best benchmark and may influence/ misdirect new entrants in the industry. To support this argument, I'd like to share that Schiff had called Bitcoin at $1,000 in the beginning of November, however, that never happened. The price never hit anywhere near that low.

Criticism for Bitcoin
Despite Schiff's persistent criticisms, he has admitted that he has a Bitcoin wallet. After uncovering his addresses, some cryptocurrency users decided to donate some BTC to him so that he has a stake in the game, with the expectation that it would deter his criticisms. His address now holds 0.21 BTC, courtesy of his fans.

While he has been wrong about Bitcoin prices several times in the past, he has not been deterred from predicting lower prices and criticizing the leading cryptocurrency. In May of 2019, Schiff claimed that "no one would work for Bitcoin," which merited many replies from people who do, in fact, get paid in Bitcoin.

Does lost mojo affect Bitcoin prices?
Despite Schiff's warnings, Bitcoin continues to outperform gold for the year with the precious metal being up only 17 percent and Bitcoin currently trading at $7,400 — up from $3,700 at the start of this year.

Mojo or no mojo, Bitcoin beats all other asset classes… most of the time.






Disclaimer
Content provided by CryptoTraderNews is for informational purposes only, and should not be construed as legal, tax, investment, financial, or other advice. All information is of a general nature. As always, there is risk with any investment. In exchange for using our products and services, you agree not to hold CryptoTraderNews Pro, its affiliates, or any third party service provider liable for any possible claim for damages arising from decisions you make based on information made available to you through our services.