President Donald Trump tweeted on August 6, 2019, that the U.S. is in a strong position and the US-China trade war is a beautiful thing to watch. President Trump's view is that Washington is holding ground in this trade war and attracting a massive amount of international investment. However, the key data from the trade war is telling a different story. U.S. exports to China slumped to $33 Billion that is 21%, at the end of June 2019; Chinese exports by contrast, increased by $4 Billion, almost 1%. Over the past 7 months of 2019, China's trade surplus was over $168 Billion. Washington aimed to achieve the opposite of this outcome and unsurprisingly Beijing was nonchalant on the sudden spike in trade tariffs.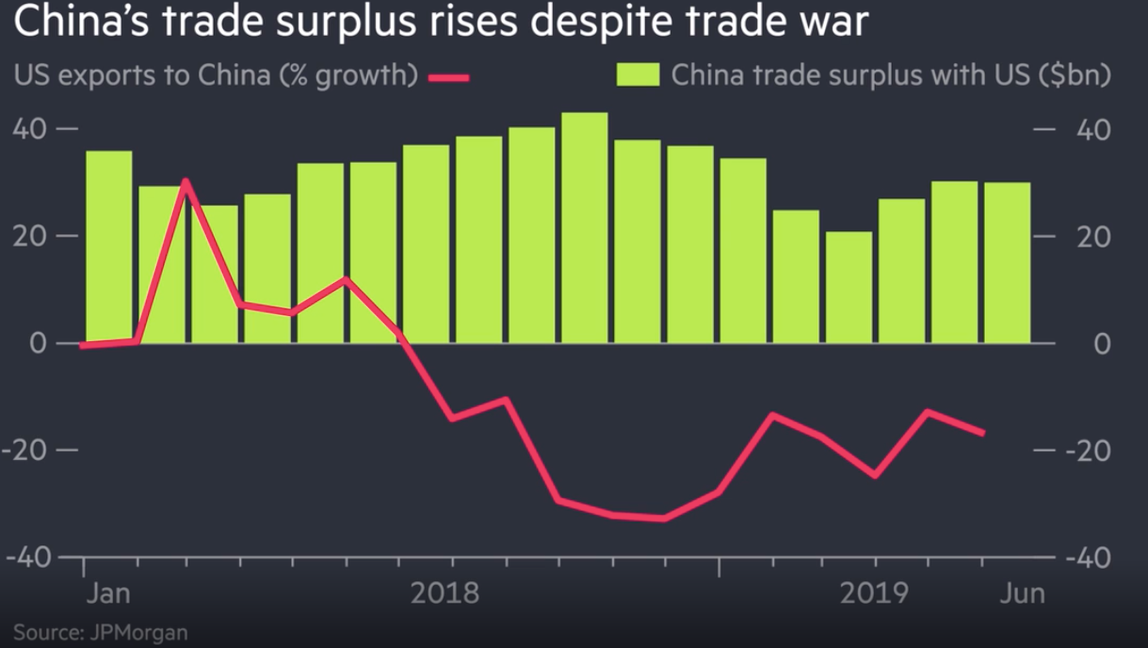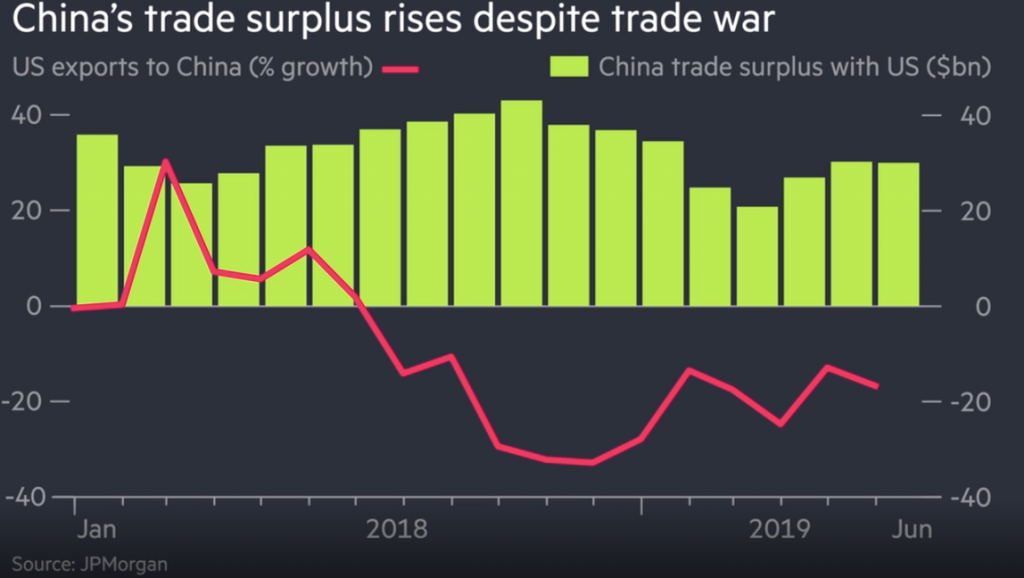 Source: JPMorgan

The trade war further intensified as China weaponized its currency – the Yuan. The People's Bank of China took steps to limit the impact of Washington's next round of tariffs by letting its currency weaken past the psychologically important point of 7 Renminbi to the U.S. dollar for the first time in over a decade. A weaker currency allows businesses to offset the additional tariffs imposed by Washington and harm American exporters competing with Beijing.

Chinese officials said the move came in response to market forces that reacted to President Trump's tariff threats by pushing the value of the currency down. While a weaker yuan will also make imports into China more expensive, and drive up inflation, it will push Yuan holders to invest in other assets. This is where Beijing interests investors with its new offering – Digital Yuan. The Digital Yuan is a new option in China's arsenal and plans for its development have been underway for over a year. The PBoC announced plans to launch Digital Yuan before Facebook's Libra and the move comes at a time when Digital Yuan can save China's economy from massive inflation.

In July, the former governor of the PBoC, Zhou Xiaochuan said that Libra poses a threat to payments systems and fiat currencies. He argued that the Chinese government should make the Yuan a stronger currency and suggested that commercial entities should be allowed to issue digital Yuans. Mu Changchun, deputy director of the payments unit at the People's Bank of China (PBoC) said that Digital Yuan would be a substitute for M0 (physical currency in circulation) and not M2 (bank deposits). The launch of Digital Yuan would boost the circulation of the Yuan internationally and rescue it from the impending crisis.

Digital Yuan serves two purposes for Beijing and promises to minimize the collateral damage that the Chinese economy would suffer at the expense of the Trade War. This would give Beijing time to recover from the crisis, make the Yuan stronger and possibly emerge a winner in the war.