2019 is an exciting year for cryptocurrency traders and investors. Year-long crypto winter came to an end in June and Bitcoin crossed $14000 for the first time since 2017. Social Media giant Facebook announced plans to launch its own digital currency – Libra and the U.S. Financial Services Committee expressed its concerns over Libra and the nonprofit organization governing its operation. JPMorgan started trials of its JPM Coin in July. In this article, we'll glance at the year-to-date figures for coins in the crypto market based on their capitalization. This year, leading altcoins are in the red while lesser-known tokens gave phenomenal returns.

Top 5 coins outperforming the rest in 2019:
Egretia (EGT): +17836%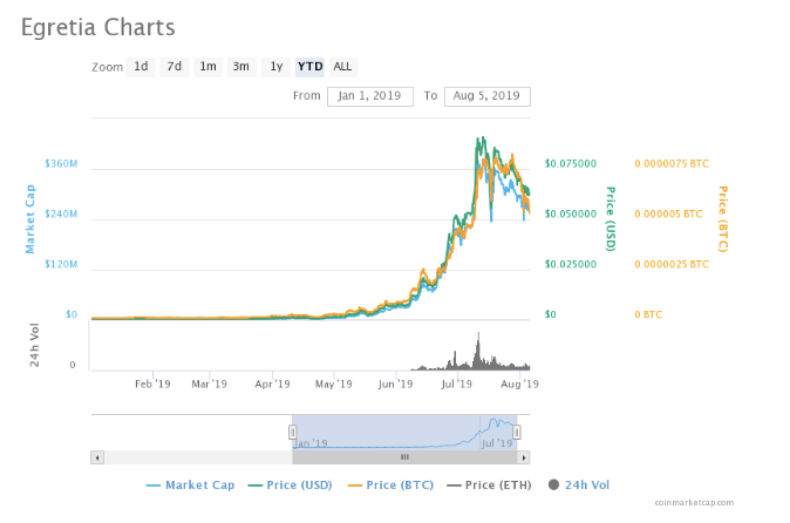 Egretia is a less popular token that gained 17836% in 2019 so far. It became popular in July 2019 when it witnessed a 150% surge in one month, marching into top 100 coins by market capitalization based on data from coinmarketcap.com.
The token claims to be the world's first HTML5 blockchain engine and platform. It is an ETH based token and a publicly traded company oversees operations from China. EGT is currently trading at $0.062 and ranks 36 by market capitalization. The token has been trending on top exchanges like OKEx and Huobi Global.
Hold on! This is for Crypto Trader Pros Only!
Hi there! This article is for pro users only. Please log in or register to continue reading the article.