2019 is an exciting year for cryptocurrency traders and investors. Year-long crypto winter came to an end in June and Bitcoin crossed $14000 for the first time since 2017. Social Media giant Facebook announced plans to launch its own digital currency – Libra and the U.S. Financial Services Committee expressed its concerns over Libra and the nonprofit organization governing its operation. JPMorgan started trials of its JPM Coin in July. In this article, we'll glance at the year-to-date figures for coins in the crypto market based on their capitalization. This year, leading altcoins are in the red while lesser-known tokens gave phenomenal returns.

[wlm_private "Crypto Trader Pro – Monthly|Crypto Trader Pro – Yearly|Crypto Trader Pro (Lite)"]
Top 5 coins outperforming the rest in 2019:
Egretia (EGT): +17836%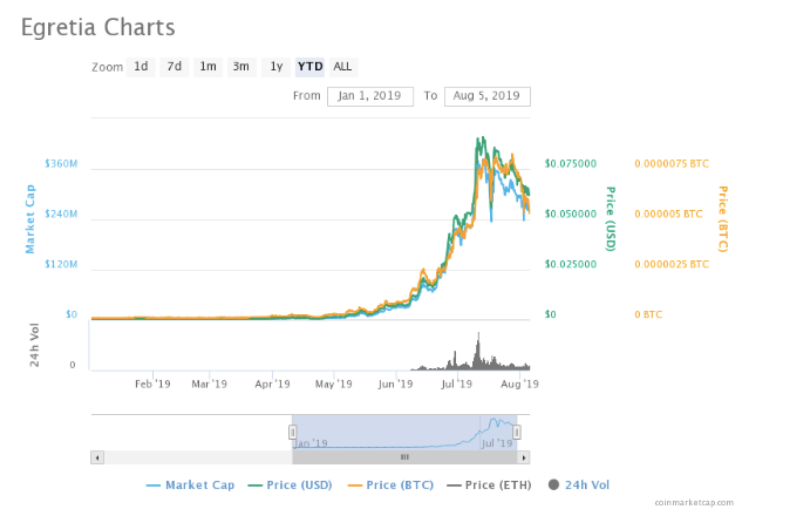 Egretia is a less popular token that gained 17836% in 2019 so far. It became popular in July 2019 when it witnessed a 150% surge in one month, marching into top 100 coins by market capitalization based on data from coinmarketcap.com.
The token claims to be the world's first HTML5 blockchain engine and platform. It is an ETH based token and a publicly traded company oversees operations from China. EGT is currently trading at $0.062 and ranks 36 by market capitalization. The token has been trending on top exchanges like OKEx and Huobi Global.
Clipper Coin (CCCX): +2404.31%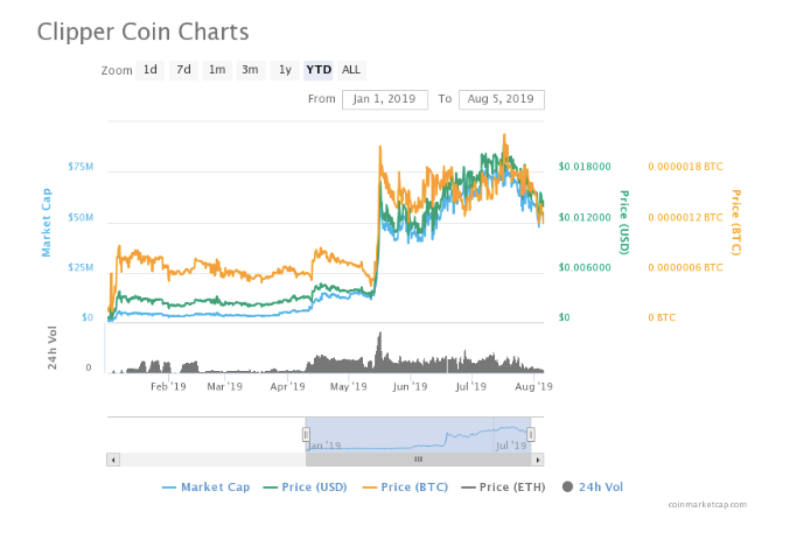 Clipper coin ranks 99th by market capitalization and is currently trading at $0.014. It has gained 2404.31% in 2019 alone and this coin witnessed its bull run in May of this year. Price increased by 241% in a single month and hit a new all-time high on May 16, 2019.

CCCX has regularly maintained its position in the top 100 cryptocurrencies by market capitalization, though this position changes hands regularly.
Educare (EKT): +1871.42%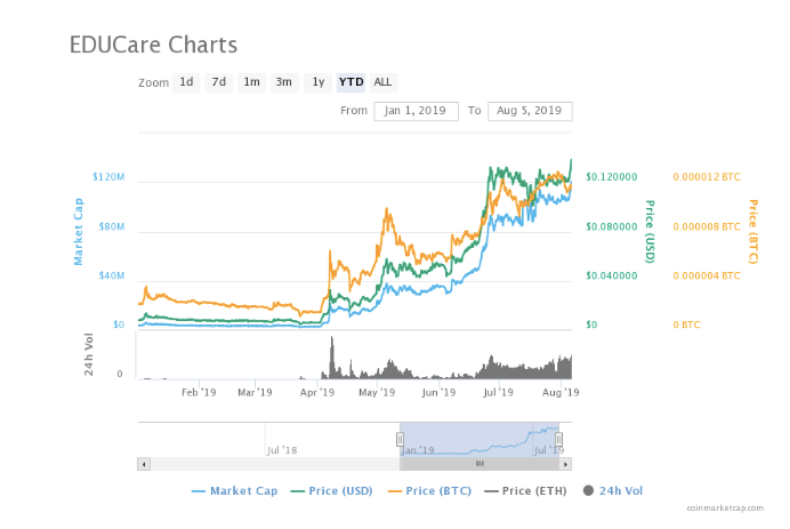 This token gained popularity when it hit an all-time high right after its launch in the midst of Jan 2018's historic bull run. It has consistently ranked in the top 100 tokens by market capitalization and while it lost most of its value in the crypto winter of 2018, it has regained its position in June 2019.

This Ethereum based multi-chain platform has been gaining market capitalization since April 2019 and it trading at an all time high currently.

Qubitica (QBIT) : +1023.22%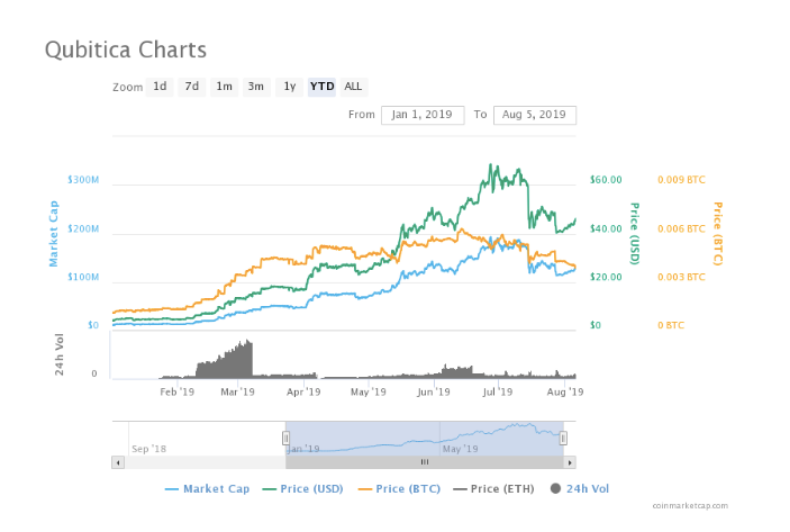 Qubitica ranked in top 50 altcoins in late 2018 and has slipped to 1175 in 2019. The fall in market capitalization hasn't affected its price and the price went up by 1023.22% from $4.09 in January 2019 to $46.13 (current price). It hit an ATH of $68.60 on June 26, 2019. It has an ROI of 1,592.22% since its launch and 1023.22% since January 2019.

This token follows Bitcoin's price action and is expected to hit $70 if Bitcoin crossed $12000 in August 2019. QBIT is a "decentralized global community of developers, companies, and organizations" that shares innovation in the field of DAO.

Chainlink (LINK): +825%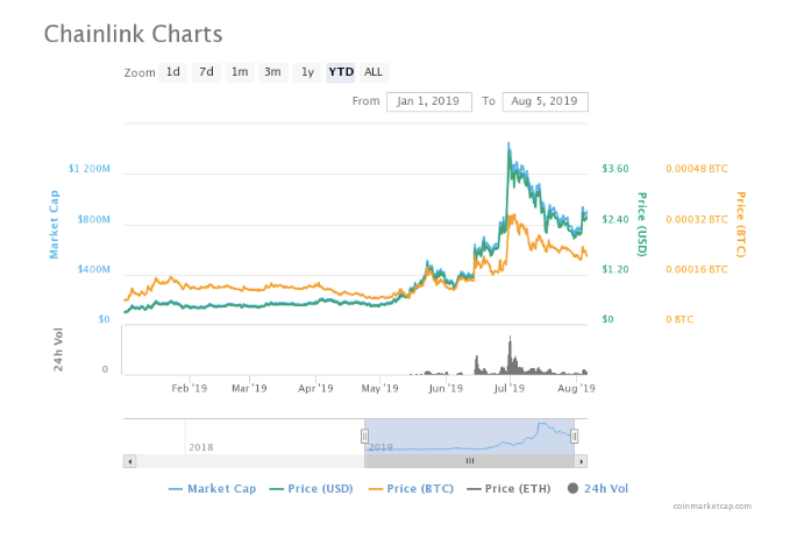 Chainlink is popular as a trending token since July 2018. Chainlink has an ROI of 1547.24% since its launch and an ROI of 825% since January 2019. The project was picked by Google as Blockchain Oracle Provider for testing the linking of Google Cloud Data Platform with Ethereum.

LINK gained market capitalization following its listing on Coinbase, world's leading and most trusted cryptocurrency exchange. The token has seen over 10x growth in a year.

With Alts season around the corner, these cryptocurrencies and other tokens that rank in top 100 cryptocurrencies by market capitalization have a high probability of positive price action. Popular altcoins and tokens like WAVES, STRAT, ZIL and XLM lost significant market capitalization and are trading near ATL of 2019. These tokens have a low probability of giving positive ROI in the next 6 months of 2019. 2019 is the year of lesser known tokens and +100% ROI.



Disclaimer
Content provided by CryptoTraderNews is for informational purposes only, and should not be construed as legal, tax, investment, financial, or other advice. All information is of a general nature. As always, there is risk with any investment. In exchange for using our products and services, you agree not to hold CryptoTraderNews Pro, its affiliates, or any third party service provider liable for any possible claim for damages arising from decisions you make based on information made available to you through our services.

[/wlm_private]
Want to read the rest of the article? Join our pro-membership and receive all of the following:
✅Access to ALL content.
✅Access to the CTN editorial staff.
✅Access to our CTN trading dashboard.
✅Access to our exclusive telegram channel where all our pro-members and editorial staff are in.
✅Ability to request content/research material!