Are altcoins bleeding out and falling to Bitcoin's market dominance in the cryptosphere? Bitcoin's dominance is at 68.3% of the entire crypto market capitalization and altcoins are getting crushed in trades against it. In this month alone, Bitcoin's dominance rate hit 70% for the first time in 26 months and is currently the most prevalent, trading at $10,227.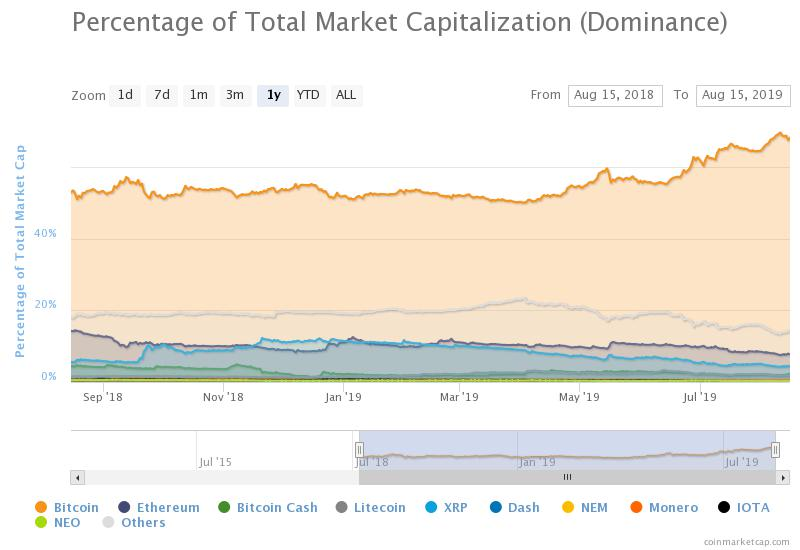 Source: Coinmarketcap

While Bitcoin has continued to gain market share in the past seven days, major altcoins like Ethereum, Ripple, Bitcoin Cash, Litecoin and even Binance coin have lost significant market share. In a nutshell, they're bleeding out. As altcoins struggle against BTC market share, they are also competing with the USD. While most of these coins have struggled through the past year, the last two months have really been tough for them.

Ethereum lost 60% value since the beginning of 2019. It has struggled in the past two months, losing 30% of its market capitalization. The battle ensues between a currency that's banking the unbanked and the rest of the altcoin competition, with no significant use cases. Not surprisingly, altcoins have been unable to stage a comeback and investors confidence has increased only in Bitcoin. These coins are "bottoming" – bleeding out, capitulated, and falling sharply against BTC.

Crypto experts believe that sustained correction in Bitcoin could cause the market to double-bottom. There is another 50% drop before alt season arrives and most altcoins may never reach their all-time high if Bitcoin crosses $20K.

According to crypto experts, Bitcoin is well on its way to capture over 80 percent of the market share, as investors acknowledge the true value behind the pioneer cryptocurrency, unlike many other tokens in the space that lack decentralization and an engaged community.

The market recognition that Bitcoin has been receiving could be a direct result from the ongoing discussion in the U.S. Congress about whether Facebook should or should not develop its own Libra cryptocurrency, which has brought different government officials, such as ranking member of the Financial Services Committee, Patrick McHenry, to concede that the decentralized, permissionless, and trustless nature of Bitcoin makes it an "unstoppable force" that "cannot be killed."

If that hasn't caught your attention, several media outlets such as CNBC have shown their support for Bitcoin as the only truly decentralized cryptocurrency that could survive regulatory forces around the world. This could be one of the reasons why institutional investors are mainly interested in developing Bitcoin-based products like CME Group's Bitcoin futures market, Fidelity's Bitcoin trading desk, and Bakkt's Bitcoin deliverable futures market.

Alt season may be delayed indefinitely as Bitcoin continues correcting upwards and, to many, remains the "gold standard" in cryptocurrency. As for altcoins… There may be more bloodletting as interest and Bitcoin prices start gaining enough momentum for a bullish moon shot.



Disclaimer
Content provided by CryptoTraderNews is for informational purposes only, and should not be construed as legal, tax, investment, financial, or other advice. All information is of a general nature. As always, there is risk with any investment. In exchange for using our products and services, you agree not to hold CryptoTraderNews Pro, its affiliates, or any third party service provider liable for any possible claim for damages arising from decisions you make based on information made available to you through our services.