Binance CEO Changpeng "CZ" Zhao wants all cryptocurrency traders to know that their "Funds are #Safu" while the exchange goes under a planned maintenance.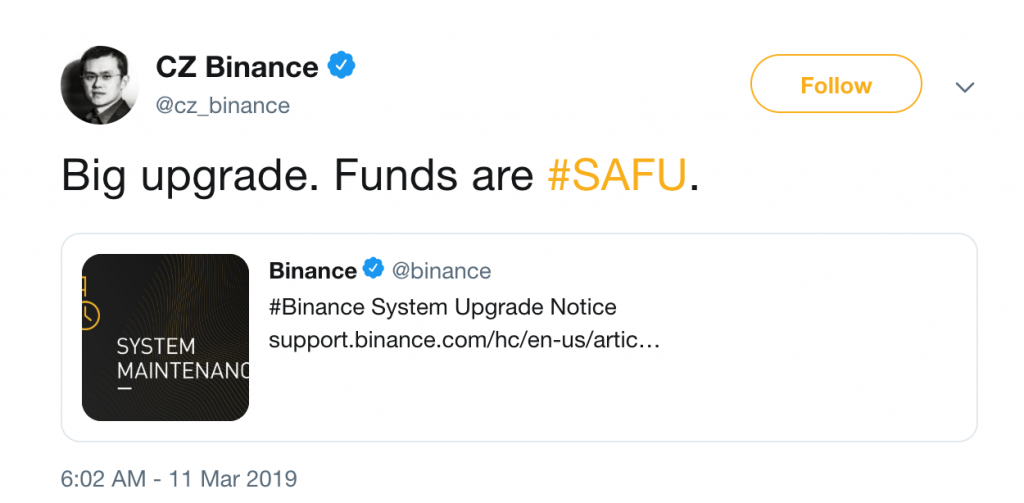 In a tweet on Sunday, CZ told cryptocurrency traders about the move well in advance. It was to prevent any speculations regarding the exchange not being accessible during said period of maintenance.

What is the System Update?

Beginning on March 12 at 2:00 AM (UTC), the system update and maintenance will take place for 8 hours. Binance will suspend deposits, withdrawals, and cease trading during the system maintenance.

As such, any traders who need to conduct immediate transactions should conduct their withdrawals and their deposits prior to this update.

The exchange has not revealed exactly what will take place within the update and what changes are to be expected.

Why Should I Care?

It is important for cryptocurrency traders to be aware of this update, as unplanned maintenance on one of the world's biggest cryptocurrency exchanges may throw the cryptocurrency community into a turmoil.

Surprised updates in the past may have certainly affected the mental well being of cryptocurrency traders. This concern is not irrational, as second and third tier exchanges such as Mt. Gox have had issues with transparency and have not always been forthright with their cryptocurrency users.

Will It Cause Trouble In the Markets?

Some have speculated that prices may be affected and may see a downward trend in the cryptocurrency market. This is being denoted to the 8-hour lack of access to the funds held by Binance.

History has shown that prices have had negative correlations with Binance upgrades, since the liquidity removal from the market is known to cause fluctuations in price.

While correlation doesn't equal causation, prices may temporarily be affected by the scheduled system updates and the lack of trade activity.

What Does SAFU Mean?

Originating from a typo of the word "safe", the term "safu" became a popular cryptocurrency meme in 2018. It has since been used by Binance to create a Secure Asset Fund for Users (SAFU) where it allocates 10 percent of its total trading revenue in a cold wallet. This is to ensure that traders are covered in the case of any breach.

The term "SAFU" was used by CZ in this planned maintenance announcement to assure users that their funds are indeed safe if they are held by Binance – even during its planned maintenance.

In Other Binance News

The exchange has been on a tear lately as it has raced forward with the launch of a few new projects and the addition and delisting of tokens.

The most prominent Binance projects to date include but are not limited to:


The release of its Binance DEX testnet.
The inclusion of debit and credit card payments.
The release of the Binance Launchpad.
The agreement and partnerships with Argentina to fuel the rise of blockchain startups within the region
The roll out of the Binance Charity Foundation.
A few of the most recent additions of the platform has been that of Fetch.AI (FET) and BTT on Binance Launchpad, as well as the trading pairs of BAT/USDT, ZRX/BNB, ZRX/USDT, ZIL/USDT, and ONG/BNB.

A few of the tokens that have been delisted include CLOAK, MOD, SALT, SUB, and WINGS.

It has been a busy year for Binance so far. Given the recent events, it seems as if the trend is likely to continue.