Red November seems to be still in full effect and I'm kind of wishing we would have waited 2 weeks to launch our wallet because NOW is the time to buy it seems.

In case you're not sure what the CTN Altcoin Trader is all about, check out the initial article and then last week's update.

While last week was rather brutal all the way around, we've seen a bit of a bounce back as of Monday morning. However, our altcoin HODLs aren't fairing too well for this jaunt.


| | | | | |
| --- | --- | --- | --- | --- |
| Altcoin | Start Price | 11/18/19 | 11/25/19 | Investment Change +/- |
| ETH | $182.99 | $181.05 | $149.70 | (-) $33.29 |
| Dash | $68.83 | $66.97 | $52.05 | (-) $16.78 |
| LTC | $58.91 | $57.64 | $46.88 | (-) $12.03 |
| Stellar | $0.07 | $0.07 | $0.06 | (-) $0.01 |
| EOS: | $3.38 | $3.37 | $2.61 | (-) $0.77 |
| Chainlink | $3.18 | $2.83 | $2.34 | (-) $0.84 |
| XRP: | $0.27 | $0.26 | $0.22 | (-) $0.05 |
To give more of a transparent view, here's a snapshot of the wallet from earlier today (11/25)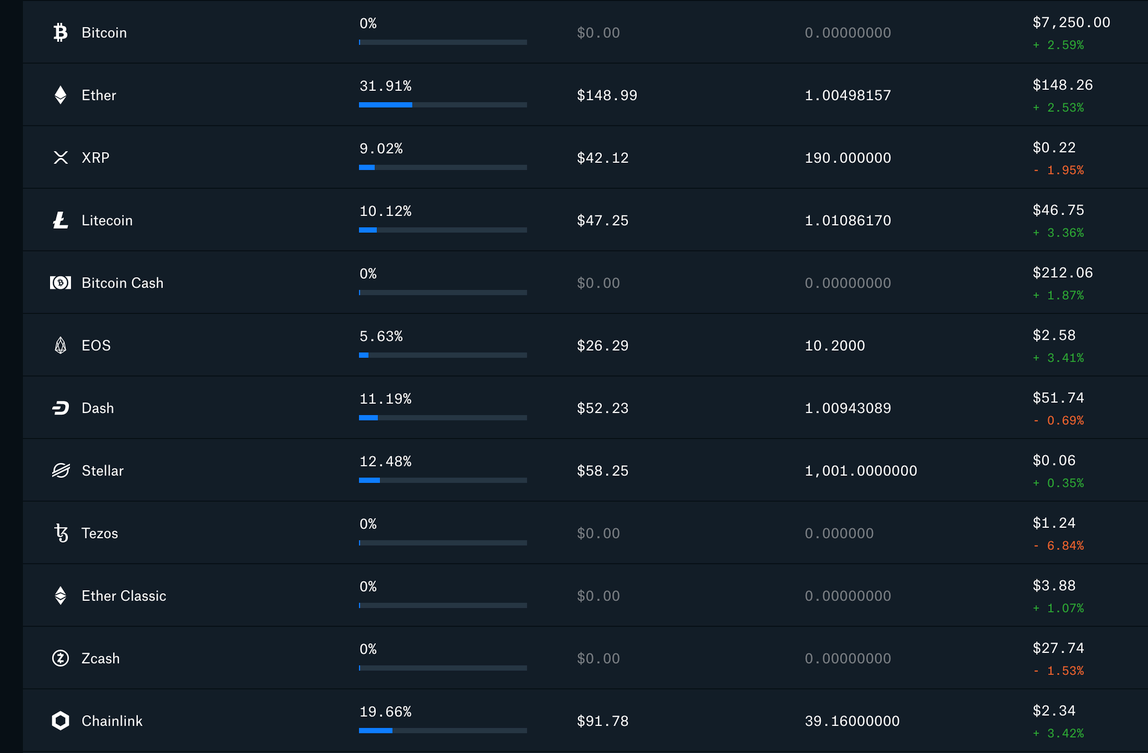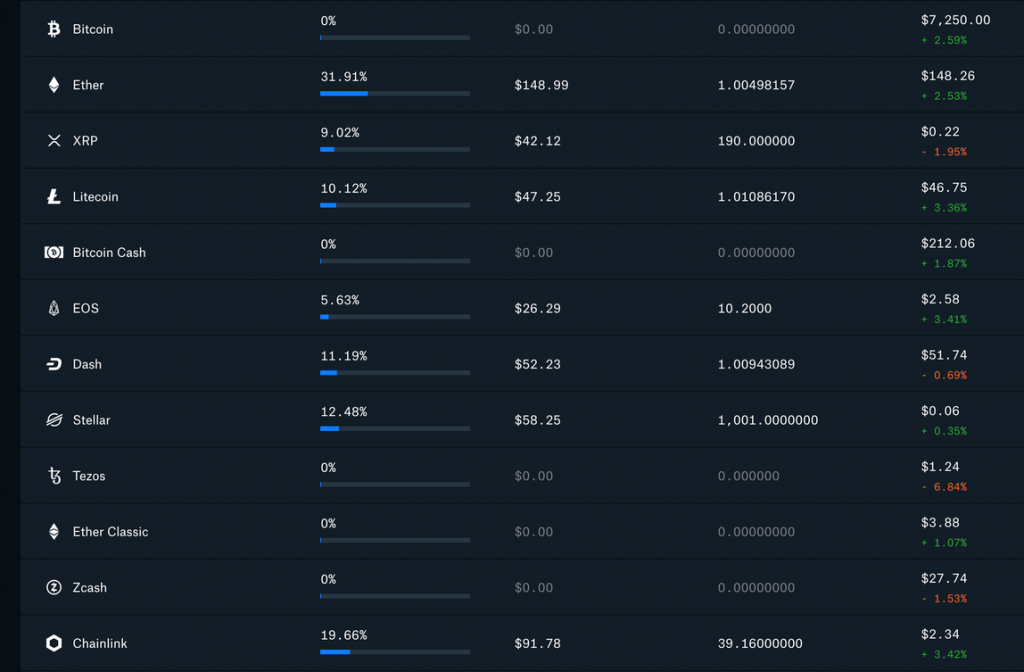 If you add up column C in that image, our investment is at $466.91

Down $133.09 from our initial investment and dropping over $100 in just a week.

OUCH!

I'm not going to get a Christmas bonus at this rate.

The "biggest loser" for us this week was EOS with a 22.5519% decrease over this time last week. However, no one really came out on top in this category:

Stellar 14.2857% decrease
XRP 15.3846% decrease
Chainlink 17.3145% decrease
ETH 17.3157% decrease
LTC 18.6676% decrease
Dash 22.2786% decrease

Not a good week. However, don't think that I'm worried at this point. In fact, I would invest MORE into this wallet right now if if could.

We just jumped in a few weeks too early. I have a feeling that this price slump is only temporary and we're closing in on the end of it.

Here's a brief overview of happenings thins week with our specific altcoins of interest:

Dash's core development team announced that DashCore v0.14.0.4 has been released. While it is a minor release and is not mandatory, they are suggesting that all masternode operators and regular nodes upgrade as it includes several bug fixes and optimizations focused on maximizing InstantSend stability.

The game developer behind the Assassin's Creed video game partnered with EOS-based game distribution platform Ultra as a corporate block producer of Ultra's EOS sidechain, dubbed UOS.

According to the DeFi monitoring resource DeFiPulse, the number of Ether (ETH) locked in decentralized finance (DeFi) applications has reached an all-time high of 2.7 million. The number of locked ETH has been steadily growing since the end of June and of that 2.7M, 77%, about 2.1M, are locked in the system behind Maker, a DAI stablecoin.

That's a wrap for this edition of CTN's Altcoin Trader update. Check back Friday for another edition where, hopefully, we see more bounce in the right direction.


EOS 22.5519% decrease





Disclaimer
Content provided by CryptoTraderNews is for informational purposes only, and should not be construed as legal, tax, investment, financial, or other advice. All information is of a general nature. As always, there is risk with any investment. In exchange for using our products and services, you agree not to hold CryptoTraderNews Pro, its affiliates, or any third party service provider liable for any possible claim for damages arising from decisions you make based on information made available to you through our services.