Cryptocurrency trading has taken the finance space by storm with more and more people jumping on the crypto bandwagon lately.

Collectively, the investments by institutions and retailers has gone up by almost 200% in just the last coup. Despite Bitcoin's historic price drop after the bull run of December 2017, it is 6628% up from where it used to be after its launch in 2009. In a nutshell, it means that the early adopters of Bitcoin made a profit even in the bear market trend.

Popular for its volatility, high risk reward ratio and bull runs fueled by positive sentiments, it is only recommended to go all in on cryptocurrencies after doing the proper due diligence of your own.

The golden rule of thumb for beginners is: Only invest what you can afford to lose.

Here are the Top 5 Risks to consider in crypto trading
1. Volatility and Market Fluctuation

The cryptocurrency market is collectively the most volatile one compared to all other assets, commodities and investment classes. Crypto space is widely known by its momentous plummeting of the Bitcoin's market price from $19786 to a shocking $11000 in just a matter of days. Billions were shaved off people's portfolios within a matter of days, clearly indicating the volatility of cryptocurrencies. While volatility provides the means for API traders to make profits consistently, the market is a zero sum game and beginners often lose their investment during volatility cycles and correction.
2. Regulatory Uncertainty

In about 130 countries, government bodies and other organizations have passed regulations on cryptocurrencies. Despite that, there continues to be an uncertainty in the global crypto economy as major economies like India is yet to pass a verdict on the same.

China has banned crypto trading altogether and the mining farms from China are shifting to the USA. The stance on crypto regulations is unclear and many countries are on the verge of developing taxation policies. Although that makes for a good investment opportunity, cryptocurrencies are yet to see widespread adoption. The privacy and anonymity of cryptocurrencies, like Monero, has kept financial watchdogs speculating the future of cryptocurrencies in most developed countries. This is an important risk to consider before investing your savings in crypto.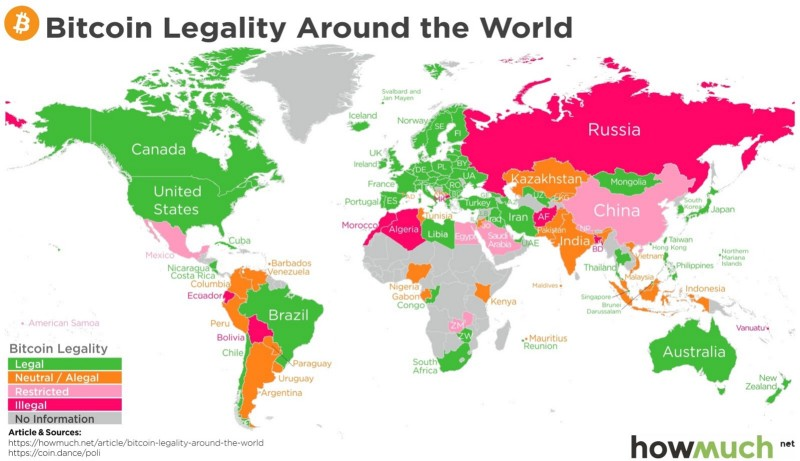 Source: howmuch.net

3. Security of your digital assets

World renowned exchange Binance suffered a hack recently and lost cryptocurrencies worth over $41 M, which came as a shock to crypto traders across the world. While the exchange paid its traders from the SAFU fund to maintain their reputation of being reliable in the space, it showed us that digital assets are susceptible to theft. Holding your digital assets on a crypto exchange may not be the best way forward. It's important to take the right measures to secure your assets when trading in crypto and have the major portions of your assets stored in ledger or a multisig cold wallets outside of any exchange.

4. Market Manipulation

The crypto market is rife with pump and dumps, telegram groups that give free calls for market manipulation and Ponzi giveaway schemes. These scams take advantage of people's FOMO and get rich quick by creating a FUD sentiment. This is the biggest risk as most traders tend to lose all their funds in pump and dumps.

5. ICO/STO Scams

In 2017, thousands of ICO projects received funding from investors and they failed to deliver the project. A whitepaper, a website and a token sale was enough to lure beginners to invest in these Ponzi schemes. Now the crypto market has projects with potential, as many exchanges and platforms have tightened the noose on the due diligence and research process. It is advisable to conduct thorough research on every cryptocurrency that you trade in, as there is always risk associated with every investment. Sentiment largely controls the market and when a scam makes headlines, dump follows.

To sum it up.

It is recommended to research appropriately, consult experts on the right platform and identify cryptocurrencies backed by fundamentals. There are 2238 cryptocurrencies in the industry and hundreds get added every month. This encourages the tendency of overlooking fundamentals and trading in trending coins on exchanges. Every trading decision should be made with a strategy, fundamentals and thorough research, and that will ensure success.
Disclaimer

Content provided by CryptoTraderNews is for informational purposes only, and should not be construed as legal, tax, investment, financial, or other advice. All information is of a general nature. As always, there is risk with any investment. In exchange for using our products and services, you agree not to hold CryptoTraderNews Pro, its affiliates, or any third party service provider liable for any possible claim for damages arising from decisions you make based on information made available to you through our services.