Litecoin has been trading below the $100 for the past week and after several failed attempts to cross the $100 level, the new resistance is at $95.65. It has been difficult for the LTC/USD pair to make the breakthrough especially since Bitcoin is trading in the $9600 range. The halving is scheduled for August 5, 2019 and LTC price has dropped by over 33% in the past month. The popular opinion is that Litecoin will surge as we get closer to its halving, but looking at the recent drop in the price, analysts believe that we are way past the surge.

[wlm_private "Crypto Trader Pro – Monthly|Crypto Trader Pro – Yearly|Crypto Trader Pro (Lite)"]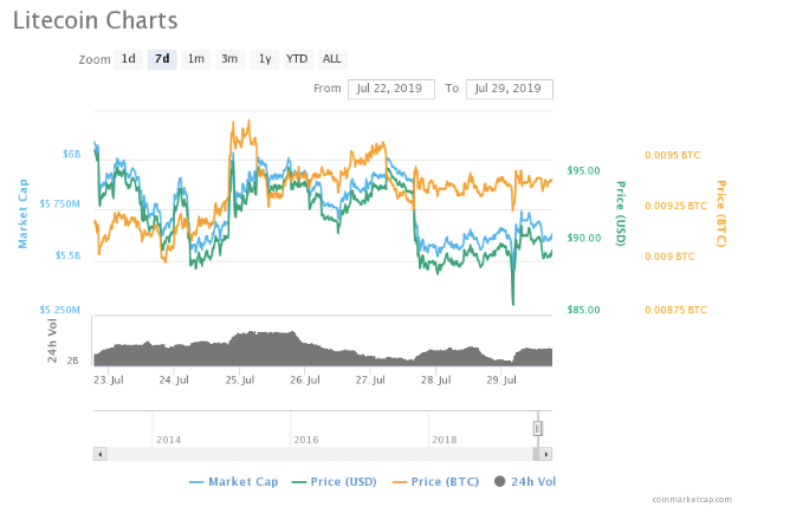 Litecoin is currently trading at $89.57 which is way below its resistance and the new support is at $88. It has dropped towards its 100-day EMA and bounced as high as $94 on any given day this last week. If it crosses $96, the bulls will regain control and cross $100, $110, $115 within 24 hours.

As mining activity is seeing a record high, trading activity is decreasing as we inch closer to the halving. The signs indicate challenges for Litecoin bulls in the coming month. Against BTC, LTC will see positive price action if it breaks above 0.010 BTC. Following this, the next resistance would be at 0.0125 BTC and 0.0130 BTC. The decreasing trading activity indicates that we are past the sell-off and Litecoin once the halving is over it'll probably take a month for LTC to stabilize. Unless of course the bulls wake up and shake things up. Litecoin may have set off the second-biggest wave of raging bulls and post halving it may rise over 50% and close this wave. While everyone's busy predicting Bitcoin's price action, Litecoin made a series of moves showing the correction has finally come to an end.

Litecoin may have slowed down its momentum for the past two months but technical indicators and classical charting predict the onset of a bullish season. This is the best time for new traders to start buying and support will be revisited several times until a month or two past the halving. The current risk of investment is at nearly 5% and that is a comparatively good ratio in today's market.

What are your thoughts? Are you investing in LTC thinking that the bulls will run, or do you think we've passed the surge?

Disclaimer

Content provided by CryptoTraderNews is for informational purposes only, and should not be construed as legal, tax, investment, financial, or other advice. All information is of a general nature. As always, there is risk with any investment. In exchange for using our products and services, you agree not to hold CryptoTraderNews Pro, its affiliates, or any third party service provider liable for any possible claim for damages arising from decisions you make based on information made available to you through our services.

[/wlm_private]
Want to read the rest of the article? Join our pro-membership and receive all of the following:
✅Access to ALL content.
✅Access to the CTN editorial staff.
✅Access to our CTN trading dashboard.
✅Access to our exclusive telegram channel where all our pro-members and editorial staff are in.
✅Ability to request content/research material!