We've been pondering the price swings of Bitcoin as the winter holiday season is ramped up in time for Christmas and the New Year. Following yet another swing this week, we're left to wonder what drives volatility around holidays? Is it FOMO as the year end approaches? It is simply a seasonal or cyclical thing?

As the holidays approach, cryptocurrencies usually see positive price movement – something that seems hard to deny when looking at the historical charts. In 2017, Bitcoin was trading around the $6K mark before Thanksgiving, but and by mid-December it was nudging $20K.

We know that Bitcoin undergoes dramatic price volatility throughout the year, evidenced when Bitcoin underwent a similar, if significantly less dramatic, price hike in February that coincided with the Chinese New Year. In 2018, there was a temporary price hike around Thanksgiving, though the bears rushed in to correct very quickly.

Some might say that this swing in price is partly attributed to groups of friends and family members getting together during the holidays and discussing cryptocurrency prices. Could it be partially attributed to the idea of sharing information or opinion of trusted people, or might it be a secret bid for a little competition and one-upmanship?

We're not just pulling a silly opinion out of thin air! It appears to be backed up by Google searches for Bitcoin, which also peaked around the same time. Now, a more recent surveys attributes these holiday price swings to a different cause based on up-to-date analysis for 2019. It shows that the price movements actually tend to happen before the major holidays with the hype dying down during the holidays themselves. This pattern means that FOMO can't really be the reason for the movements, as they happen before families are sitting down for their Thanksgiving turkey dinner or New Year celebrations.

While major exchanges admit this, pinpointing the reason for Bitcoin's price volatility is never an exact science, and many reports attribute the cause as a self-fulfilling prophecy for traders, which seems to have merit.

Why?

Traders have now come to expect positive price swings over the holiday periods, so they're buying into long positions in anticipation of the move. The whole concept of price hike during holidays makes the seasoned trader wary and they buy the dips all year round to dump on holidays.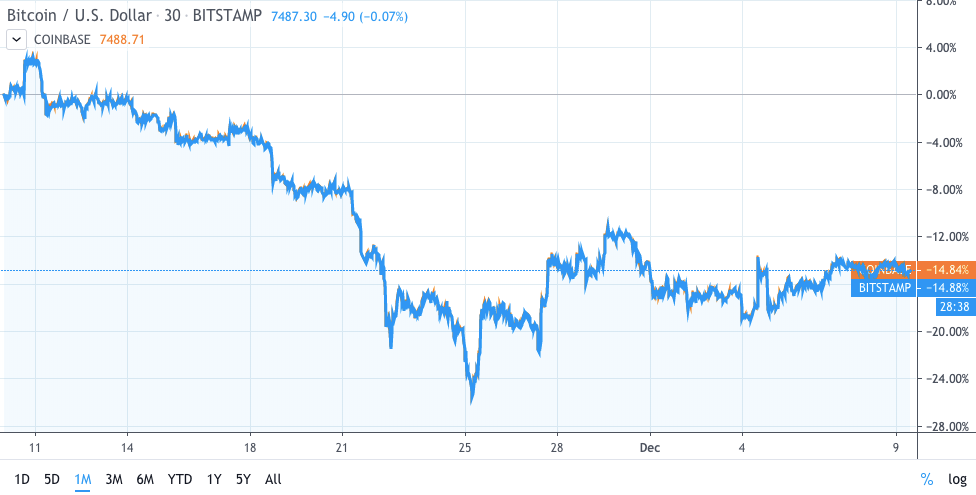 Source: tradingview.com

What every crypto trader wants for Christmas is to push Bitcoin price higher and prevent a further downtrend back into a full-blown bear market. But unless Bitcoin price can reclaim key support at $7,400, bullish crypto investors are going to have a bad Christmas, according to one crypto analyst.

At the close of October, Bitcoin price was trading above well above $9,000 following a news-driven short-squeeze that caused the first-ever cryptocurrency to set its third-largest single-day gain in its history, pushing the price of the asset from support at $7,400 to as high as $10,500. But before November closed, the leading crypto asset by market capitalization had fallen nearly a third in price, to $6,500 at its recent low.

Now, with December in full swing and the holidays around the corner, bulls are left wondering if they'll get the thing they've wished most for this year – a Bitcoin bull run. According to one crypto analyst, $7,400 – the level that triggered the massive impulse rally – represents a key support level, now acting as resistance, that must be reclaimed by bulls for a chance to get their Christmas wish.

Crypto experts have said time and again that markets are cyclical, and according to legendary trader William Delbert Gann, tops and bottoms typically occur around the months of November, December, January, February, April and July. Bitcoin price topped out in December 2017, later forming a V-shaped bottom in February 2018. In November 2018, Bitcoin broke down below $6K, eventually bottoming in December 2018 at $3,100. In 2019, Bitcoin broke out in April to later top out in July. The crypto asset experienced another massive drop in November of this year, and could once again be looking to find a bottom this current month of December.
Last year, Bitcoin price bottomed out by December 15, and rallied nearly 20% by Christmas from the low it set, giving bulls a bit of relief on Christmas Day. Traders can expect this to repeat this year as well. Bitcoin is heading into the holidays once again falling, teetering on the edge of support at $7,350. And until bulls reclaim this level, Bitcoin could be stuck in a continued downtrend for the foreseeable future, and head into 2020 and the upcoming halving a lot more bearish than anyone would have expected.
According to the crypto asset's stock-to-flow model alone, Bitcoin should be trading upwards near $55,000 per BTC come May 2020 when the asset reaches its pre-coded halving, where miners see the block reward cut in half. Each halving is typically considered a massively bullish event, due to miners selling less and less Bitcoin into the market. Whether or not we can expect this pattern to replicate over the upcoming Christmas season, as well as during the Chinese New Year in February, remains to be seen. Nevertheless, it's as good a reason as any to keep an eye on the markets during the holidays.






Disclaimer
Content provided by CryptoTraderNews is for informational purposes only, and should not be construed as legal, tax, investment, financial, or other advice. All information is of a general nature. As always, there is risk with any investment. In exchange for using our products and services, you agree not to hold CryptoTraderNews Pro, its affiliates, or any third party service provider liable for any possible claim for damages arising from decisions you make based on information made available to you through our services.