I have to admit that Twitter is one of my favorite social media platforms because the wide range of people, experience, humor, and insight can keep you occupied for days, weeks and months. While I try to encourage growth and follows on our Crypto, Trader, News. account, it seems that Crypto Twitter is kind of circling the drain. Every once in a while I have to check its pulse. If you're not already following our Twitter account, you ought to! We're kicking up our presence and interacting more with polls, links to our articles, and camaraderie.

Decred
Decred has been on our radar for a while as a crypto token to invest in. We've even had the privilege of sitting down with Decred Co-Founder, Jake Yocom-Piatt in November to learn more about their hybrid mining process that uses both Proof of Work (PoW) and Proof of Stake (PoS) to create checks and balances within their system. Decred is also looking to solve privacy issues. Additionally, and this is the thing that leads me to the first Crypto Tweet that I want to share, Jake mentioned one of the most important things about some blockchain projects that many people aren't discussing; a bloated blockchain that cannot tell the difference between what's spent and what wasn't. Bitcoin has the ability to do this. So does Decred. And this tweet from @Ammarooni seems very appropriate and timely.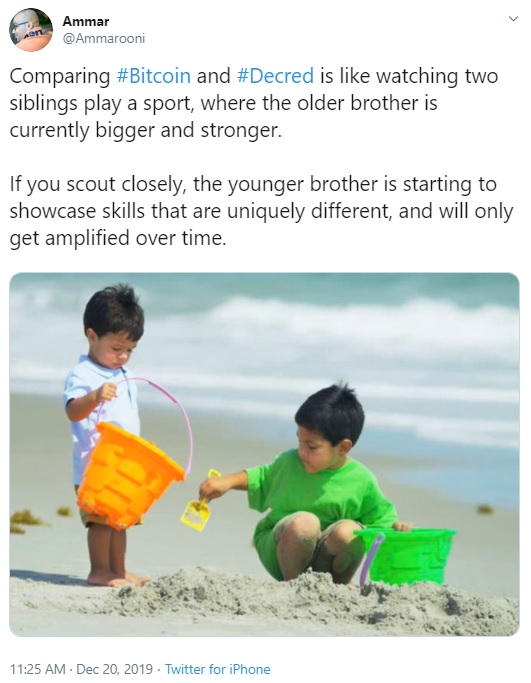 Tim Draper Prediction
@CNBCFastMoney is a consistent Twitter contributor and I have to admit that listening to their clip about Tim Draper's bullish stand of Bitcoin hitting $250K by 2020 has me seriously looking at my finances thinking I should bump up my buy orders and sit tight.

If you don't know who Tim Draper is then you've probably lived under a rock. He is an American venture capital investor, and founder of Draper Fisher Jurvetson, Draper University, Draper Venture Network, Draper Associates, and Draper Goren Holm – and, I might add, he has a net worth of about a billion dollars.

I have been bullish on Bitcoin for a while but I would never predict a $250K price point. I'd be happy to see it hit $14K and stay there. At least I'd double my money. I talk about my Bitcoin strategy in a recent episode of Bull Sessions.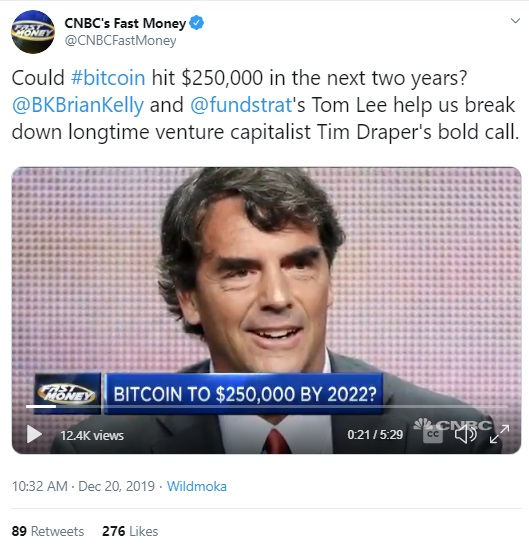 TRON Acquisitions
Justin Sun has been very busy and there has been a lot of talk about TRON's acquisitions. We know that they've already acquired peer-to-peer file exchange protocol, BitTorrent, for the amount of $120 million in June of 2018, followed by CoinPlay. Then Justin stated he was part of a group of investors investigating the acquisition of the Poloniex exchange from Circle. But wait… Are they also looking to add social media platform, Steemit? This perked up my ears because I was one of the early adopters, having been a content creator on the site since July, 2016.

Sun's poll from December 14 is a teaser but I haven't been able to corroborate any solid news about the Steemit rumor.

Hey, Justin, I'd love a 20 minute interview with you.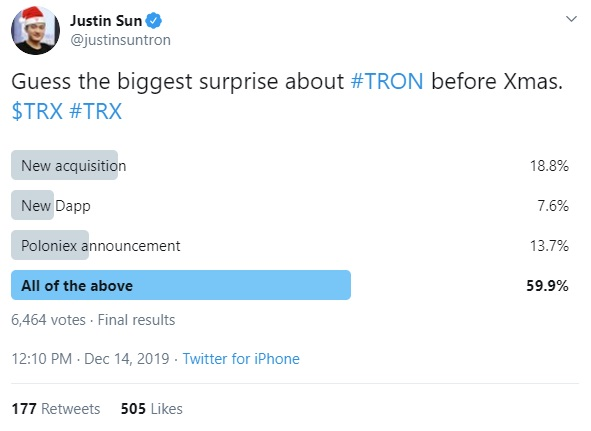 Follow Crypto Trader News on Twitter. You know you want to.