The end of 2019 is not just the end of the year, it is the end of the decade. This is the best time to review and evaluate your portfolio and stock holdings. In this article, we're going to look at the best performing stocks in history as we close with one of the most exciting years for U.S. stocks. The Dow Jones Industrial Average returned over 150% and the S&P 500 Index SPX 244% from the end of 2009 through December 2019.
[wlm_private "Crypto Trader Pro – Monthly|Crypto Trader Pro – Yearly|Crypto Trader Pro (Lite)"]

Annual growth rate for top stocks has been in the range of 10 to 14%. Choosing the best stocks is the first step to ensure lifelong high returns, the stocks that are bought and held with the long term perspective have been top performers in the past decade. There are several companies that can stand the test of time and they are sure to deliver significant profits over the coming decade. Let's dive into our review.

Amazon
The Book-seller Who Turned Into a Web Services Magnate
Amazon.com (NASDAQ:AMZN) is full of promises for 2020. The juggernaut is the fastest growing e-commerce company in the world. It has dominated the US market and many other markets across Asia Pacific. Its global retail sales are at its peak and online sales only account for 15% of this.

Amazon has focused its efforts and resources to its web services wing AWS, popular for bringing software businesses down and replacing them, rebranding their services and products as its own and selling software services to global clientele, earning massive revenues. These activities have earned it a reputation – one of a shark. As the world's computing moves to the cloud, Amazon takes it in its stride to be the number two infrastructure provider globally. The market is expected to expand to $170 billion by 2025.

Amazon's growth in this space and advertising, is beyond impressive. Amazon's shareholders can expect to profit in 2020 as well.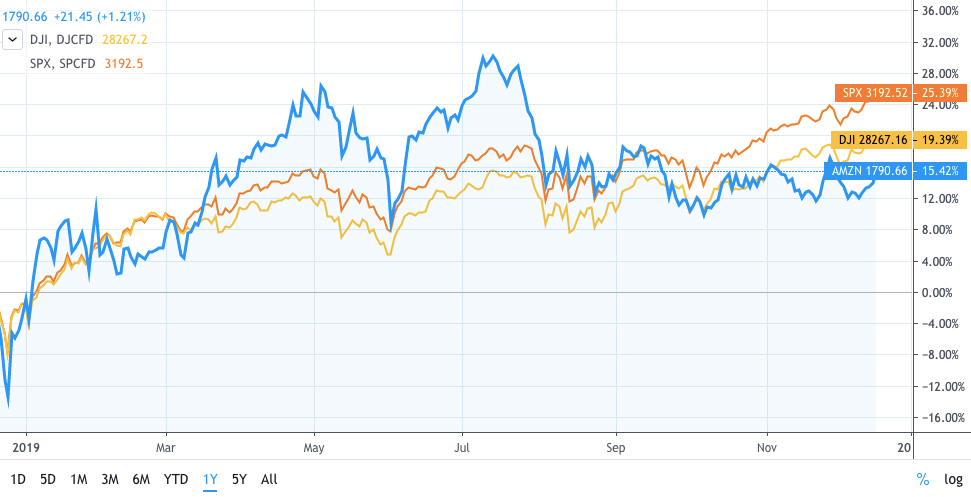 MasterCard (MA)
The Digital Payments Master
In the past decade, in addition to being introduced to digital currencies, we have moved away from cash and moved on to card payments. Access to easy, electronic and digital cash has been the need of the decade. This growth opportunity was leveraged by Master Card to the fullest, more than competitor VISA.

Mastercard is the largest payment-processing network and it is a major player in the digital arena. The company earns a small percentage of the fees on every transaction and facilitates over 6 Billion credit and debit cards across the world, along with VISA. With thousands of transactions processed every second and well over 100 billion every year Mastercard clocked a revenue of $14.7 Billion in 2018.

These profits help the company to climb up steadily and up their game in the ever-changing payments industry. The company's several acquisitions are set to increase their revenue further.

Microsoft (MSFT)
Your Window to Successful Stock Trading
In the past month, MSFT has gained 3.45%. Compared to S&P and the IT sector, it is 2% higher than the average. We are expecting the stock to strengthen as it approaches the upcoming earnings release. MSFT is projected to report earnings of $1.32 per share and an annual growth exceeding 15%. For 2020, analysts are expecting earnings of over $5 per share.

Experts have predicted enough positivity for the company's long-term profitability and growth.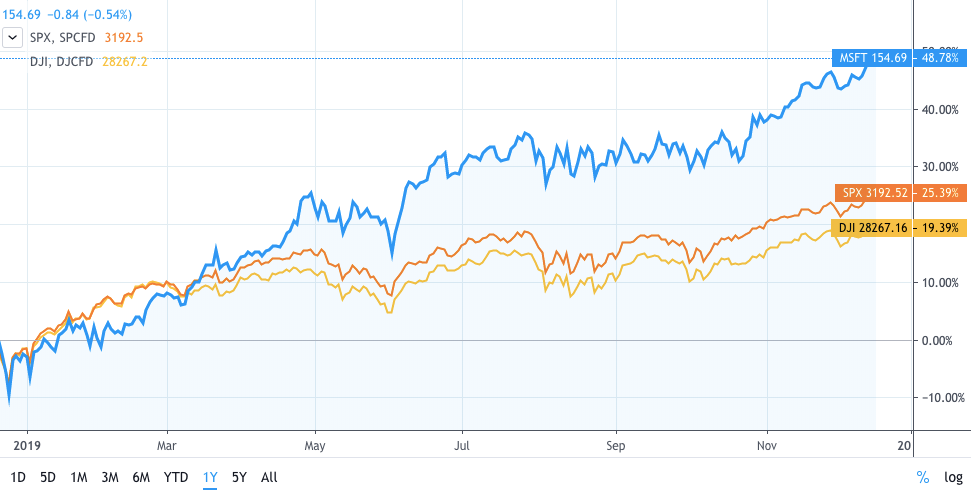 Facebook
Despite the Delay in Libra, Facebook Stock is Here to Stay.
Facebook stock struggled to maintain its profitability in the first two weeks of December, however after significant struggle, it is back at new highs. It has hit the long awaited 5% goal and it has helped investors to start earning.

While China's trade war news can turn optimistic with a single tweet, news about FTC injunction is sure to take the stock down, like it did in the past two weeks.

Facebook's stock continues to outperform S&P and Dow Jones indexes.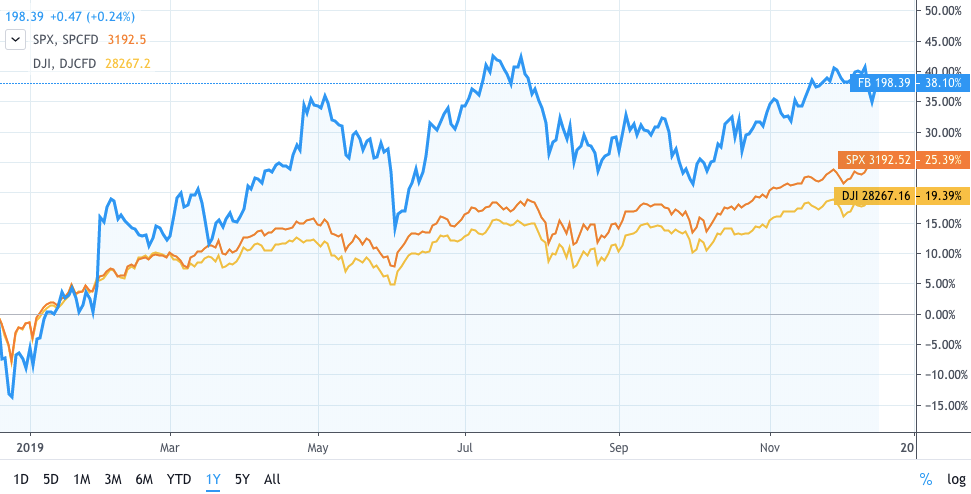 Alphabet
Jump in Before You Miss the Ride
Alphabet Inc's revenues may shoot above 20%, and there are many reasons to believe that. There is plenty of room for the PE ratio to drop and the current price at year end is a little under $1,350, making it the best time to catch the stock before it touches new highs.

As far as revenue growth is concerned, Google has managed to achieve a 20% CAGR over the last 10 years. Profitability is also high, with a net income margin of 21%.

So jump in while the ride is sweet, before 2020 commences.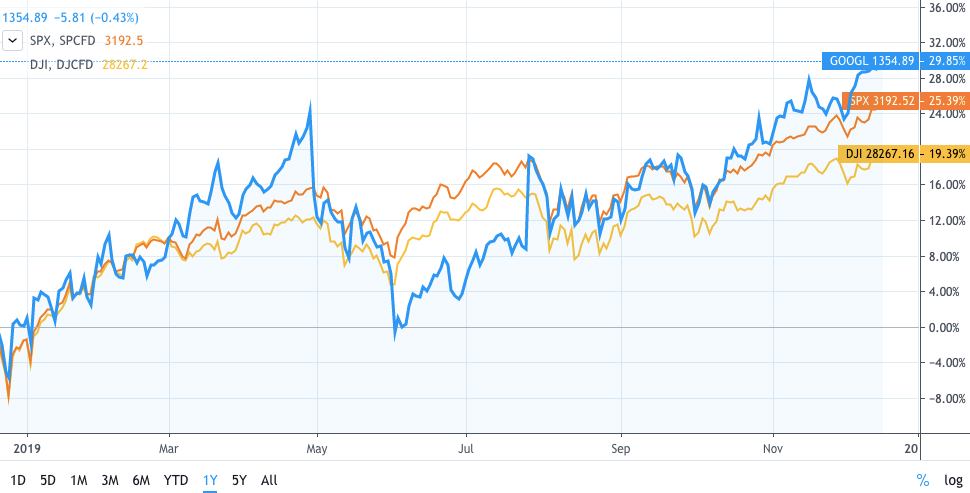 Berkshire Hathaway
Is It Still a Good Bet?
Buying Berkshire Hathaway stocks is as good as getting an S&P 500 stock at a third of the P/B and a quarter of the debt-to-equity ratio. The blue-chip stop Berkshire Hathaway A and B, represent Warren Buffett's diversified conglomerate with a range of businesses from insurance to railroads and the corporate behemoth clocks over $200 billion in revenues.

The company's track record has been unbeaten. Since 1965, when Buffett first took control of the company, the company compounded 20.5% annually.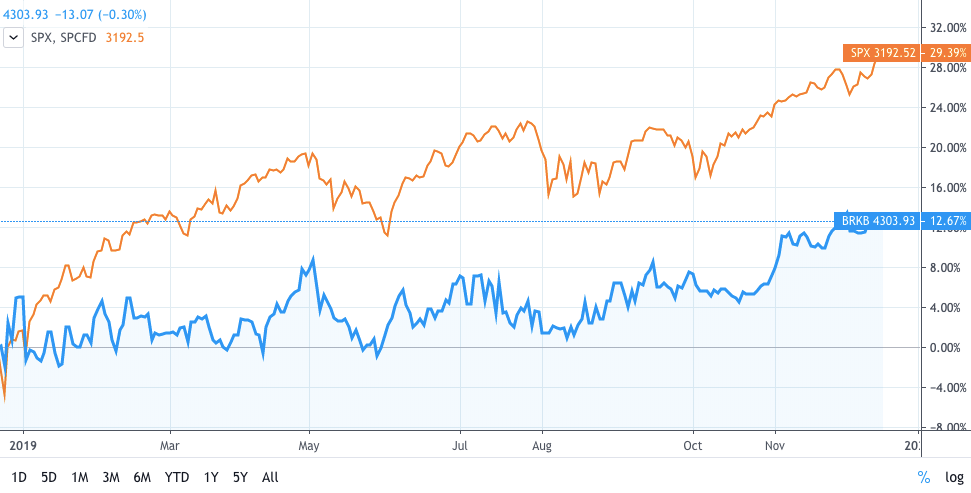 JP Morgan Chase & Co.
A Stock with Promising Yield
JPMorgan Chase & Co gained by 2.55% on the last trading session, reaching $137.60 price per share at the time. The company has a total market value of $429.17 Billion and has 3.91 million shares in circulation. Over the period of the last three months, the average trading volume of JPM shares recorded $10.69 million. The company has recently shared a detailed insights report regarding its asset allocation, check it out here.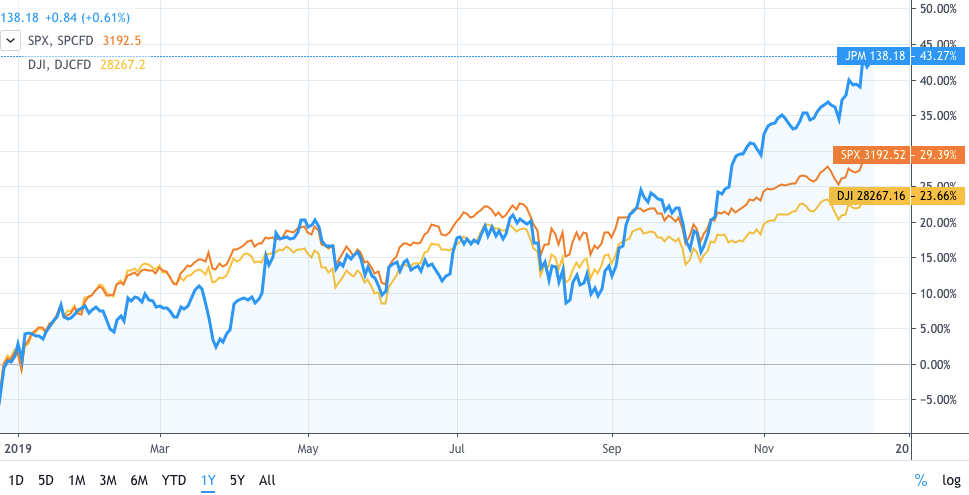 Johnson & Johnson (JNJ)
The Market Leader of Pharmaceuticals
Johnson & Johnson (JNJ) is a leading pharmaceutical company with additional offerings in medical devices. It has been edging up year after year. The stock hit an ATH at $144.98, over 10% above its closing price at the end of 2018.

Its growth had slowed down in mid 2019, however, it made a comeback in the past eight months. Recovering from a slew of lawsuits alleging Johnson & Johnson's baby and talcum powder caused cancer in a number of patients, the company is facing additional litigation in the USA's opioid epidemic.

The company has agreed to pay over $20 million in settlement of the claims. If the lawsuits are settled, the company has a real chance to bounce back and see higher growth in 2020.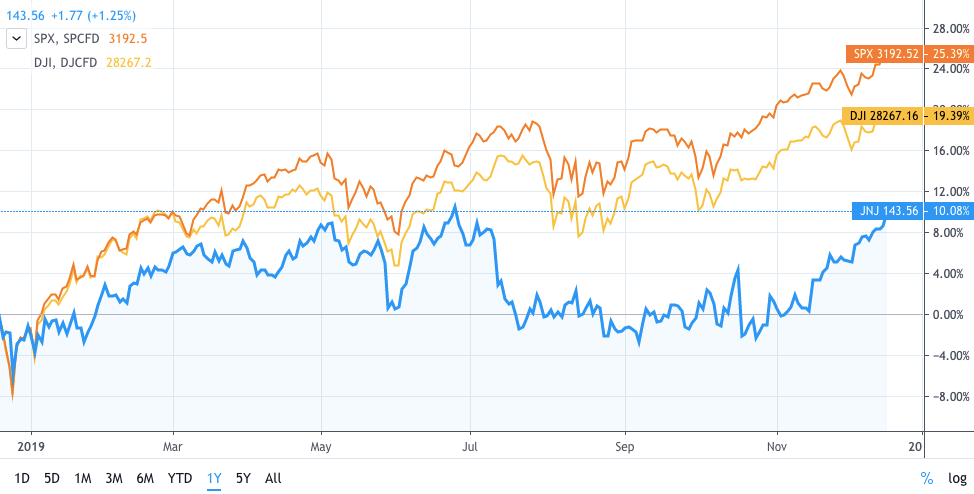 Procter & Gamble
Riskier Investment Compared to the Rest
The Procter & Gamble Company [PG] has 2.50 billion shares outstanding, amounting to a total market cap of $314.18 billion. Its stock price has been found in the range of $85 to $125. At its current price, it has moved down from its 52-week high, and it has moved up 45% from its 52-week low.

The stock may be poised for a rebound in 2020, however it is risky compared to other similarly-sized corporations in the industry. The shares' price performance has exceeded expectations in the past and may continue to do so, and it is neither overbought nor oversold.

If you want to take a little risk, this one's worth a shot.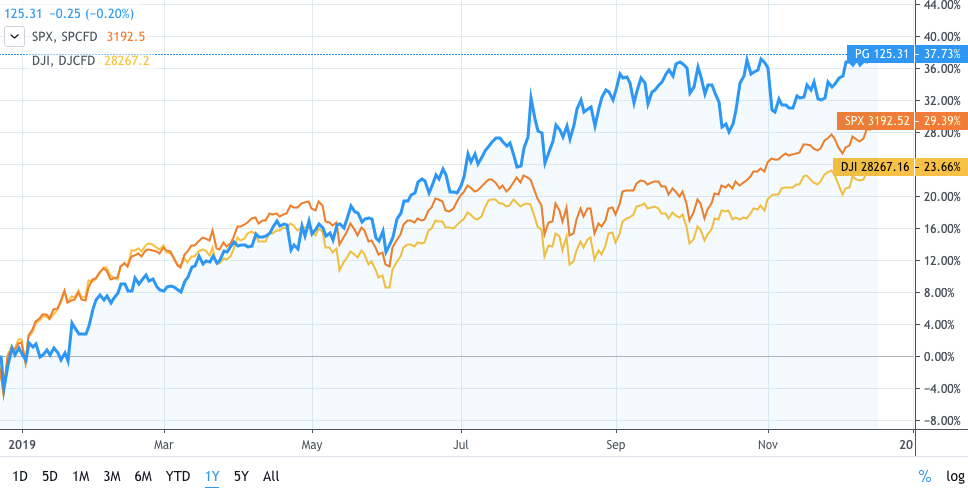 Tesla
Drive the Car, Buy the Stock
Tesla is rallying towards $500 steadily, and the reason behind its strong rise is that noted bear Dan Levy of Credit Suisse acknowledged the company's innovation.

Analysts make prognostications all the time. Price momentum in Tesla stock has been building for months and it has more than doubled since June 2019. Many times, upward price momentum leads to further buying and a bigger rally. What we see in Tesla is a rally to $500 followed by corrections, however, the rally comes first. So buy and target $500.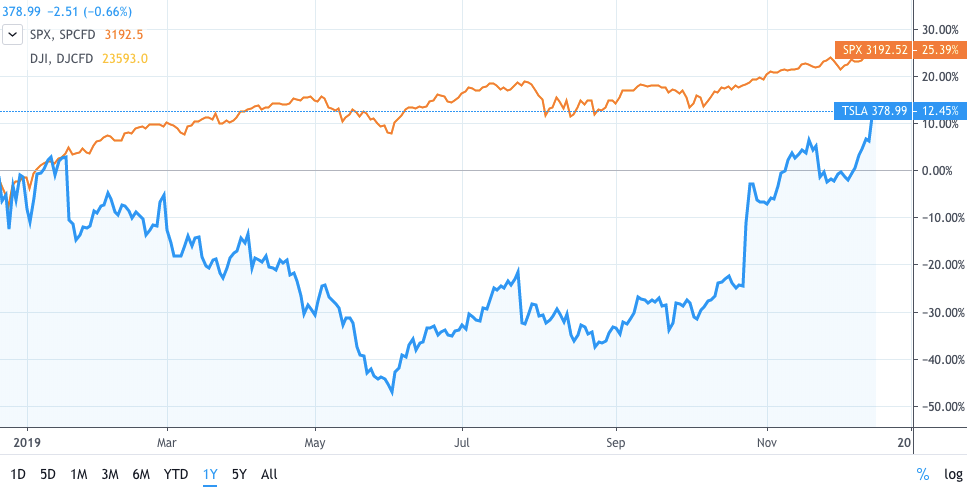 What Are You Investing In?
If you've invested in these stocks over a period of time, congratulations! You've done pretty well for yourself. If not, we'd love to hear more about the stocks you're investing in now?





Disclaimer
Content provided by CryptoTraderNews is for informational purposes only, and should not be construed as legal, tax, investment, financial, or other advice. All information is of a general nature. As always, there is risk with any investment. In exchange for using our products and services, you agree not to hold CryptoTraderNews Pro, its affiliates, or any third party service provider liable for any possible claim for damages arising from decisions you make based on information made available to you through our services.

[/wlm_private]
Want to read the rest of the article? Join our pro-membership and receive all of the following:
✅Access to ALL content.
✅Access to the CTN editorial staff.
✅Access to our CTN trading dashboard.
✅Access to our exclusive telegram channel where all our pro-members and editorial staff are in.
✅Ability to request content/research material!